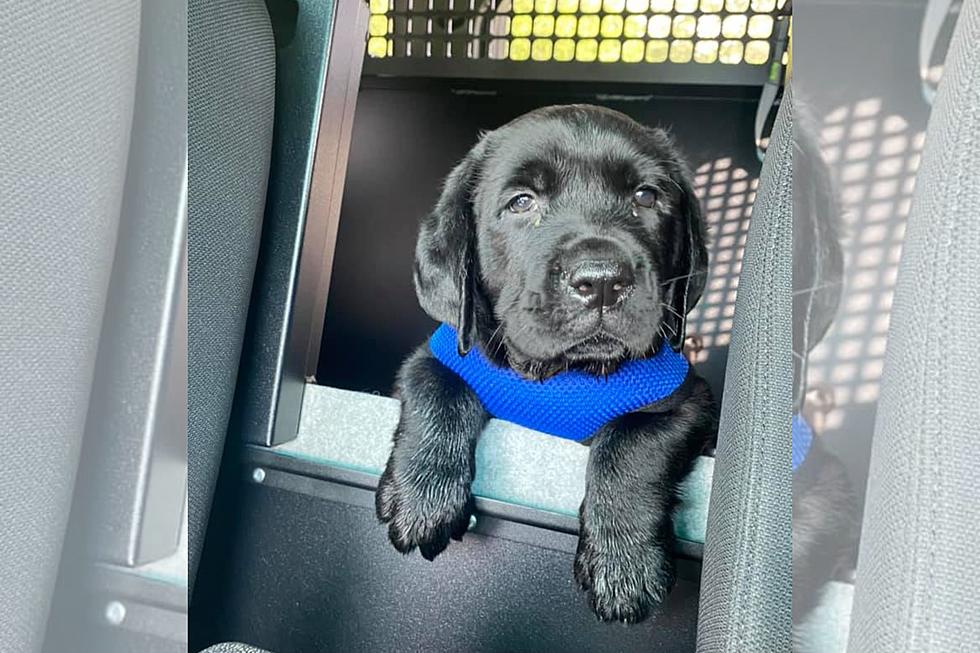 Meet Somerset's Adorable New Comfort Pup, Raider
Somerset Schools Resource Officers
This adorable pup may just be the week's most-talked-about animal across the SouthCoast.
With chunky black paws and a face too cute for words, Somerset Police Department's new comfort dog, Raider, is adorable enough to warm even the coldest hearts, and it seems that everyone he meets falls in love with him immediately.
Somerset PD's Patrolman and School Resource Officer Brendan Hague brought Raider home earlier this month, and after a visit to Chace Street School's Popsicles With the Principal event, it's become evident that Raider is the center of attention.
"I swear it was like a carnival. Everybody was lined up. Nobody cared about seeing the principal," Hague said. "The event lasted an hour and we were there about an hour and a half because everybody wanted to keep coming in."
Raider is a part of Somerset's new comfort dog program, which Hague, who has been with the department for almost 18 years and has served as an SRO for three, began pursuing after he saw a similar program on the news.
"With COVID and everything and the social and emotional issues in school, I thought it would be the best program out there to help not only the students but the staff too," Hague said.
After getting a blessing to move forward, he got in contact with Boonefield Labradors in New Hampshire, who is known for donating dogs to police, hospitals, district attorney's offices and more across the New England region. The owners of Boonefield Labradors hand-picked three pups, including Raider, that they thought would make the best comfort dogs, and donated them. In Raider's case, his comfort dog abilities run in the family, as his mother is a comfort dog herself.
Since Hague brought Raider home on August 14, the pair has started making their rounds around town, visiting the Somerset Fire Department and meeting the students they'll be working with at during Raider's duties as a comfort dog at the school district's elementary and middle schools. And boy, does Raider seem to enjoy the attention he's getting so far. But he certainly doesn't miss out on the chance to take a nap whenever he feels the urge.
"He [will be] going crazy, playing in the house for a good hour, and then he'll pass out like this for like two hours," Hague said.
Raider is quickly growing, but is still in the stage of training and getting socialized. After going through puppy obedience school and good citizenship courses, he'll have to wait until he turns one to go for his therapy dog certificate, which will officially certify him as a comfort dog.
For now, Raider will continue being the good boy he is, snoozin' and playin' the days away. Check out the cutest photos of Raider from his first week on the SouthCoast:
Meet Somerset's Adorable New Comfort Pup, Raider
At just nine weeks old, black lab puppy Raider is already making quite the grand debut as a comfort dog in Somerset schools. Whether he's greeting new friends or snoozing the day away, Raider is quickly getting socialized and growing into his new role – and his harness.
If SouthCoast Dogs Had a Dating App, It Would Look Something Like This
August 26 is International Dog Day, and it got me thinking. What if there was a way for dogs to connect with other dogs in the area to make new friends? Or maybe even find love? Twenty-six dogs living on the SouthCoast sent me their profile picture and bio. Let's see the eligible pups.
The SouthCoast's Dog-Friendly Restaurants
If you've been searching for a restaurant where you can take your dog with you for a bite to eat, here are some of our faves on the SouthCoast.
More From WFHN-FM/FUN 107