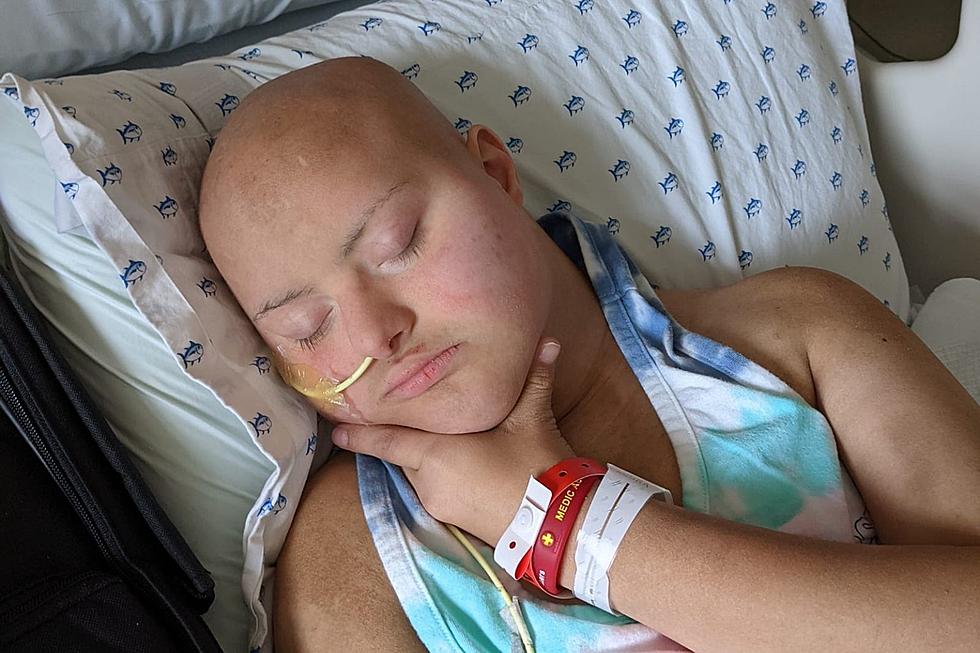 Somerset Boy With Leukemia Requests Christmas Cards During Extended Hospital Stay
Superhero Alex Facebook Page
Somerset's Alex Rogers is battling leukemia and will not be home to celebrate his favorite holiday due to treatment. He is asking for Christmas cards to help make this season a little brighter during his hospital stay in Boston.
Alex Rogers Has Had a Difficult Year With Leukemia Diagnosis
Alex and his family had already been isolated from others when the pandemic started. Since Alex has Down Syndrome, he is more susceptible to pneumonia. That was the family's main concern when COVID became a thing in March of 2020. Cancer was never on their radar when Alex was diagnosed in April of 2021. The news came after routine bloodwork, with no symptoms. He has been battling this disease like a true fighter, even enduring a 77-day stay at Boston Children's Hospital over the summer.
Thinking that they completed the last round of treatment with chemotherapy in November, Alex thought he was done and could return to some version of normalcy. However, the family would soon find out that he was expected to return to the hospital for at least a month shortly before Thanksgiving. Realizing that he would not be home for Christmas, Alex's spirits were crushed.
Alex Rogers Is the Biggest Fan of Christmas on the SouthCoast
The 16-year-old has always loved Christmas.
"Alex loves Christmas so much that every July he will watch Christmas movies and listen to Christmas music," Placido said. "He still believes in Santa and this time of the year is so special for him."
Steven Kut operates the "Kut Family Christmas Light Display" in Westport, formerly located in Somerset, and was Alex's neighbor before the move. Kut loved seeing Alex stop by to see the lights several times each night in Somerset, and was looking forward to his family making the trip to see the new display in Westport. Unfortunately, he found out that Alex was admitted to the hospital for immunotherapy treatment on Tuesday, November 30, and would be at the hospital for at least 30 days.
"He's always been one of my biggest supporters," Kut said. "We are all so upset that he won't be home for Christmas and is unable to see the setup at the new house."
Alex is extremely family-oriented and there is currently no plan to celebrate as a family in the hospital as there is a capacity in place due to the COVID-19 pandemic.
Christmas Cards for Alex Rogers of Somerset
Kut mentioned that Alex's family was requesting Christmas cards to give him something to look forward to while he's in the hospital.
During the 77-day stay in Boston, getting mail was one of the only things that got Alex through that difficult time. Upon hearing that he would return for another extended stay, he asked if he would also be getting cards this time around as well.
"The community has been unbelievable," Placido said. "I do not think we would have survived without them."
If you are looking to wish Alex a Merry Christmas, you can do so by sending a card to the following address:
Alex Rogers, Room 6226
Boston Children's Hospital
300 Longwood Ave
Boston, MA 02115
If you'd like to make it a bit more personal for him, he loves superheroes, The Wiggles, and ocean life.
Light Up SouthCoast 2021: Holiday Light Displays Across the SouthCoast
Across the SouthCoast, homeowners are putting in the elbow grease to make sure their home shines the brightest. These light displays are a surefire way to bring holiday cheer to anyone. Make a plan to see them all!
More From WFHN-FM/FUN 107