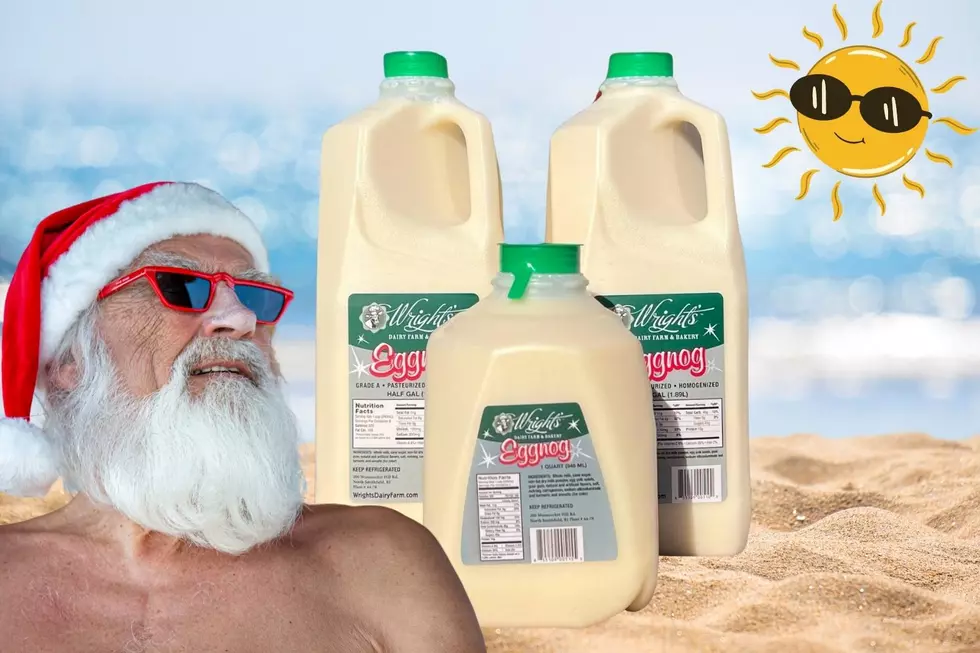 Smithfield, Rhode Island Farm Offering Eggnog for 'Christmas in July'
Wright's Farm via Facebook; Canva
Nothing beats the heat of a sultry July day like a nice, cool glass of eggnog.
Wait a minute – eggnogg?
Wright's Farm in North Smithfield, Rhode Island is celebrating "Christmas in July" by whipping up some of its traditional holiday eggnog here in the summer months.
This sounds like a fantastic idea to me. As a big fan of eggnog, it's always disappointing when the holiday season is over and it's no longer stocked on the supermarket shelves. That heartbreak is made even worse when you get a hankering for a glass of it and you remember it's only July and you've got about half the year to go before you can get your nog on again.
What other Christmas flavors would be welcomed back in the summer? I enjoy gingerbread cookies, and I wouldn't mind having a few now and then around the campfire. Imagine how much they could up your S'mores game. Candy canes? Here's a secret: they're just peppermints in a different form, and you can find peppermints anytime.
If we live in a world where pumpkin spice has become a year-round option, why not Christmas flavors, too?
My mom is known for playing Christmas music in the car during the summer, so maybe she was onto something all these years. So many outdoor patios and decks are adorned with the same white lights that decorate homes during the holiday season. We're so close to summer Christmas as it is, and this eggnog just puts it over the top.
Not sure you want to sip that heavenly-but-heavy nog when it's so warm and muggy? Well, Wright's Farm is also offering eggnog ice cream too, so you can have the best of both seasons.
What're you waiting for? Get your eggnog, wrap yourself up in your favorite blanket (provided you are sitting right underneath the air conditioner), and put Rudolph and Frosty's Christmas in July on the television. Enjoy Christmas without all the stress of the actual Christmas season, and maybe the heat and humidity won't seem so bad.
The Most Popular Christmas Movies of All-Time
LOOK: See what Christmas was like the year you were born
The 12 Darkest Christmas Movies Of All Time
More From WFHN-FM/FUN 107