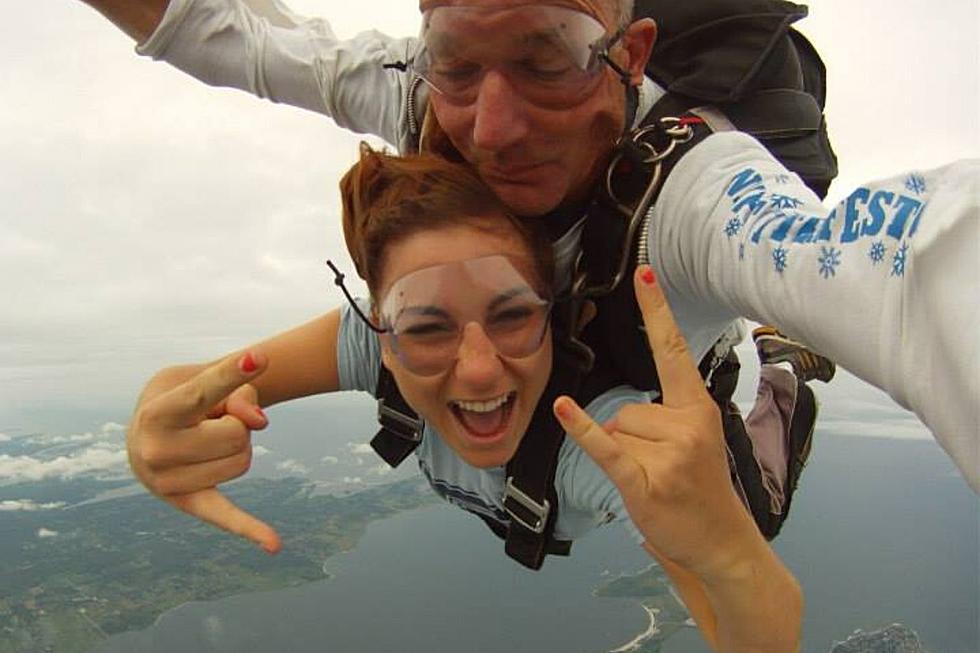 Skydiving Is the Ultimate Summer Thrill [SUMMER BUCKET LIST]
Maddie Levine/Townsquare Media
It's time to let your inner daredevil out this summer and jump out of an airplane.
I may sound crazy but hear me out. I went skydiving a few years ago, and it was one of the best decisions I have ever made. And that's coming from a girl who is not a fan of heights. Get adventurous before the summer is over and add this experience to your SouthCoast Summer Bucket List.
When my mom asked me if I wanted to go skydiving, I hesitated. You want me to jump out of a plane? You're nuts, I thought to myself. But then I thought a bit more. This was a once-in-a-lifetime experience, and I would get to do it with my mom. I couldn't pass it up.
We went to a company that operates out of Newport State Airport. We sat through the rules and regulations, watched an informative video, and got ourselves strapped into our parachutes. We were then guided over to the Cessna 182 aircraft that would bring us two miles above the coastline of Newport. As the plane ascended, I was strapped to my instructor for the aerial departure of the plane. I didn't mind being strapped to a stranger when I knew he was my only chance at survival.
Then, the adrenaline kicked in. The door opened and my instructor nudged me over the ledge. My feet were now hanging out of the plane, hundreds of miles in the air. 3-2-1 – we somersaulted out of the plane and we freefell for less than a minute. That may sound quick, but it was the longest minute of my life, but also the freest and the lightest I have ever felt. The feeling is almost indescribable.
The whoosh of the parachute skyrocketed out of the bag attached to my instructor and we gracefully descend closer and closer to the tarmac of the airport. For the next few minutes, I looked out to see a bird's eye view of Narragansett Bay, Newport, and the outlines of Cape Cod and Martha's Vineyard as I fell closer to the ground.
I knew our neck of the woods was beautiful but seeing the landscape in all its glory made me feel so appreciative of the world around me. Through the heart-pumping experience, I was humbled by the sheer beauty of my surroundings.
Whether you are an adrenaline junkie or just looking to get out of your comfort zone, consider skydiving. This experience was over five years ago and I still talk about it like it was yesterday. Your summer will go from average to unforgettable with an adventure like this one.
KEEP READING: It's Not Summer on the SouthCoast Until You've Eaten These
Enter your number to get our free mobile app
More From WFHN-FM/FUN 107