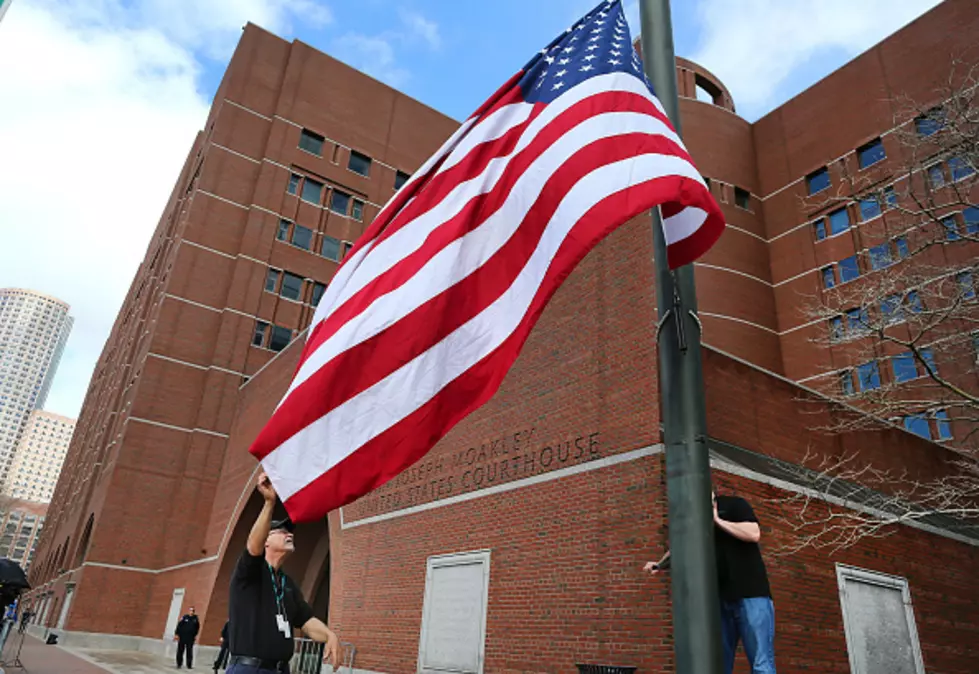 Sentence Upheld for Taunton Man's Murderer
Outside Federal Court in Boston / Photo by John Tlumacki/The Boston Globe via Getty Images
BOSTON — The late convicted killer Gary Lee Sampson, who murdered a Taunton man along with two others in a series of carjackings twenty years ago, has posthumously lost an appeal of his death sentence this week.
The 62-year-old died in December at a federal prisoner medical center in Springfield, Missouri after he was sentenced to death in 2017 for a murdering spree in July 2001.
Sampson fatally stabbed 69-year-old Philip McCloskey of Taunton and 19-year-old Jonathan Rizzo of Kingston, and also fatally strangled 58-year-old Robert Whitney of Concord, NH.
According to court documents, he had appealed his death sentence once before — and it was vacated after a juror was found to have lied during their preliminary examination.
But a retrial subsequently reinstated his death sentence for one of the murders.
Sampson appealed the sentence, but died while the appeal was pending.
On Tuesday, judges from the U.S. First Circuit Court of Appeals wrote in an opinion that they "dismiss that appeal as moot," and declined to vacate the sentence.
"This decision by the First Circuit definitively ends the legal process and Mr. Sampson remains a convicted serial murderer, sentenced to death," commented U.S. Attorney for Massachusetts Rachael Rollins after the opinion was published.
"Court opinions, however, don't erase trauma and pain," she added. "Our office will continue to support these loving and supportive families [of the victims] in every way we can."
The U.S. Attorney's Office said Sampson went on the murder spree after returning to his native Massachusetts following a series of bank robberies in North Carolina.
He met the retired McCloskey in Weymouth and asked the Taunton man to drive him to a nearby town, where he tied him up and stabbed him to death.
Sampson then hitchhiked to Plymouth and was picked up by Rizzo, forcing the teenager to drive to the woods, where he tied him to a tree and fatally stabbed him.
The third victim was killed after Sampson drove Rizzo's car to Meredith, New Hampshire, where he broke into a lake house.
Sampson strangled the retired caretaker, Whitney, to death after he found Sampson inside the house.
Sampson pleaded guilty to killing McCloskey and Rizzo in 2003 and Whitney in 2004.
The Real Essential Items You Need During a Snowstorm
When snow is in the forecast, SouthCoast residents flock to the supermarket to stock up on bread and milk. But what about the things you'll actually need if you're snowed in with the family?
Where to Get Sand in New Bedford After a Snowstorm
The City of New Bedford provides free sand for residents following snowstorms and blizzards. Here are the locations of where you can get some sand – just be sure to bring your own small bucket.
More From WFHN-FM/FUN 107