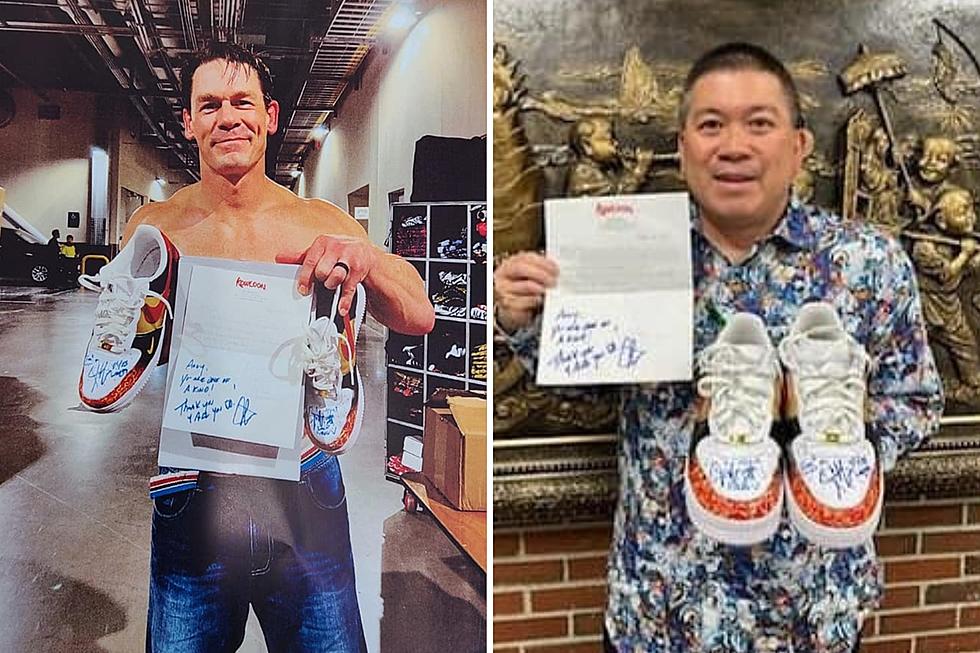 John Cena Sends His WrestleMania Sneakers Back to Saugus' Kowloon Restaurant
Kowloon Restaurant via Facebook
Wrestling fans normally can't "see" 16-time WWE champion John Cena, but at this year's WrestleMania, everyone from New England saw him wrestle in sneakers designed as a tribute to Saugus' legendary Kowloon Restaurant.
Now, Cena has donated the sneakers back to the restaurant and its owner, Andy Wong.
The man known for hustle, loyalty and respect has always been loyal to the Kowloon, probably even before he became a wrestling superstar. Cena grew up in West Newbury, a half-hour away from Massachusetts' favorite Chinese restaurant.
Cena wrestled United States Champion Austin Theory in the opening match of WrestleMania 39 at SoFi Stadium in Los Angeles back on April 1. The upstart Theory got the win, but the future Hall of Famer Cena drew a lot of attention for his Kowloon-themed Nike sneakers.
The Kowloon announced production of the sneakers back in February, teaming with Sway, the artist behind Blueswaydshoes. Sway hand-painted 100 pairs of Air Force Ones, painting them red, gold and black and using the Kowloon logo.
Cena – who famously wore Reebok Pumps earlier in his career, with pumping up his sneakers becoming part of his repertoire of moves – must've gotten his hands on a pair before they sold out.
Cena is known for his catchphrase of "you can't see me," but everyone can clearly see how much he loves Kowloon after he sent the sneakers, autographed, to Wong along with a note that reads, "Andy, you are one of a kind. Thanks for all you do."
"John is such a great guy! I have known John and the Cena Family for over 20 years," Wong told WBSM. "We were shocked when he wore his Kowloon custom Nike Air Force 1s during his match at Wrestlemania 39 in L.A. and shocked again when he delivered them to us, signed and with his note!"
"He does so much for others in giving back, especially through the Make-A-Wish Foundation in which he has by far granted the most wishes and made the most appearances," Wong said. "It's an honor that he remembers us and his roots."
"He's someone that's easy to root for. We're so very happy for his success," Wong said.
Of course, the Kowloon has also been the go-to place for WWE wrestlers for decades; the ability to go out for late-night food (and drinks) after a show at the Garden and the way wrestling fan Wong welcomed them with open arms made for a place where the superstars could come and relax and know they'll be treated well.
WWE Superstars with New England Ties
They may not be from here, but these WWE superstars past and present have ties to New England in some way!
The Dishes to Try Most at Over 100 SouthCoast Restaurants
From the freshest seafood you can find to some of the best dang Portuguese dishes outside of Portugal itself, there are so many dishes to enjoy and love here on the SouthCoast, and we put 'em all into one spot. Check out more than 100 of the SouthCoast's favorite restaurants, and let us know if your favorites made the list.
More From WFHN-FM/FUN 107