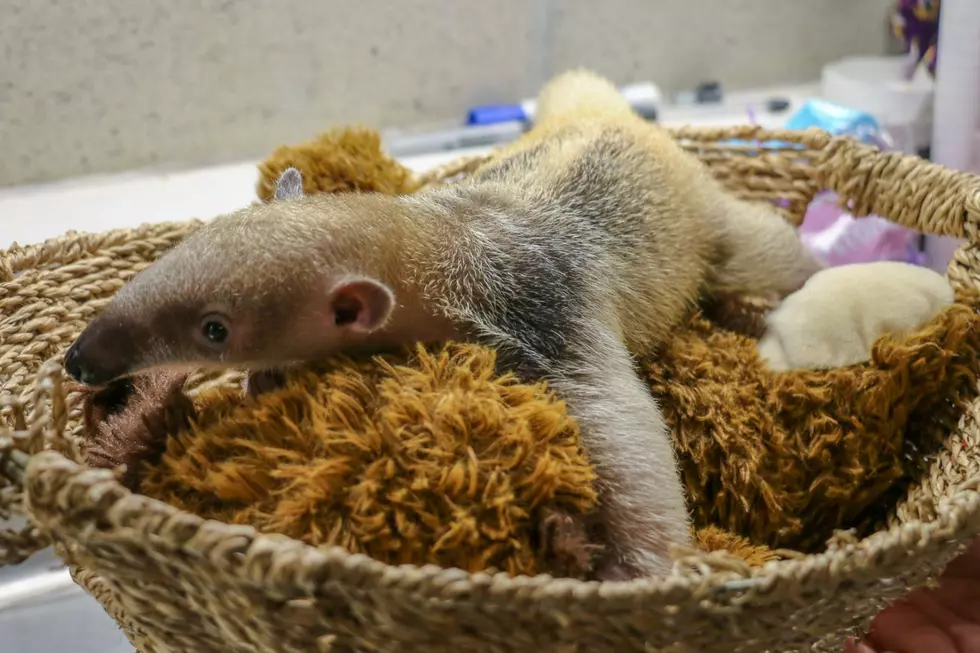 Roger Williams Park Zoo Welcomes Baby Tamandua as Newest Resident
Roger Williams Park Zoo & Carousel Village via Facebook
Roger Williams Park Zoo recently posted about its newest addition on Facebook.
"Welcome to the world, baby tamandua! Tamandua mom Carina, and dad Salvador, reside with their new pup in the Faces of the Rainforest habitat."
According to the post, this little one still does not have a name, but the pup continues to bond with its mom behind the scenes.
"The Zoo's animal care staff and veterinary team continue to monitor them, performing daily wellness checks to ensure healthy development."
Carina and Salvador were paired through a recommendation from the Southern Tamandua Species Survival Plan Program, in cooperation with The Association of Zoos and Aquariums, to establish and maintain a healthy and genetically diverse population.
Jenny Theman is the Animal Care Manager at Roger Williams Park Zoo. She gave an update on the baby's status.
"At a month old, our tamandua pup has not only tripled in weight but is reaching all of his expected milestones," Theman said. "Second-time mom, Carina is being very attentive and providing great care under the watchful eyes of our dedicated animal care team. This is an exciting addition to our zoo family!"
Roger Williams Park Zoo also provided a fun fact about this species.
"The Southern tamandua, also called the lesser anteater, is the arboreal relative of the anteater. Native to South America they use their sharp claws and prehensile tails to climb trees and grip branches."
Buttonwood Park Zoo Welcomes Bearded Emperor Tamarin Monkey
Buttonwood Park Zoo Welcomes Bearded Emperor Tamarin Monkey and she has to be the cutest monkey you ever seen.
Lesser Known Museums of New Bedford
Everyone undoubtedly thinks of the New Bedford Whaling Museum when they look for an indoor day in the city. However, there are actually quite a few museums throughout New Bedford for a wide range of interests. We found a few you might not have explored yet that are definitely worth the trip.
More From WFHN-FM/FUN 107