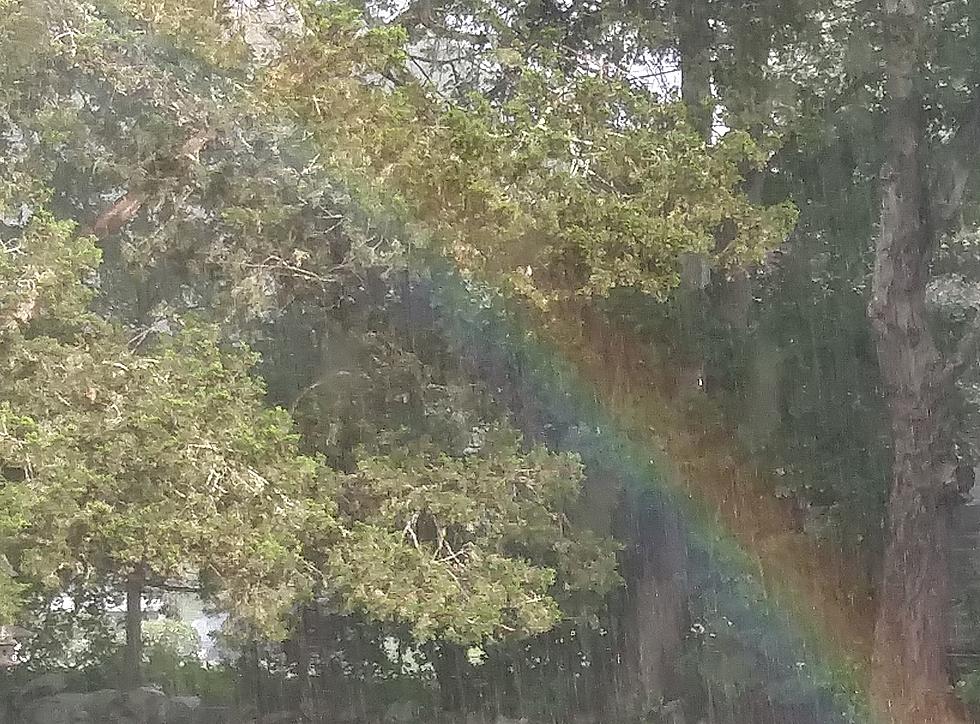 Amazing Rainbow Photo Settles Pot of Gold Legend Once and for All
Nancy Hall/Townsquare Media
We've all heard the legend of the leprechaun's pot of gold being hidden at the end of the rainbow, but have you ever seen the rainbow's end to find out? Capturing a post-summer storm rainbow photo is always amazing, but one recent picture debunked an entire theory.
When the rain started to fall over my house on Friday afternoon, the sun was still shining brightly and I just knew there was going to be a rainbow out there somewhere. I just never thought the rainbow would actually be right in my front yard with the end landing in my driveway.
It was definitely the coolest rainbow pic I have ever taken but it also proved that the legend isn't true.
The tiny rainbow was super visible and even made the tree branches appear to be colored. But as you can clearly see, the rainbow's end is just crushed stone. No leprechaun, no pot of gold, no nothing. Though it was a little sad to see the end of the rainbow was nothing magical, it was cool to see the rainbow's end in real life. Definitely a first for me.
My oldest daughter didn't let the lack of gold bring her down. She was quick to point out that we were only seeing one end of the rainbow and the leprechaun could have easily placed his pot of gold at the other end, which we couldn't quite see from our house. Love that girl's optimism.
Still, I think this may just be photographic evidence that the pot of gold legend is, in fact, just a legend – not that many of us thought too seriously otherwise. More importantly, have you capture any amazing rainbows pics this summer? Share them with us on the Fun 107 app.
Make the most of the sunshine and see these amazing animal brick sculptures at Capron Park Zoo
Check out all the amazing animals made of plastic bricks on display this summer at Capron Park Zoo in Attleboro – and try to imagine how many bricks it took to make these things.
These SouthCoast Dogs Really Know How to Beat the Heat
Temperatures soared across the SouthCoast but these dogs found plenty of ways to stay cool.
More From WFHN-FM/FUN 107