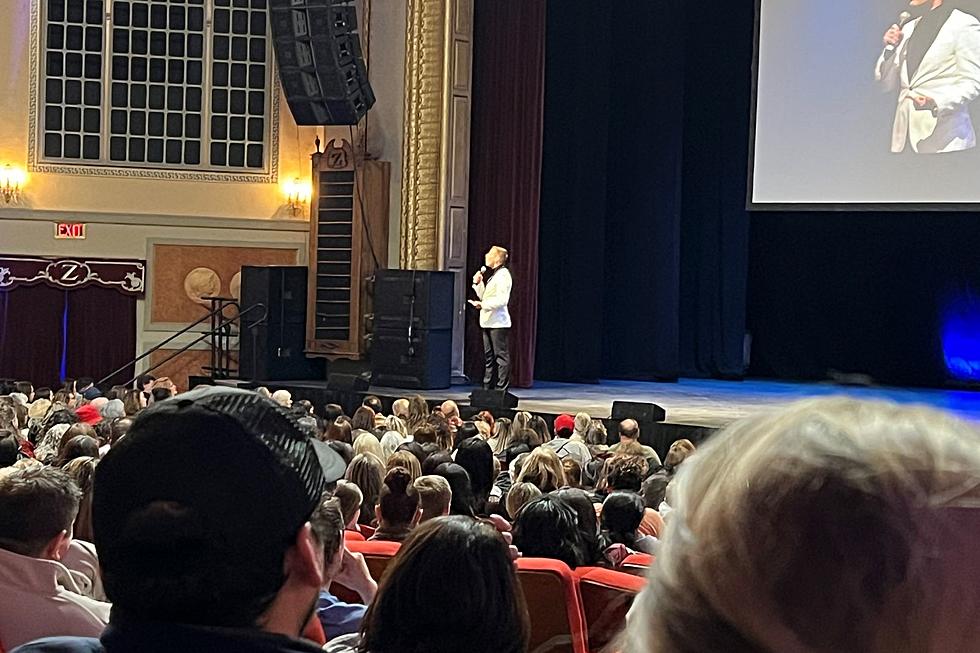 Psychic Medium Matt Fraser Wows Audience at Zeiterion Theater
Michael Rock/Townsquare Media
I walked into the Zeiterion Performing Arts Center last night not really knowing what to think. Psychic-medium Matt Fraser, a Cranston, Rhode Island, native, was set to perform his first of two shows in the historic New Bedford theater.
Fraser cracked a handful of pretty funny New Bedford jokes that landed well with the audience.
"I knew we shouldn't have had the bar open in New Bedford," he quipped after a row of guests didn't properly follow some directions to stand up. But this crowd was not at the Z last night to laugh, they were there for something much deeper. The people in attendance were there to connect with loved ones who have passed.
"This is a very unique crowd. Half of you aren't alive," Fraser said, only half kidding.
The medium gave a quick overview of his background and how he came to discover his ability to seemingly communicate with the dead. Then, Fraser jumped right into action.
"You," he said, pointing to a woman. "You lost your mother."
He then began describing how the woman's mother had passed and talked about different memories that the woman had with her mom.
I watched him very closely during each reading. While he seemed to initially cast a rather wide net to catch a fish, once the fish was on the line, Fraser really raised eyebrows.
While talking with one family, desperate to hear from their recently deceased mom (and wife), Fraser said, "You brought her picture tonight, didn't you?"  Indeed they had.
He described a prison jumpsuit to another woman who was trying to connect to a young man in her life who had passed. Without her input, Fraser called that the young man had died by suicide and had also attempted suicide by cop, all of which were accurate.  Not exactly a typical reading.
Here's an example of his work at a New Jersey event.
Fraser ended the night with a stunning reading of a young woman in her 20s. Without any leading questions, Fraser described a strained relationship between the young woman and her deceased father.
"I hate to say it, but he was a player," Fraser said. "But after you were born he fell in love with you and decided to leave that life behind."
Fraser then got gasps from the audience when he blurted out that the young woman had a tattoo that her dad hadn't approved. She didn't answer. Instead, she turned around, lifted up her long, brown hair and revealed a large tattoo on the back of her neck.
"He hated this tattoo," she said. "I guess he's still not over it."
The crowd roared. They were stunned, but Fraser wasn't finished.
"Wait 'til you hear the second part of this," he said. "You've been thinking of adding more to the tattoo to honor your father.  He says don't do it."
The young woman teared up as she admitted she had been thinking of doing exactly that.
"He came here tonight to let you know that you don't need to honor him with a tattoo because he's always with you.  He sees your accomplishments and your struggles.  That goes for everyone here tonight, whether you've had a reading or not.  Leave here knowing your loved ones are right beside you."
Does Fraser have the ability to speak with the dead? I'm honestly not sure. What I am sure about, however, is that Fraser is a showman. That is inarguable. His stage presence is undeniable, right down to his white sequined jacket and black, patent leather shoes with no socks.
Fraser is scheduled to appear in front of a sold-out crowd tonight at the Zeiterion again March 16.
Historic Pawtucket House With Ghostly Past Looks Amazing Today
This 100-year-old home in Pawtucket was built to commune with the dead. Now it's a place for friends to commune with one another in some epic entertaining space.
Celebrities Who Lived in Haunted Houses
Below, check out 25 stars who claim to have lived in haunted homes.
More From WFHN-FM/FUN 107