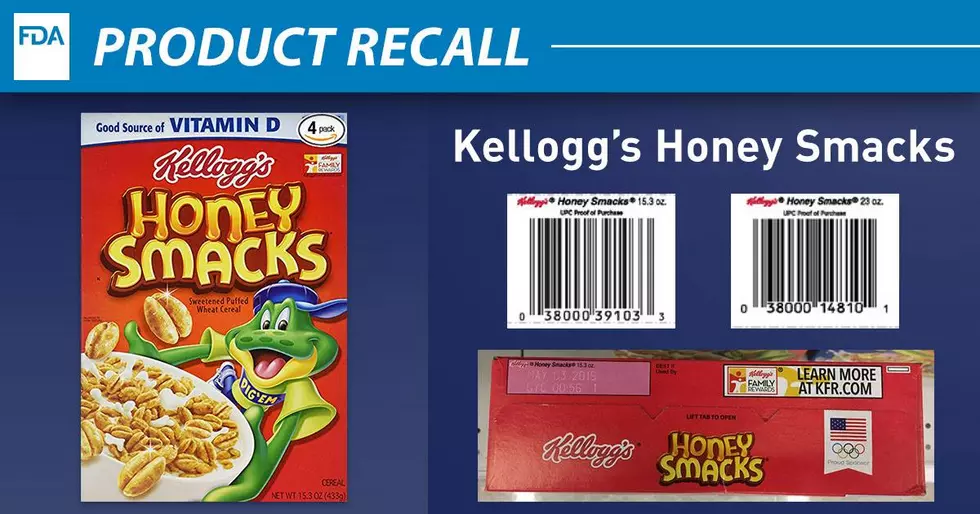 Possible Salmonella Cases Linked To Honey Smacks Recall In Rhode Island
FDA Facebook page
The Kellogg Honey Smacks recall for potential Salmonella is hitting close to home.
The popular cereal was voluntarily recalled this week after the potential Salmonella hazard was discovered.
To date 75 cases of Salmonella linked to the cereal have been reported in 31 states. That number does not include cases that may have been reported from overseas shipments of Honey Smacks.
Salmonella can cause diarrhea, fever, nausea, vomiting and abdominal pain. It can be fatal in the very young, frail or elderly as well as those with weakened immune systems.
Anyone with recalled boxes of Honey Smacks cereal are urged to throw the remaining cereal away and contact Kellogg for a full refund.
All 15.3 oz and 23 oz packages of Honey Smacks are part of the nationwide recall.
Both recalled packages of cereal have Best If Used By dates of June 14, 2018 through June 14, 2019. The 15.0 oz boxes have the UPC code 3800039103 and the 23 oz boxes have the UPC code 3800014810.
Read more about the recall here.
More From WFHN-FM/FUN 107