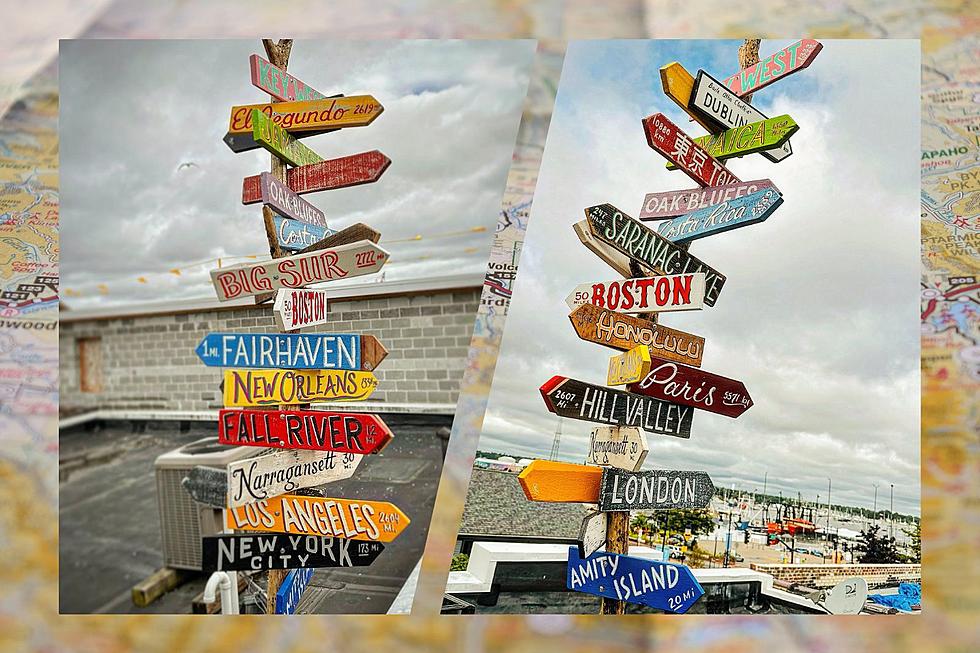 New Bedford's Play Arcade Rooftop Sign Points the Way to Exciting Destinations
Courtesy Play Arcade
Art is popping up left and right downtown, but this time you'll need to look up to "find the way."
Play Arcade's rooftop overlooking Union Street was gifted with a unique sign pointing in different directions to locations around the world. From Fairhaven to Paris, if you're looking to wander, this sign will lead you in the right direction.
The artist behind this masterpiece is Jeremy Pereira (JP for short).
Pereira attended UMass Dartmouth where he studied sculpting alongside Play Arcade owner Adam Katz. He primarily creates scenic and prop work for TV and film. This week, JP decided to surprise the Katz family with a small token of his appreciation for the nostalgic business.
"JP would not charge me for this artwork," Katz said. "He's such an amazing and giving person. Even while struggling through a strike in the movie industry and having to pay his bills, he still found it in his heart to find the time and material to create this incredible rooftop sign."
This isn't the first time Pereira's artwork has made a home at Play. He also constructed a Jaws billboard among other cool items that can be found inside the arcade. He has constructed props and sculptures for commercials and 50 screen productions including:
Don't Look Up (2021)
Instigators (2024)
Spirited (2022)
Ted (2012)
The Town (2010)
Shutter Island (2010)
The destination sign was a combination of favorite locations around the world and local hotspots across the SouthCoast that were "worth recognizing," Katz said. The sign now stands tall and proud overlooking the New Bedford waterfront for all to see.
Keep an eye out for JP in Middleboro as his next project will be a custom mural painting on the rear side of The Charred Oak Tavern on Center Street.
Your Complete Guide to Outdoor Dining on the SouthCoast
We compiled a list of all of the restaurants on the SouthCoast that offer outdoor dining. That's right. We did all the legwork for you. Now all you have to do is pick one and call to make that reservation so you can dine al fresco tonight.
*UPDATE: This post was revised in April of 2023.
Feel Better With These SouthCoast Hangover Cures
From breakfast to dinner, these SouthCoast restaurants know how to soothe the aching soul and stomach after a night of drinking. Whether you're recovering from a rager or a "quiet" night out that got out of hand, we've got you covered. Eat up and feel better.
More From WFHN-FM/FUN 107