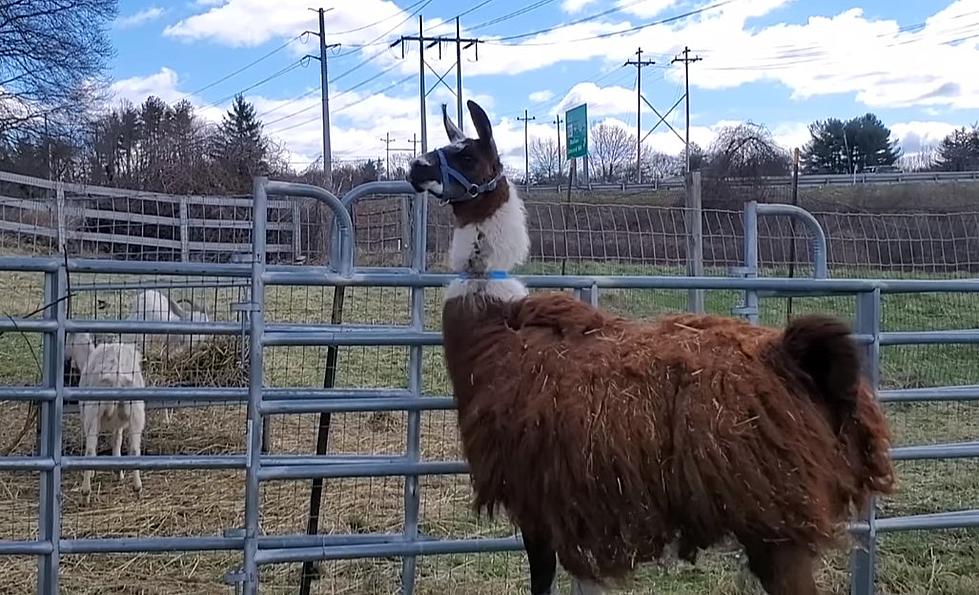 One-Eyed Llama Available For Adoption Through MSPCA
MSPCA-Angell via Facebook
Taking home a new pet doesn't always have to mean adding a cat or dog to the family. At the MSPCA's Nevins Farm facility in Methuen, MA pigs, rabbits, horses and even llamas are available for adoption as well.
Right now in fact, a beautiful, brown and white 10-year-old llama is in need of a new home.
According to a recent post on the MSPCA-Angell Facebook page this female llama, named Hyacinth, is just the fifth llama to be surrendered to the animal protection organization.
Hyacinth came to Nevins Farm after he owners were forced to surrender her due to an ongoing eye condition they can no longer provide care for. Something her new owners will need to be very aware of and capable of handling.
The MSPCA says Hyacinth damaged her eye to the point that it had to be removed. Now this one-eyed llama needs a new home.
Ideally potential adopters would have llama experience and perhaps even a herd of compatible animals she could become friends with. Hyacinth is apparently very fond of having goat friends, so those looking to add a new animal to their farm should definitely apply to take Hyacinth home with them.
Though if a llama is not the pet for you, the MSPCA has a variety of farm animals available this time of year. They note that April is often very busy for them, presumably as new babies are born and farm owners learn they are not equipped to handle as many animals as they thought.
If you've ever thought of adding a horse or even a potbelly pig to your family, Nevins Farm in Methuen is the place to start your search.
Meet the Animals of Dartmouth's Don't Forget Us, Pet Us Sanctuary
Just off Faunce Corner Road in Dartmouth is an animal sanctuary for livestock that has become home to over 50 animals is just five short years. Whether they arrived because their owners could no longer care for them or they were removed from an abusive situation, Deborah Devlin and Jill Tagino, who run Don't Forget Us, Pet Us sanctuary, take in animals with no where else to go. Clearly, the livestock they care for are very happy to have found a home for the rest of their natural lives.
More From WFHN-FM/FUN 107