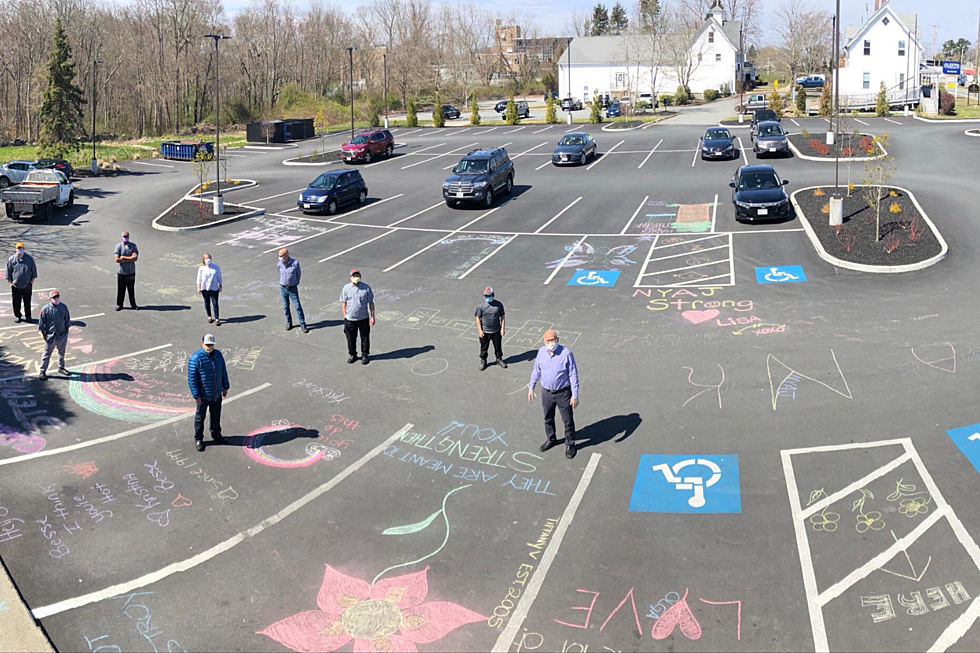 Not Your Average Joe's Staff Gives Thanks in a Unique Way [PHOTOS]
Contributed Photo
Sometimes in life, a little chalk goes a long way.
When saying "thank you" just isn't enough, find yourself some chalk and a large parking lot and let the feelings flow.
Over in Dartmouth at Not Your Average Joe's on State Road, a group of staff members socially distanced themselves between parking spots to do just that, to say thank you.
On Thursday morning, the SouthCoast woke up to a work of chalk art that flooded the parking lot at N.Y.A.J.'s.
Fun 107 spoke with one of the waitresses involved in this project whose gratitude towards the customers, management and ownership shone throughout the conversation.
"It's great working here," Willow Hoaglund said. "It's family and we're a team. Everyone's looking out for everyone. (Owners and management) Steve, Jaime and Judy have been more than generous and supportive."
Through the connection of a work Facebook group, the staff at N.Y.A.J.'s convened a plan to meet up after the restaurant was closed for the day and everyone else had gone home. The plan was to start spreading the cheer through messages written across the parking lot.
"One of the servers, Kristina Besse, mentioned 'Hey, what if we go and draw with chalk in the parking lot and send our thanks to Julia (our general manager) who has been holding it down big time?' She's been really making sure we're in high spirits," Hoaglund said.
From that message alone, the crew set up meeting times throughout the middle of the night, readily prepared to send their thanks in a variety of ways.
"We wanted to say thank you to them the best way we could," Hoaglund said, "This was our way of saying 'we see you, you're awesome, and we're here to hold your hand when we come out on the other side of all of this.'"
The coronavirus has truly put dampened spirits on the staff of many restaurants here on the SouthCoast, but N.Y.A.J.'s has been doing everything it can to keep pushing forward with heads held high.
"It's been busy, going day and night holding it down and trying to do the best we can,"  Hoaglund said, "Everything is clean and sanitized, but we were worried about not working."
Through the support of the owners and management, they have worked hard to help keep the staff working.
"They don't want us to be without anything," Hoaglund said. "They have given meals for our families a couple of times of a week and they've made sure we know that we have our job security."
Hoaglund and the rest of her co-workers have found relief knowing that while the world may be different after this, higher management at N.Y.A.J.'s will still be there for them.
"It's nice to find a restaurant where you're not just another number; you're a family member and an asset to the team," Hoaglund said.
Finally, the staff sends out the last message to not only the people they work with but most importantly the customers with whom they've formed friendly relationships throughout the years.
"We can't wait to see you at the table and at the bar so we can listen to your stories of what's been going on, how we all got by and the antics that went along for the ride," Hoaglund said.
Again, I'll say this: when you can't find the right words to say, draw it out with a bucket of chalk. You just might receive back a smile or two.
READ MORE: Inspiring Stories From the Coronavirus Pandemic
Enter your number to get our free mobile app
More From WFHN-FM/FUN 107