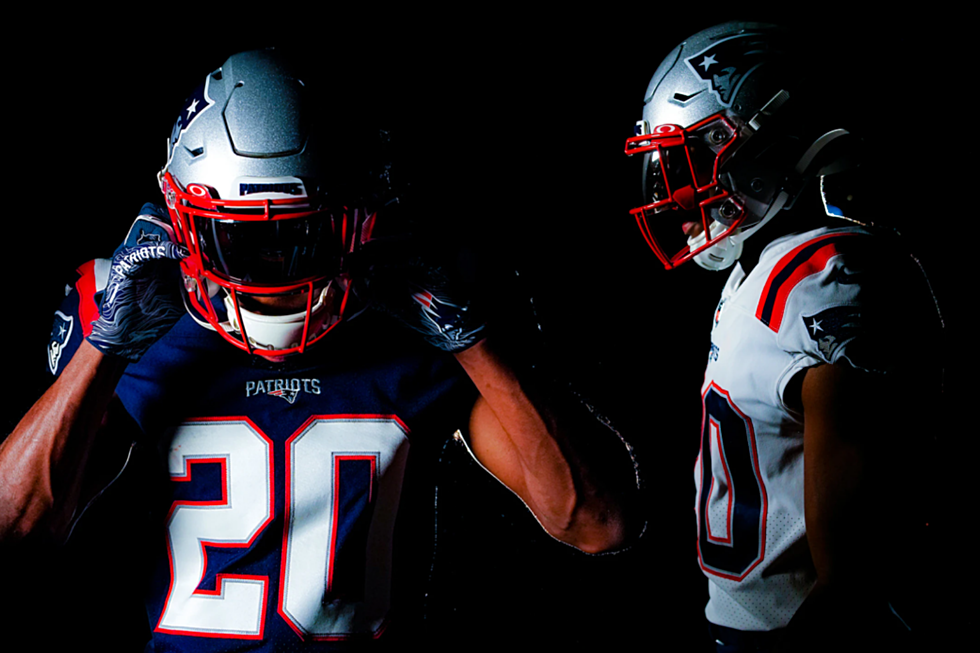 New England Patriots Unveil Updated Uniforms
Patriots.com
I have been a Patriots fan all of my life, but it really kicked into high gear the year that head coach Raymond Berry brought his underdogs from Wildcard Weekend all the way to Super Bowl XX when the Chicago Bears embarrassed them 46-10.
The uniforms worn that season have the same nostalgic feel as Christmas for a 10-year-old kid. The Pat Patriot logo adorned the side of the white helmets with the red and blue stripes.  That represented the Steve Grogan/Irving Fryer/Stanley Morgan/Andrew Tippett era of the New England Patriots.
There were many, many painfully bad seasons, but getting to the Super Bowl in the 1985 season was such a big deal. For New England fans, just being there was like winning it all.
It was a big shift when Pat Patriot went away, and the flying Elvis logo was ushered in. For me, this era is defined by Drew Bledsoe passing for a million and a half yards a game to tight end Ben Coates and the late Terry Glenn. The team wasn't bad, and the postgame show, otherwise known as the Bill Parcells Show, couldn't be more different than the way things go with the current coaching staff. The lighter blue flying Elvis uniforms are unarguably the worst Patriots uniforms of all time.
Next came the golden age, when the smaller flying Elvis remained on the shoulders, the blue got darker, but the football gods smiled down upon Route 1 in Foxboro for decades. These will forever be the best Patriots uniforms. It is only fitting that not only will no one else ever wear the No. 12 while playing for the franchise, they needed to revamp the entire uniform when TB went to TB.
The new uniforms? They're not bad. They're actually a perfect match for the franchise at this stage of history. The new look mixes boldness with uncertainty, if that is possible. The new-look Patriots are going with the bold "color rush" look that is very popular with the younger fans, but it's like spraying a bunch of Armour All on the tires of a used car to compensate for a car with a bad engine. The tires look nice, but what's under the hood? We just don't have any idea.
TACKLE THESE: Check Out the Best Uniforms In Each NFL Team's History
Enter your number to get our free mobile app
More From WFHN-FM/FUN 107