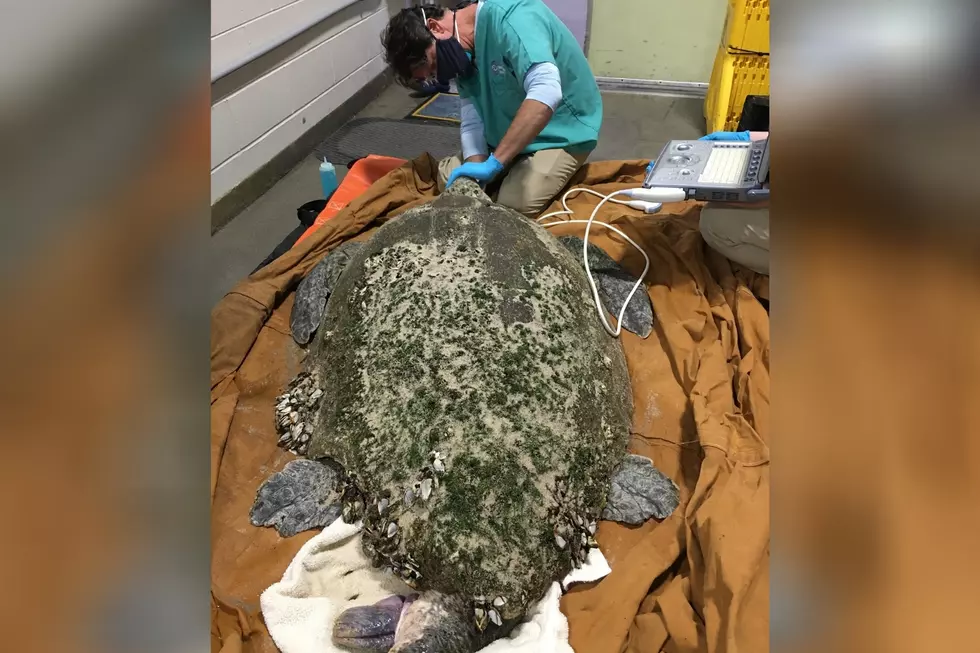 New England Aquarium Saves Cold-Stunned Turtles
New England Aquarium via Facebook
We're always hearing about these "unprecedented times" and our focus is kept on vaccines, the healthcare system, and who is or isn't wearing a mask. Even my Instagram advertisements are trying to sell me the latest pandemic fashions.
If you're like most, you're using Netflix to keep yourself distracted and possibly glanced over the latest David Attenborough nature documentary. Maybe you watched it and learned a little more about our planet and felt just a little more hopeless about 2020.
Though we may be busy, and unable to give any effort to anything besides making our rent, there are a few who carry on the mission of helping nature continue to thrive. Staff and volunteers of Massachusetts Audubon's Wellfleet Bay Wildlife Sanctuary walk the beaches as cold New England weather makes its way through. They comb the shore, socially distant, keeping an eye out for cold-stunned turtles.
Once found, they're humanly moved to the New England Aquarium's Sea Turtle Hospital in Quincy. It's beginning to look like a job of constant work. In a recent 48-hour stretch, 40 turtles had been taken in. Turtles of all kinds have been pulled from the water, from Kemp's ridleys to loggerheads to leatherbacks, all suffering from weeks of hypothermia and hunger. The great news is after rescue they'll be nursed, nourished, and once given a clean bill of health, returned to the ocean.
According to a post on the Aquarium's Facebook page, a 350-pound adult male loggerhead was one of the ones saved, and is "a significant discovery, since it is extremely rare to get an adult male loggerhead in our area, much less this early in the season." Unfortunately, the turtle wasn't breathing on its own when it arrived at the turtle hospital but they are working to stabilize him.
After reading something like this, it may seem like a walk on the beach in search of a turtle in need may seem like a great way to spend a weekend, and it could be. It's extremely important you make calls and gather as much information before doing so. Going on the hunt for turtles could be irresponsible.
Make sure you make an effort to contact the Marine Animal Rescue Department for what to do when encountering an animal in need of rescue. Call the National Park Service to see that your beach is open.
WATCH OUT: These are the deadliest animals in the world
Enter your number to get our free mobile app
More From WFHN-FM/FUN 107