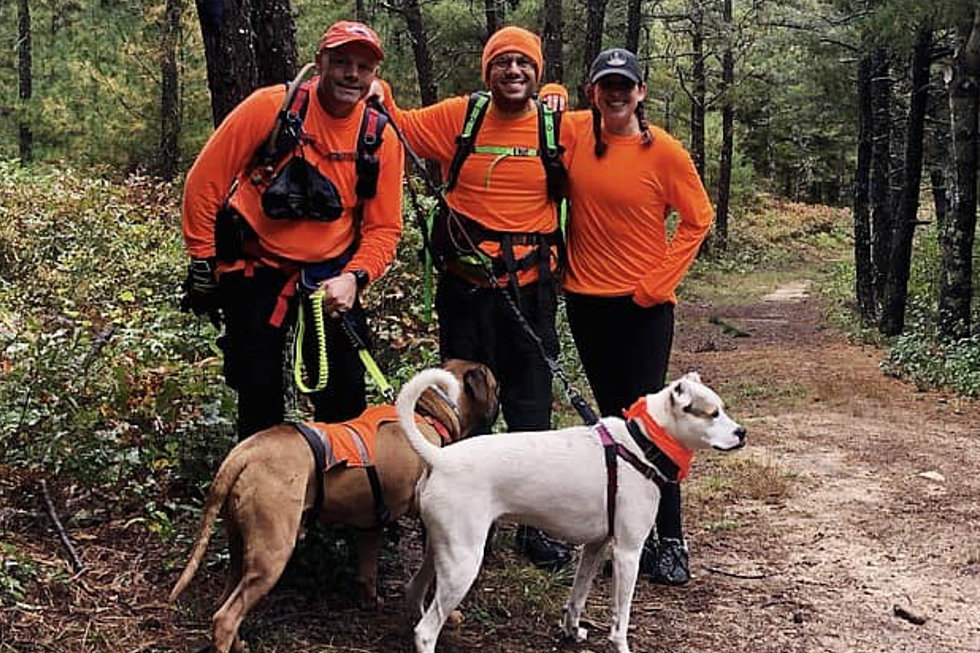 New Bedford's OutHounds Adventure Club Offers Hiking Fun For Dog Owners
OutHound Adventure Club via Facebook
If you're someone who has a love for nature and your canine companion, and hiking is your favorite hobby, then consider OutHounds Adventure Club.
the creators of Harmonious Hounds Dog Training, Tim and Lauren Riendeau, the owners have come up with a way (alongside Eric Harne) to get the dog-loving community together for morning and afternoon guided hikes all across the SouthCoast. It's the perfect way to get fresh air, a non-strenuous physical workout and camaraderie connections with other dog-owners (in other words, meet new people).
I've personally been on these hikes, and not only are the guides highly experienced in their field, but compassionately welcoming and fun to be around.
Each week, the group will hike different trails across the SouthCoast, from Swansea to Dartmouth and even Downtown New Bedford.
The program is designed not just for hiking with your fur-friend, but as a learning experience to connect dog-to-dog and also dog-to-human interaction. All trail guides are trained for extensive hikes and for any situation you may come across. They are Pet CPR certified and offer assistance when encountering trail dangers such as off-leash dogs, difficult terrain, and even new obstacles that may appear foreign to your dog.
Regardless of your skill level or hiking experience, the Adventure Club is welcome to everyone and encourages you to try new things with your pet along the trails (obstacles, rock climbing etc.). No matter what the weather, rain or shine, the Adventure Club is prepared for it all. You can choose to take a longer hike or a shorter hike, whichever is preferable to your hiking experience or compatible to your schedule.
As far as the costs of the Club are concerned, you can't truly put a price on pet bonding and good times, but here are the following adventures:
Lite Adventures – $10  Less than an hour in length.
Standard Adventures – $15  An hour and a half to two hours in length.
Extended Adventures – $20  Two to three hours in length.
Solo Adventure – $5 or $25 per month  Designed for people who do not have a canine companion but enjoy being with dogs and want to enjoy a guided adventure with the company of others.
Adventure Club Membership – $45 per month  The Adventure Club membership package includes all Adventures.
Additional Dog – $5  For those families who have more  than one dog that they would like to bring.
Can't Make It? – $40  For those who can not join us, we have trained dog walkers who can hike with your dog. *Limited availability
Be sure to also check them out on Facebook to see photos and videos from past adventures with new and older members of the group. Please be sure to provide the trail guides with proof of a veterinary release form before taking on any hikes to protect the health and well-being of other members and dogs.
Adventures await for you and your dog(s) with the OutHounds Adventure Club. Quality time with your pets are priceless moments that you'll cherish forever.
More From WFHN-FM/FUN 107