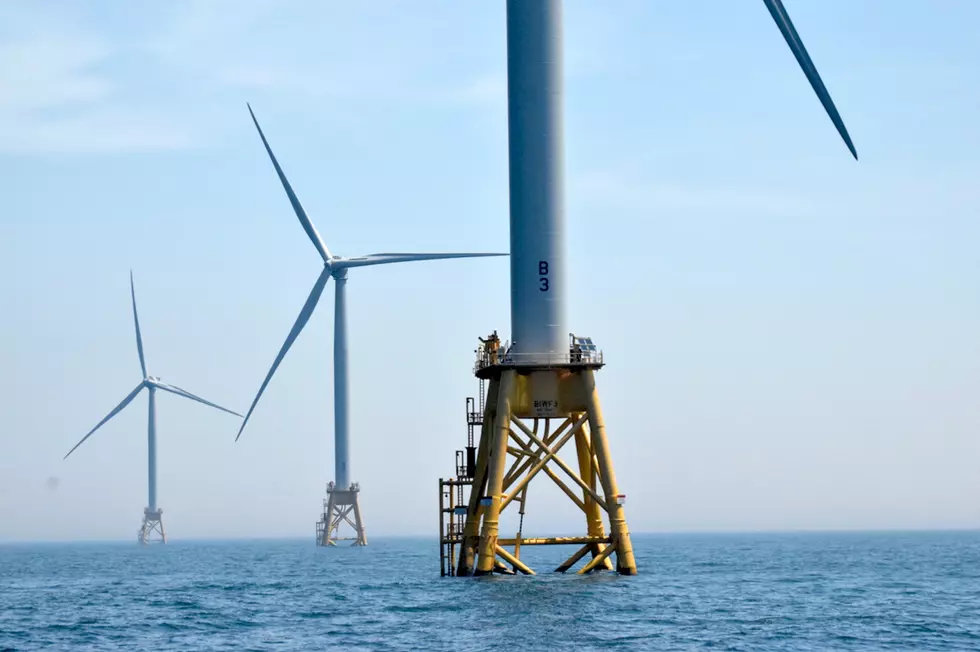 New Bedford Wind Farm Starts Laying Cable, Others Paused
Mary Serreze/Townsquare Media
NEW BEDFORD — The country's first commercial-scale offshore wind farm project, Vineyard Wind, has started laying cable offshore from its New Bedford operations base — even as two other large-scale wind projects in the state have pressed pause.
Colin Young of the State House News Service reports that the Commonwealth Wind project "is no longer viable" and can no longer move forward under the terms of its contracts due to supply shortages, price increases, and interest rate hikes.
Commonwealth Wind company Avangrid and the financial backers of another project, Mayflower Wind, have reportedly asked Massachusetts regulators to pause a review of contracts for one month as they reassess the projects' viability.
Commonwealth Wind, Mayflower Wind, and Vineyard Wind
Both Commonwealth Wind and Mayflower Wind projects would see large-scale offshore wind farms built off the shores of Martha's Vineyard and Nantucket, with connections and a proposed plant at Somerset's Brayton Point.
But Vineyard Wind I, the first federally approved commercial offshore wind project in the U.S., is based out of New Bedford and appears to be moving along amid the same economic challenges.
Vineyard Wind reported on Friday that workers have started installing cable for the wind farm around 15 miles south of Martha's Vineyard.
Avangrid, the company behind Commonwealth Wind, also owns 50% of Vineyard Wind.
Danish financial firm Copenhagen Infrastructure Partners owns the other 50% of the company.
Nearshore cable work is also scheduled to begin off the southern coast of Cape Cod soon, according to the release.
Prysmian Group installing subsea cables
Cable installation work is being conducted by the Prysmian Group, an italian firm that specializes in subsea cable manufacturing that has a presence in nearly 40 countries worldwide, including 27 offshore wind projects in Europe.
Prysmian earlier this year announced plans to build the United States' first offshore wind subsea cable factory at Brayton Point in Somerset, the site of a former coal power plant.
Vinyard Wind says both U.S. and specialized European vessels are working together to install the cables.
Sea Services fishing vessel Fleet King is also working alongside Prysmian's Cable Enterprise to ensure proper communication with fishermen and other mariners in the area as the installation process goes on.
Full steam ahead for Vineyard Wind I
Prysmian is also being supported by Foss Maritime, a Seattle-based unionized maritime service company that's currently constructing a new marine offshore wind facility at the former Eversource power plant on New Bedford's waterfront.
Slated to start delivering electricity next year, the 800-megawatt Vineyard Wind I project will generate power for more than 400,000 homes and businesses in the state and is expected to reduce carbon emissions by more than 1.6 million metric tons per year.
Cable installation is expected to continue through this fall and into early 2023.
Mariners can sign up for email or text updates at vineyardwind.com/fisheries.
Reaching a project milestone
"For a project that has achieved many firsts, the beginning of offshore cable installation is perhaps the most significant we have achieved so far," Vineyard Wind CEO Klaus Moeller said.
"To get to this point has required an amazing effort by the Vineyard Wind team and we are proud to work with Prysmian, a company with world class experience dedicated to creating jobs in Massachusetts."
Prysmian Executive Vice President of Projects Hakan Ozmen commented, "Prysmian is proud to contribute to this important project that will accelerate the United States towards the energy transition."
Meanwhile Foss Offshore Wind President Joel Whitman said the company is "extremely pleased" to work on the cable installation, adding, "As a U.S. company we are particularly proud to be involved in this milestone project for the U.S. offshore wind industry."
Sea Services CEO Gordon Videll said Vineyard Wind "has committed to using local commercial fishermen to provide safety vessels for the construction phase," stating that the company is "thrilled" to assist on the project.
WBSM's Top SouthCoast Stories 10/10 - 10/16
WBSM's Top SouthCoast Stories 10/3 - 10/9
More From WFHN-FM/FUN 107