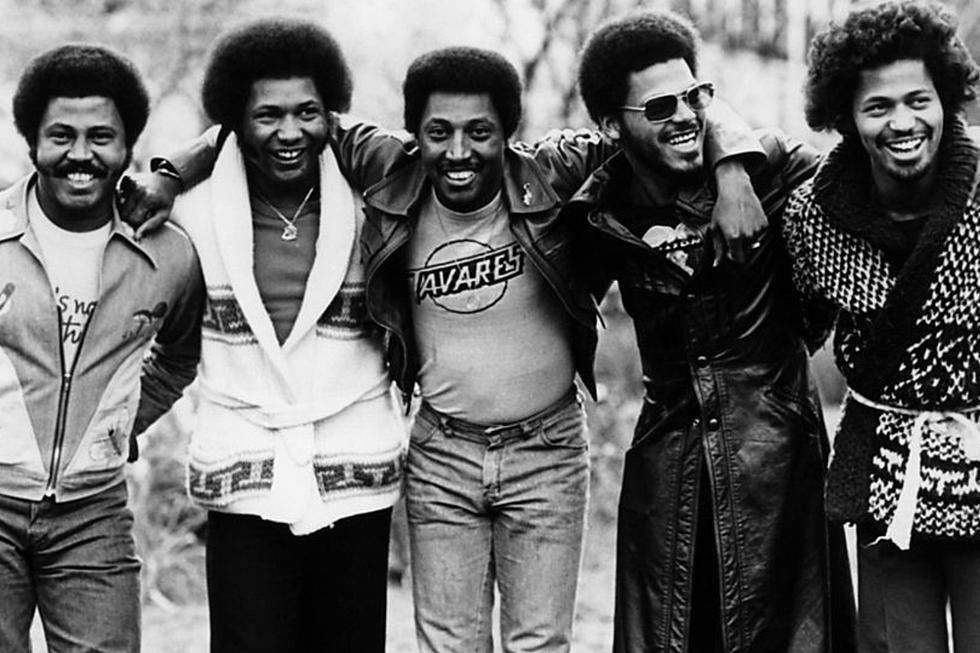 From Providence and New Bedford, Tavares Reached the Stars
Tavares via Facebook
In the eyes of most city residents, Tavares will always be New Bedford's own, even though half of the Tavares brothers were born and raised in Providence, Rhode Island. So far, Providence residents have not protested too much about our claim to the group.
The Tavares story began in South Providence, where the band's sound began to take shape in the 1950s and the brothers found their groove.
Ralph Edward Vieira Tavares, Arthur Paul "Pooch" Tavares and Antone Laurence "Chubby" Tavares were born in Providence. Victor Tavares, Feliciano Vieria "Butch" Tavares and Perry Lee "Tiny" Tavares were born in New Bedford.
Biographer Rick Bellaire, the author of Hard Core Poetry & Street Corner Symphonies, writes about the Tavares brother's rise from the Fox Point neighborhood in Providence to become "one of the most successful singing groups of all time."
Tavares owned the radio airwaves in the 1970s and '80s.
Bellaire writes, "The story of Tavares is the inspirational tale of a band of young brothers bound not only by blood, prodigious talent, and a rich musical legacy but by a fierce determination to succeed in the music business."
Victor performed for a while with his brothers but Tavares reached international heights with Ralph, Pooch, Chubby, Butch and Tiny.
Bellaire says the Tavares brothers were "in the thick of it" for more than two decades "with the best and biggest of them."
Tavares placed eight singles on Billboard's Top 40, 12 singles on the R&B Top 10 chart (including three No. 1 songs), three Dance Chart hits (one at No. 3 and two at No. 1), and 10 hit albums.
The Tavares brothers won a Grammy Award for their work on the soundtrack to Saturday Night Fever, among the all-time best-selling albums. The band has traveled the globe performing on stage and appearing on television programs.
Tiny once told me they frequently appeared on American Bandstand because host Dick Clark was a fan and invited the band on the program regularly.
The Tavares brothers inherited their talent. Their father was Feliciano "Flash" Tavares, a legendary Cape Verdean and Portuguese music performer and their mother was Albina Gomes Tavares.
"Although she could sing, she never pursued a career in music. She was too busy having children," Tiny said.
Vickie Viera Tavares was Feliciano's sister. She sang with bands all over New England.
The Tavares group, known early on as Chubby and the Realities, The Turnpikes, and the Tavares Brothers, among other things, eventually settled on Tavares for a stage name. 
Tavares was inducted into the Cape Verdean Heritage Hall of Fame in 2006 and the Rhode Island Music Hall of Fame in 2014. In 2013, Tavares received the Lifetime Achievement Award from the National R&B Music Society during a black tie gala in Atlanta.
Pooch Tavares suffered a stroke in 2014 and though he recovered, he retired from performing. Ralph Tavares, the oldest of the Tavares brothers, passed away on December 8, 2021, just two days shy of his 80th birthday.
Tavares is a source of pride for New Bedford and Providence and an inspiration to many performers from our area who reach for the stars and believe that anything is possible with hard work and dedication.
The Tavares brothers have never forgotten their roots, performing locally for their fans and giving back to the community.
Some of Tavares' biggest hits include "Heaven Must Be Missing An Angel," "Check It Out," "It Only Takes a Minute" and "Don't Take Away the Music."
Tavares' music is available on all of the major streaming services and from Amazon.
Top 200 '70s Songs
Looking back at the very best songs from '70s.
More From WFHN-FM/FUN 107