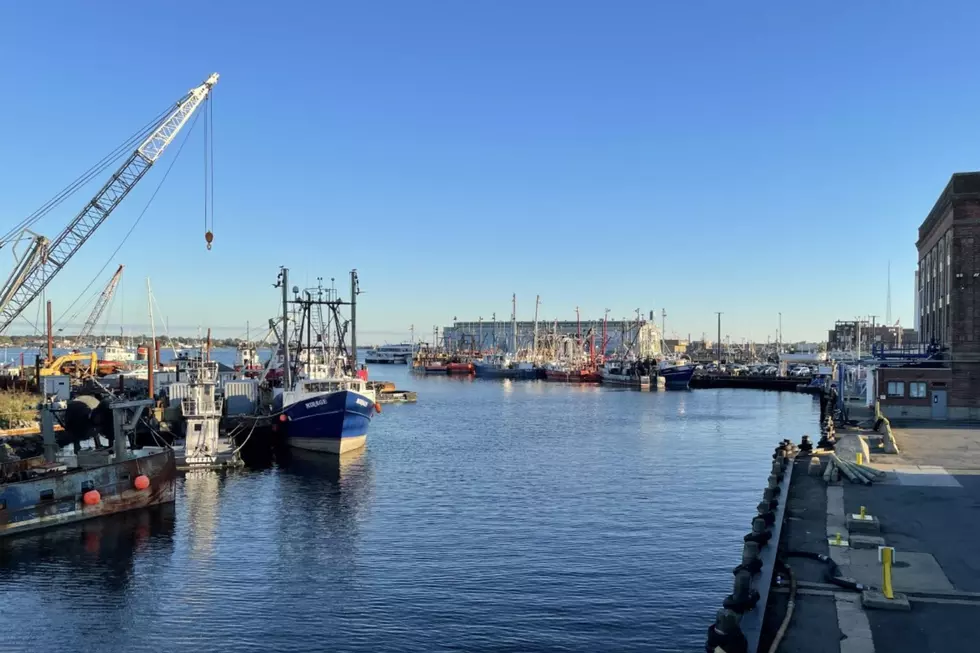 New Bedford Port Projects to Get $80 Million From State
Kate Robinson/Townsquare Media
NEW BEDFORD — Big changes are coming to New Bedford's bustling waterfront, as four major port projects are set to receive $80 million in funding from the state.
"This is a really good day for the Port of New Bedford," Mayor Jon Mitchell said. "We've done an awful lot of planning and designing and permitting over the years to be ready for moments like this."
According to an announcement from State Senator Mark Montigny, three city marine terminals will be getting $75 million in major improvements for the offshore wind industry, while Mitchell said another port project will receive $5 million.
Projects Getting Funded
A project to redevelop the former power plant just south of the downtown area — the demolition of which was postponed last week — into the Foss Marine Terminal is set to receive $15 million.
The Foss Marine Terminal project is owned in a joint venture between Seattle-based Foss Maritime and New Bedford-based Cannon Street Holdings, and will see the site redeveloped for offshore wind and other maritime industries.
A small part of the site near the city's downtown will also be redeveloped into mixed-use commercial space for restaurants, retail and offices.
The expansion of the city-owned North Terminal facility will also be getting $15 million, more than half of the expected $28 million cost of the entire project.
Meanwhile the Marine Commerce Terminal on New Bedford's southern waterfront will get $15 million on top of $30 million it has already received for improvements, bringing the total state funding for that project to $45 million, according to Mitchell.
The Marine Commerce Terminal is owned by MassCEC and is already being used as a staging area for offshore wind.
Finally, the mayor said a longstanding proposal to turn the old Revere Copper And Brass facility on North Front Street into a new shipyard will receive $5 million in state funding.
The site of the proposed Shoreline Marine Terminal is currently owned by father-son duo Charlie and Michael Quinn.
Earlier this month, the Seaport Economic Council awarded more than $2.3 million in grants to six projects in the Greater New Bedford area — funding that is not included in the $80 million announced Tuesday.
New Bedford Harbor Development
With all this development going on, what will New Bedford residents be seeing over the next few years?
"Fortunately, they're port projects, so they're not going to cause vehicular traffic," Mitchell joked. "People will continue to see lots of cranes on the waterfront for several years — there's going to be a whole lot of construction going on."
He noted that puts New Bedford in "a strong position to compete for jobs" in the offshore wind industry, adding that the city has an extra competitive edge due to its harbor cleanup.
"We have in New Bedford available to us an accelerated permitting process because of the harbor's status as a federal superfund site," Mitchell said, adding that port project permitting under the Clean Water Act can take several years.
"Because the EPA is doing a cleanup here already, we in New Bedford effectively get to skip all of that."
Capitalizing on Infrastructure Funding
"This is something we've been working on for a long time," Mitchell said.
"New Bedford can compete for jobs and investment from offshore wind, fishing and other maritime industries if it has useful infrastructure ready for them."
"Port infrastructure is vital to New Bedford's economy, and these significant state investments will help keep our city competitive for existing industries as well as emerging new projects," said Montigny.
"It is important that we continue to foster new, developing industries while we protect our strong commercial fishing base," he added. "Today's investments will help New Bedford achieve this goal."
Top SouthCoast Stories on WBSM Dec. 12 - 18
More From WFHN-FM/FUN 107