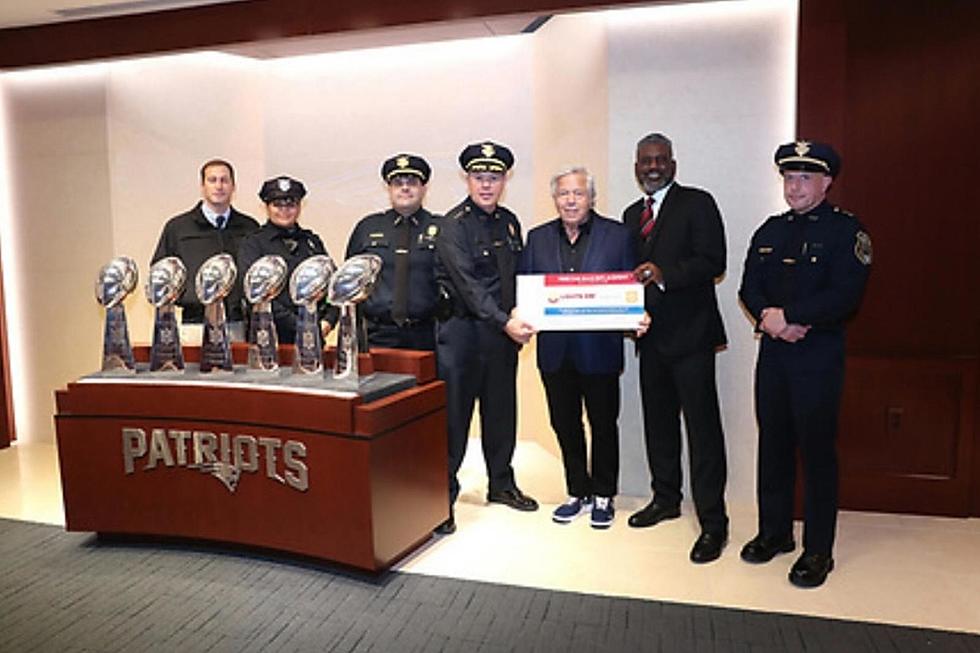 New Bedford Police Team With New England Patriots to Make SouthCoast Roads Safer
Courtesy New England Patriots
The New England Patriots and the New England Revolution are partnering up with New Bedford Police Department for Lights On! The new program is an effort to help make SouthCoast roads safer.
New Bedford Mayor Jon Mitchell and New Bedford Police Chief Paul Oliveira made a trip up to Gillette Stadium today for the announcement.
Instead of New Bedford Police issuing tickets for faulty headlights, tail lights and other safety lighting on passenger vehicles, officers will issue vouchers for the repair. During a traffic stop, if an officer notices an issue with a safety light, the officer will issue a voucher that the driver can present at the following New Bedford repair shops:
• Joe and Perky's Service Station, 2907 Acushnet Avenue
• Cottage Street Motors Inc., 589 Cottage Street
• Luzo Auto Center, 19 County Street
The driver will not be issued a citation.
The concept goes further than simply making sure that cars, and in turn roads, are safer. The program is also designed to build trust and goodwill between the local police force and drivers that use New Bedford streets.
New Bedford Police Chief Paul Oliveira said he is excited to bring this program to the city of New Bedford.
"This program will be able to afford our officers the ability to transform typically negative interactions into positive ones," Oliveira said. "This is a great way for our officers to build trust with the community and engage them in positive interaction. At times, routine traffic stops have the potential to become adversarial, and we'd like to lesson the possibility of that."
"On behalf of the department and the New Bedford community, we are very appreciative of the Kraft Family, the New England Patriots organization, and the Lights On foundation for agreeing to partner with us on this worthwhile opportunity," he said.
"This program will complement our community policing philosophy that has built trust in our neighborhoods and has dramatically lowered crime across the City," said New Bedford Mayor Jon Mitchell. "I am grateful to the NFL, the Patriots, and the Kraft family for their thoughtful support."
20 Celebrities Who Love the New England Patriots As Much As You
Patriots Nation is strong with or without Tom Brady and these celebrities count themselves among the those who love New England's football team.
TACKLE THESE: Check Out the Best Uniforms In Each NFL Team's History
More From WFHN-FM/FUN 107