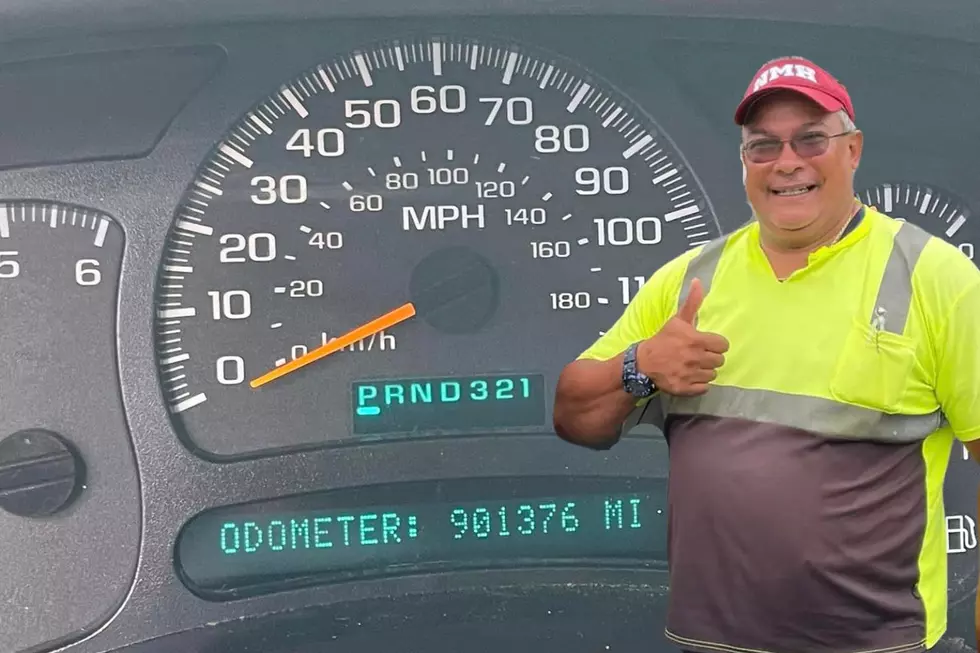 New Bedford Man's Truck Is On the Road to 1 Million Miles
Courtesy Prestige Auto Mart
On Sept. 2, the odometer on Mark Andrews' truck rolled over to 900,000.
The New Bedford man uses his 2003 Chevy Avalanche daily for work, averaging around 300 miles a day. That's 1,500 miles per week, 60,000 per year.
What's his secret?
"Jiffy Lube and a good mechanic," he said. "Maintaining the motor and the transmission were the biggies, but other things such as brakes, oil changes and fluids are done regularly. Every six months I'm listening for squeaks to fix the fronts or rears of my breaks and over the years of being in the same vehicle over and over again, I've learned to recognize the noises.
"I don't let things add up. Everything is fresh on it. I go through oil changes every three to four weeks. Instead of changing the oil at 5,000 miles, I do it around 4,000- 4,500 miles."
On Monday, Andrews stopped at Prestige Auto Mart in Westport where he purchased the Avalanche from Kevin Pimentel, the nephew of owner Manny Sarmento.
"I went to say hello to Manny and ended up running into the head manager Jeff Leary," Andrews said. "
He asked Leary: "You ever see anybody drive 900,000 miles from a car they bought from you?"
Andrews said Leary checked out the car and took a photo.
Sixteen years after the purchase, Leary, Sarmento and Pimentel are still going strong at the dealership.
"I couldn't believe it when he stopped by the dealership," Leary said of Andrews. "Manny left me all alone and once I saw the dashboard, I was flabbergasted. The truck isn't even that old and had a ton of miles on it. Unlike myself, of course."
We had some questions for Andrews on his reliable ride and the 900,000-mile milestone.
What's the longest single drive have you taken with this truck?
"My job has taken me out as far as the Hudson River to Bear Mountain State Parkway in New York.
Describe the personal connection you have with a truck that's been in your life for the past 16 years.
"It's truly a part of my family. That truck went to Georgetown to drop off my daughter, pulling the trailer full of her belongings. It went to Colby College in Maine to haul my son's stuff to his dorm room. I've been back and forth throughout New England and it's still running strong.
What special memories have you made with the Chevy Avalanche?
"When my kid was a little boy, only 12 years old, we used to go dirt-biking and 'quadding' in New Hampshire and Western Mass. I tow my boat on the weekends and it's been a part of everything that I do. I'll be heartbroken the day I have to part with it. I make the joke that my truck is responsible for all this: my house, everything. I've been using that since 2008 on my job and I've been paying my bills because of it ever since."
The million-dollar question: Will it make it to 1,000,000 miles?
"I'm hoping to find out, but I only do 60,000 a year. It's going to take a year and a half before it reaches that milestone. It's not going to happen overnight, and a lot of things have to go right like avoiding accidents as well."
Andrews has been honored as an elite member of Chevy Legends with Chevrolet. He applied to confirm through the registry that he was not bluffing with the mileage on the odometer.
All in all, after 16 years behind the wheel of the same vehicle, you would think he would have a name for his Avalance, but the thought has never crossed his mind. He says he's "open to suggestions."
I'll check back with Andrews if the 999,999 rolls over to the millionth mile. Oh, and Chevrolet, if you're reading this, I think Andrews deserves a gift for his loyalty to your product and brand. Just saying.
Top 10 Costliest Crash Locations in Massachusetts
The Massachuetts Department of Transportation has collected data between 2017-2019 that show the worst areas to drive when it comes to costly crashes.
More From WFHN-FM/FUN 107