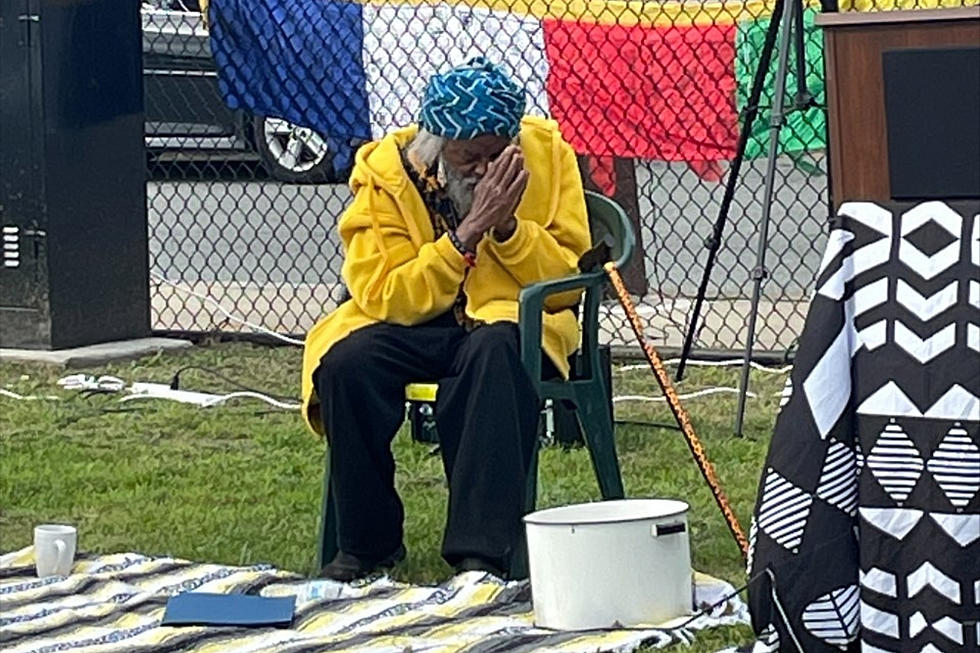 New Bedford Must Lift Up Celebration of Dr. Jibreel Khazan With a Statue
Ken Matias/Townsquare Media
On October 12, one of the most important figures to American civil rights, Dr. Jibreel Khazan – born Ezell Blair – was honored with the renaming of a city park in New Bedford's West End. While it is a great honor, there is still so much more we could do to recognize a man who has done so much for the city, the country and even the world.
Khazan was one of the courageous "Greensboro Four," who initiated the famous sit-in movement at a "whites only" F.W. Woolworth's lunch counter on February 1, 1960. It drew national attention, and ultimately kindled a youth-led crusade that confronted racial inequality throughout the South.
Through the daring, poise, peaceful manner and heroism of the Greensboro Four, F. W. Woolworth's changed its whites-only policy. The Greensboro Four started the peaceful sit-in protests that led to the passage of the Civil Rights Act of 1964, prohibiting racial segregation in public accommodations.
Popular poet and community organizer Eric Andrade said it was actually someone from the younger generation who was able to best sum up Jibreel Khazan.
"My daughter described him best: Jibreel has the wisdom of an elder, but the spirit of a child," he said. "Jibreel saw his calling and took a risk. That's what life is all about, taking risks, and when we take risks, changes come. He took a risk that could have meant losing his life, but it changed the entire dynamic of America."
This man brought about change to an entire nation that the world looked at with inspiration. As one of the most important historical figures in America, the New Bedford community he has called home for the past 55 years must congregate to raise this recent celebration to a higher level that is worthy of a great American liberator.
"No matter how insurmountable odds seem, as long as you have it in your heart and mind, you can really make change," said former New Bedford City Councilor Dana Rebeiro.
Rebeiro supports moving the idea of a statue or proper representation of Dr. Khazan to move forward. While he's still among us – he turns 80 this week – "we need to honor Dr. Khazan, so that when residents and visitors alike see a statue of him," she said.
A statue could also solidify the impact he had for the future generations to come, long after those who lived through the civil rights movement are no longer with us.
"The next generation needs to be aware of Dr. Khazan and hear his message," said Marques Houtman. "If you're going to take a risk, you better have a lot of courage."
Many of those in attendance had been impacted by Khazan's lessons in their own childhood. Pastor Joseph Goodine of the Onset Foursquare Church remembered Dr. Khazan making an impact on him in his younger days.
"I was a young man running the streets of the West End when Jibreel Khazan came to Hathaway Courts," Goodine said. "It was Dr. Khazan who helped me turn around and start my walk to find God. Without Jibreel being in my life, God only knows where I'd be today."
"Jibreel has been a light in our community. He's a powerful being. The children look up to him," said local poet and former Ward 5 candidate Raena Camacho. "When I was a child, I'd see Jibreel and think he's my guardian angel.
New Bedford Park Renamed for Civil Rights Hero
A New Bedford park was recently renamed in honor of city resident Dr. Jibreel Khazan, known as one of the "Greensboro Four" who in 1960 staged a sit-in protest at a Woolworth's lunch counter in Greensboro, North Carolina.
More From WFHN-FM/FUN 107