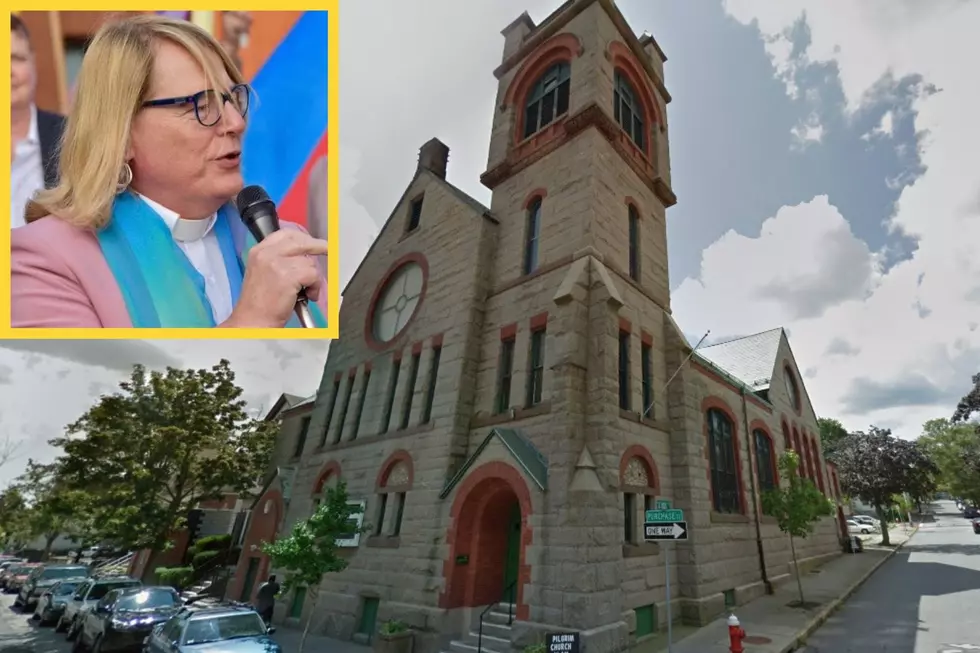 New Bedford to See First Transgender Pastor Installed on Sunday
Google Maps/Pilgrim United Church of Christ
NEW BEDFORD — In a first for the city, the Greater New Bedford region, and possibly for southeastern Massachusetts, a local church will be getting a transgender woman as its leader.
Rev. Dr. Donnie Anderson will be formally installed as pastor at the Pilgrim United Church of Christ in downtown New Bedford on Sunday afternoon in a 3 p.m. ceremony that all are invited to attend, according to the church's website.
Now 74, the reverend and Rhode Island native has been serving as the congregation's interim pastor since April 2021, after getting her start in ministry in a Dartmouth church in the early 1970's.
"I'm just so delighted," she said of the appointment. "I think the congregation and I are just a nice match, and appreciate one another...I love New Bedford, I love the fact that the church is really engaged in the community."
Anderson retired after more than 12 years as the Executive Minister for the Rhode Island State Council of Churches.
"I loved that work, but I wanted to finish where I began — in the local parish," she said. "I love being a pastor. And I was hoping that there would be a church that would not only accept me as transgender, but that I would fit in so many other ways."
She found that place at Pilgrim United, which she describes as a group of people that cares about everybody.
"Whether you have money or you don't have money, you have a degree or don't have a degree, you can still come and be welcome," she said, adding with a laugh, "I feel like I hit the jackpot at the end of the rainbow!"
Coming out as a transgender woman
Anderson came out as transgender in August 2017, at the age of 69.
"I wish I understood who I was earlier," she said. "When I was nine, in 1956, I tried to have a conversation with my mom, because I knew there was something different about me."
But at the time, she noted, even though her mother loved her, "there was no way there was any conversation about this."
"At nine years old, I went into the closet," Anderson said. "And I just denied even thinking about it."
For decades, men with feminine inclinations were thought to be gay, Anderson said — but since she isn't attracted to men, she didn't know where she fit in.
"I just thought I was an anomaly, for years and years and years," she said.
It wasn't until Caitlyn Jenner came out and the resulting conversations about transgender identity that she finally realized who she was.
"It took a long time, because I was concerned," she noted. "I was concerned about what it would do to my family, I was concerned about my profession — you know, at that point I knew of no transgender clergy at all."
But, she said, she ultimately admitted to herself "out loud" that she was a woman, which led to her coming out to her family and deciding to transition.
Being a transgender clergyperson
When Anderson came out to the board at the RI Council of Churches and asked for a sabbatical to transition, they voted 31-0 in a show of support that she said "blew my mind."
"Both in the Jewish community and in much of the Christian community that I dwell in, the reception was overwhelmingly positive," she noted.
But there have been professional difficulties.
Anderson said some of her clergy friends won't talk to her any more — and some will have a cup of coffee with her secretly, but won't be seen with her in public, because they're afraid of losing their jobs.
"But I choose to focus on the positive, and I choose to try and live a life that sends a message that says to especially our young people, that there is hope," she said.
A positive impact
The reverend is particularly proud of the positive community work her congregation does, often with non-profit groups — such as Mercy Meals & More, which serves hot breakfasts to anyone who shows up on Monday through Saturday mornings.
The congregation also helped supply bus passes for Afghan refugee families, and they're involved in the annual guns for groceries program, which provides food coupons in exchange for guns.
"I think that's what churches ought to be doing," Anderson said.
She doesn't seem to mind being a trailblazer.
"Hopefully, people will see that you can have a transgender pastor and everything's just fine," she said wryly. "And that will open doors for other people."
Transgender people may need those open doors.
According to Anderson, citing data from a National Transgender Discrimination Survey, the attempted suicide rate in the general U.S. population is more than 4% — while in the transgender community, it's over 40%.
"In the adolescent transgender and non-binary community, depending upon the surveys, it's anywhere between the high 40s and 53%," she noted. "That's tragic. I mean, that is beyond epidemic proportions."
She added, "I just want to be one of the voices that's out there that says, 'There is another way to go…And there are plenty of people who want to support you and help you live a full, healthy, happy life.'"
New Bedford Church Transformed to Gorgeous Home
You won't believe the transformation of this former New Bedford church into one of the most beautiful homes in the city.
More From WFHN-FM/FUN 107