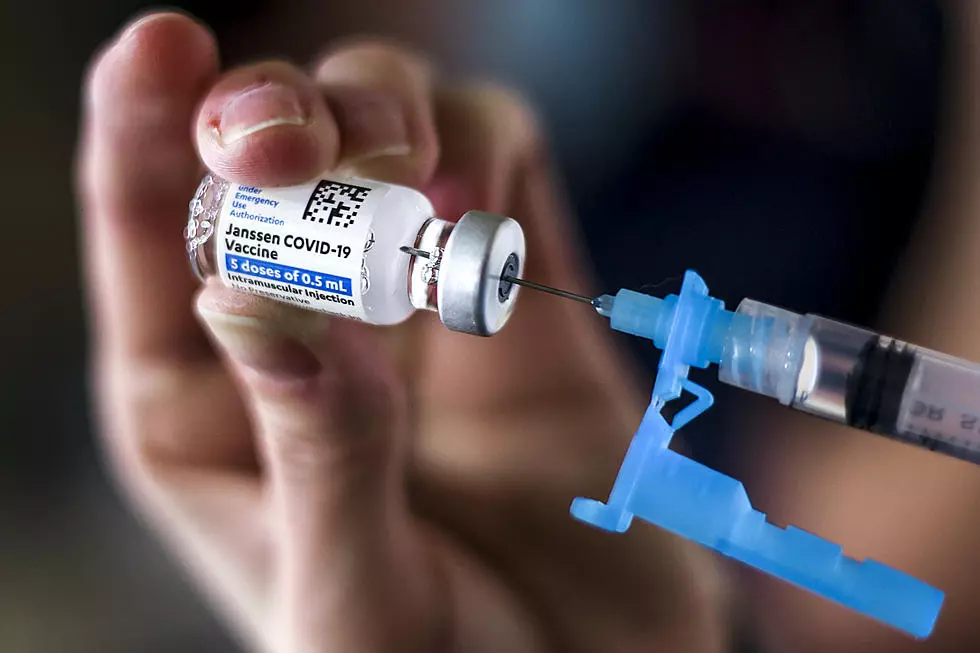 New Bedford Officials Urge Vaccination, Tests as COVID Cases Surge
Getty Images
NEW BEDFORD — As New Bedford now leads Bristol County with a rate of more than 365 average daily COVID cases over the past two weeks, city officials are urging residents to get the vaccine booster.
The average daily case rate skyrocketed from 159 on Jan. 6 to 309 on Jan. 13, and is continuing to surge upward.
Nearly a third — just under 30% — of all COVID-19 tests in the city came back positive over the past 14 days, according to state data released yesterday.
The city still lags behind the state average for vaccinations as well.
Around 55% New Bedford residents are fully vaccinated, compared to nearly 75% of residents in the state.
Meanwhile fewer than one out of five New Bedford residents (19%) have their booster, compared to nearly half of residents statewide (49%).
A statement from the mayor's office notes that boosters are "critically important" for all those eligible for the shot, as "immunity from vaccines can wane."
"Booster shots can reduce risks of hospitalization and severe illness, and are particularly important given the omicron variant, which may be more likely to evade immune responses," the statement noted.
New Bedford vaccination and testing clinics are resuming their regular schedules next week following the winter storm and holiday weekend, officials said.
Free, walk-up COVID-19 clinics in New Bedford offer CDC-approved booster shots,as well as first- and second-dose vaccines and, at most locations, vaccines for kids and teens.
Visit vaxnb.com for more information and updated schedules.
Vaccination clinics in New Bedford this week
Weekend clinics are available at the Andrea McCoy Recreation Center from 11 a.m. to 3 p.m. on Saturday and at the Workers Community Center / Centro Comunitario de Trabajadores on Acushnet Avenue on Sunday from 9 a.m. to 1:30 p.m.
Residents can also get the jab on Monday, Jan. 24 from 2 to 7 p.m. at the Andrea McCoy Recreation Center, or on Wednesday, Jan. 26 from 4 to 7 p.m. at the Cape Verdean Veterans Memorial Hall on Purchase Street.
On Thursday, there will be a vaccination clinic at William Taylor Elementary School from 3 to 6 p.m., and on Friday at PAACA on Coggeshall Street from 1 to 5 p.m.
State Resources for COVID Vaccination
The Massachusetts Department of Public Health has free online services to find personal vaccine records and local vaccination clinics, including at many pharmacies.
Access vaccine records at myvaxrecords.mass.gov, and find local vaccine listings at vaxfinder.mass.gov.
COVID Testing Clinics in New Bedford
Coronavirus testing clinics at New Bedford Regional Airport, former Fire Station 11 in the South End and PAACA on Coggeshall Street will resume their regular schedule, city officials said.
Project Beacon's appointment-based COVID-19 testing at New Bedford Regional Airport — part of the state's Stop the Spread program — will take place every day except Friday this week.
Appointments for free COVID-19 tests can be made at beacontesting.com. Airport officials ask that people reach the site via the airport's side entrance on Downey Street.
The appointment-only Project Beacon airport testing schedule is:
Sunday, 9 a.m. - 5 p.m.
Monday, 8 a.m. - 4 p.m.
Tuesday, 11 a.m. - 7 p.m.
Wednesday, 8 a.m. - 4 p.m.
Thursday, 11 a.m. - 7 p.m.
Contact Project Beacon by email at help@beacontesting.com, or by calling 617-741-7310.
Walk-up testing provided by Seven Hills Behavioral Health is available at the former Fire Station 11 on Brock Avenue in the South End from 11 a.m. to 4 p.m. on Monday, Tuesday, Thursday, and Friday.
No appointment is necessary for the clinics at the fire station.
Free COVID Tests at Home
For rapid tests, the federal government is offering free at-home test kits online, at COVIDtests.gov.
Every home in the U.S. is eligible to order four free at-home COVID-⁠19 tests.
Those who test positive with a rapid test should isolate for at least five days and notify close contacts.
Those who test negative are advised to retest a day or more later, particularly for those with symptoms or a known exposure to the virus.
Testing sites in New Bedford and surrounding towns can be found on the state's Stop the Spread website, www.mass.gov/info-details/find-a-covid-19-test.
Where to Find Free COVID Tests on the SouthCoast
There are currently 30 sites that offer free testing on the SouthCoast. Not all are permanent fixtures and some are only for residents of that town or city. Here is a breakdown for those seeking free tests in the area.
This information was found using the
Mass.gov link
in addition to other resources.
20 SouthCoast Massachusetts and Rhode Island Dishes That Deserve to Be Featured on the Food Network
Take a dive into the freshest seafood dishes, Italian specialties, Portuguese favorites and much more for these signature SouthCoast dishes that are so good, they deserve to be featured on the Food Network.
More From WFHN-FM/FUN 107