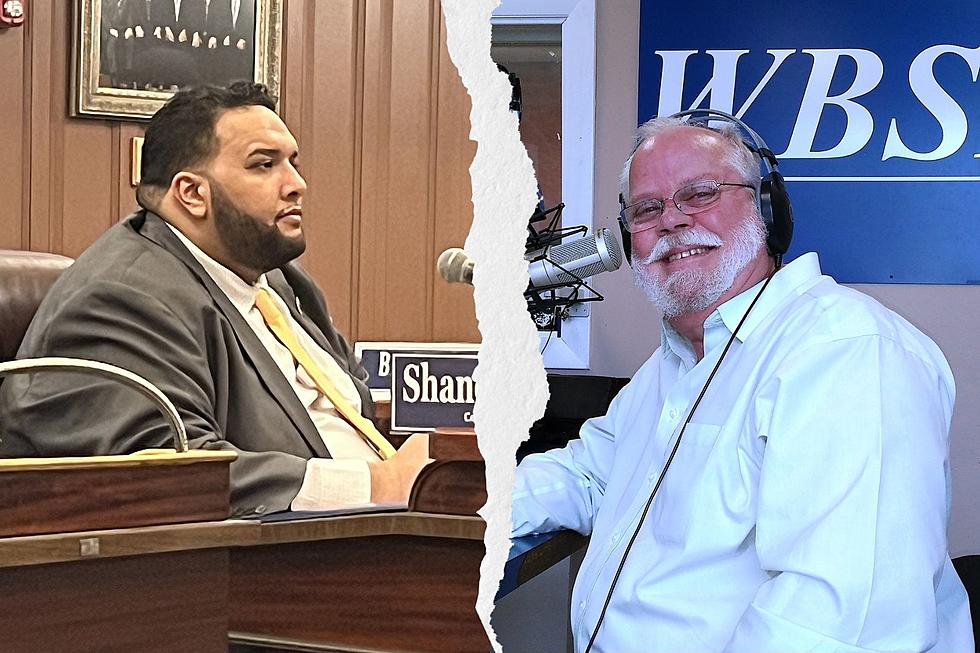 New Bedford City Councilor, Chamber CEO Weigh in on Ballot Question Veto
Adam Bass/Dan McCready/Townsquare Media
NEW BEDFORD — New Bedford City Councilor at Large Shane Burgo and One SouthCoast Chamber CEO Rick Kidder are weighing in on a public dispute between Mayor Jon Mitchell and the city council over three ballot questions.
The city council had earlier this month approved three non-binding referendums to put to voters on the November ballot: one on rent stabilization, one on repealing the Community Preservation Act, and one on keeping the mayoral term at four years.
But in a strongly worded letter sent last week, Mitchell announced his veto of the three measures and raised concerns with the council's near-unanimous approval despite little apparent discussion.
Now, Burgo and Kidder have released statements on the ballot questions and on the rift between the city's executive and legislative branches.
Statement from Councilor Shane Burgo
"Now is a time for listening and discussions, not for lectures on public policy and governance," Burgo wrote in his statement.
Burgo — who made housing a focus of his campaign platform in 2021, and who chairs the council's affordable housing committee — proposed the rent stabilization measure to the council.
He noted that since the ballot question passed, "discussions around rising rents — and our housing crisis in general — have finally been given the heightened attention they deserve."
"Dialogue is good," Burgo wrote, going on to call the mayor's veto "surprising" and "disappointing."
"Lectures benefit no one while rising rents are at a crisis level in our city," he added.
Letter from One SouthCoast Chamber CEO Rick Kidder
Meanwhile, in a March 24 letter addressed to City Council President Linda Morad and other councilors, Kidder said he heard about the ballot measures passing with "surprise and disappointment" of his own.
"That these matters were considered without public outreach and input is both challenging and reflective of the worst form of lack of transparency and due diligence," Kidder wrote.
He went on to state his opposition to rent control of any kind, writing that it tends to chill new investment and construction of housing.
"It is incumbent on the city and its elected leadership to find positive ways of both spurring new investment and keeping the city affordable as a place to live," Kidder noted in the letter.
"Rent control is not one of those ways."
Read Kidder's letter to the City Council
Kidder went on to state his support for the Community Preservation Act and for leaving the mayoral term untouched, although he said it didn't have "anything to do with the current holder of the office."
"Good government needs good leadership with the stability to see issues through, to address concerns and sometimes controversial issues without always looking over their shoulders toward the next election," he wrote.
The chamber CEO ended by asking the council not override the mayor's veto of the three ballot measures, a step that would require a supermajority — eight of 11 councilors.
Hilarious New Bedford Slideshow Has Travel Site Catfishing Tourists
A travel website called
UniverseTravel.org
has created an
online 'story'
enticing potential tourists to visit beautiful New Bedford, Massachusetts. The only problem? It features photos that hilariously have nothing to do with the Whaling City. This is what happens when you let AI do your job for you.
Peek Inside New Bedford's Historic Rodman Mansion
This 1833 granite mansion on County Street was designed by architect Russell Warren in the Greek Revival style. It now houses office condo spaces, but some of its former glory is still visible!
More From WFHN-FM/FUN 107