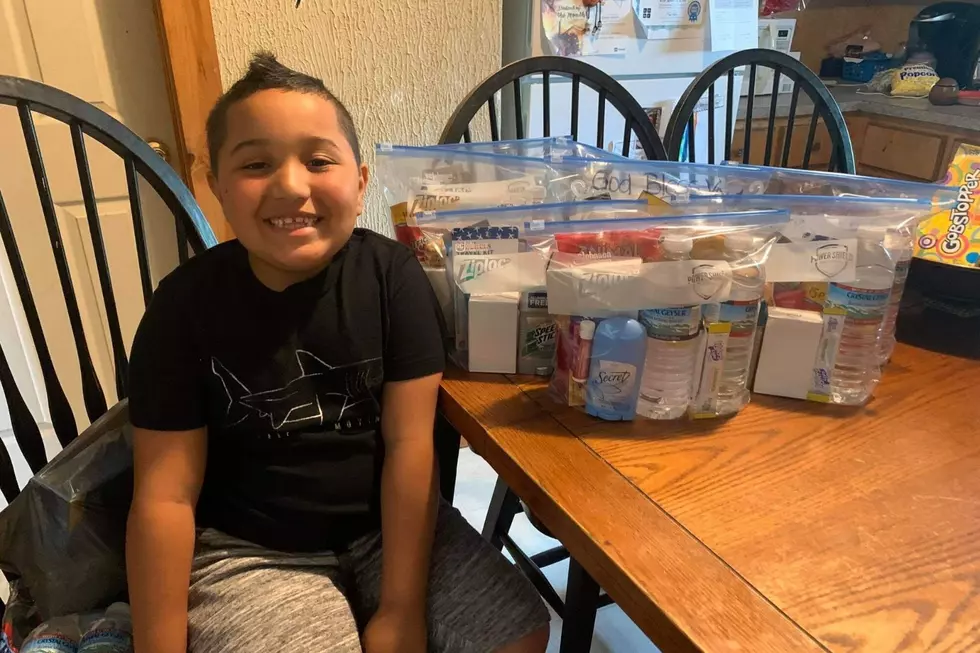 New Bedford Boys Give Back to the Less Fortunate
Courtesy Sharae Barboza
It seems to be a trending cause to love where you live and to give to those who are less fortunate than most.
Honestly, that's a trend I can get on board with and I love everything about it. Just the other day, I came across a social media post of a couple of young girls whose goal was to help the homeless and it just so happens that I've stumbled upon another uplifting "feel good" story.
There are two young boys from New Bedford who wanted to spread some joy across the SouthCoast: seven-year-old Ayden and 13-year-old Justin.
Together the brothers formed a team to come up with a way to help out the local homeless community here in New Bedford and when all was said and done, they accomplished exactly what they sought out to do – to help others who were down on their luck.
With the help and supervision from their mom, Sharae Barboza, the boys were able to complete their mission.
"I came up with the idea, because I wanted to make people happier," Ayden told Fun 107. "I want to make the world a better place and by doing so it would bring people joy."
Ayden became saddened by those who are homeless and the situation they were in and simply wanted to provide people with things they might not have.
"We went to the store and bought snacks, socks, soap, masks, hand sanitizers and made up bags for both men and women," Ayden said.
A friend of the family saw that the boys were doing a good deed and wanted to help in any way that she could.
"She donated some masks and money to provide funds towards the products and food," Barboza said. "It was a great contribution to the care packages."
Together, the family drove throughout the city to different areas where people were panhandling or were homeless on the side of the road, and then distributed the care packages to anyone who was in need.
"This is definitely something I would want to do again," Ayden said. "It makes people happy and makes me feel good about myself. Everybody was very thankful and gave me prayer cards and even sang a song for me. It made me feel really happy to give back."
In the end, through the power of giving and helping others in need, the boys learned a valuable lesson.
"I learned to make people happy, be kind and to be thankful," Ayden said. "It made me feel happy for what I have."
Barboza always taught her children that kindness goes a long way and to always remember your roots.
"There are less fortunate people out there and I try to tell them all the time that we are fortunate to have what we have," Barboza said. "Even to just have hand wipes and masks, something so small makes a huge difference."
Humbled and thankful, I think this a page we can all take out of Ayden and Justin's book for ourselves. In a world where life comes at you fast and some people have better luck than others, it's important to give back when you can where even the smallest gesture can create a ripple effect in the community in which you live.
Always remember to stay humble and to stay kind to anyone that you meet, because nobody truly knows what others are going through these days. That being said, I'll finish this heartwarming story with a quote from Tim McGraw that speaks volumes:
"When you get where you're going, don't forget, turn back around and help the next one in line."

 
KEEP READING: Creative Ways to Bring Joy to Your Neighborhood While Social Distancing
Enter your number to get our free mobile app
More From WFHN-FM/FUN 107