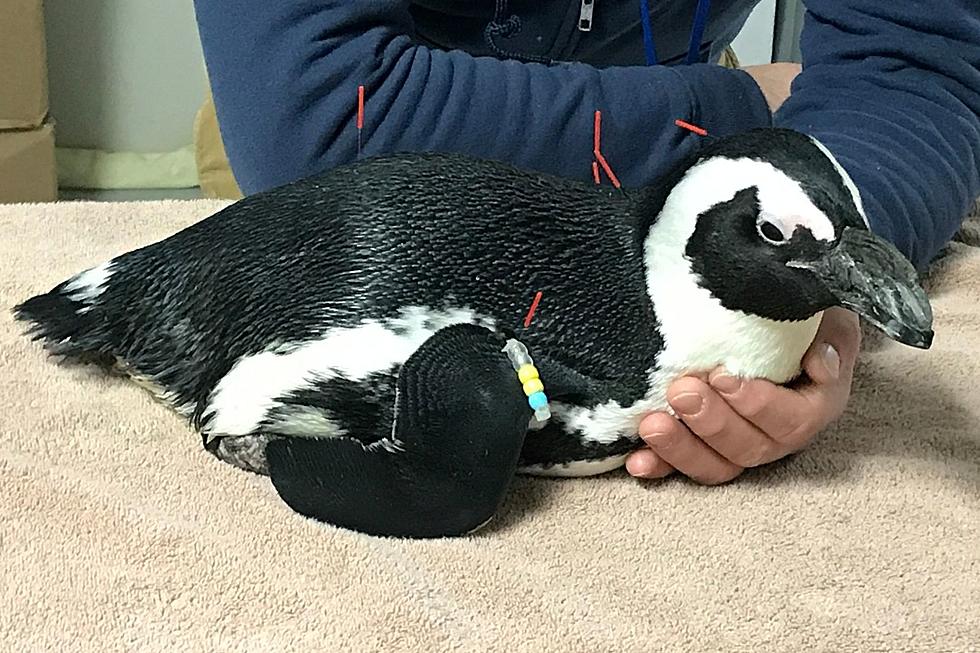 Mystic Aquarium Captures Video of a Penguin Getting Acupuncture
Courtesy Mystic Aquarium
If you've never received acupuncture, I can attest that it does do the job. Whether it's for muscle pain or to loosen tight tendons, the therapeutic art of acupuncture can be used as a very effective medical tool – and yes, even on penguins.
At the Mystic Aquarium in Connecticut, the African penguins are undergoing acupuncture therapy for specific health conditions. This also helps track and monitor the health and progress of each penguin as it allows it to bond with the trainer who is administering the needles.
The aquarium sees this as a way to build patience and trust between human and animal as well as sustaining positive behavior.
"Building a bond of trust and compassion with our African penguins is part of the Aquarium's larger mission to learn more about how they behave, how they respond and interact with their environment, and their overall health, in order to better understand why African penguins in the wild continue to disappear," Mystic Aquarium said in a release.
Mystic's main goal is to educate and spread awareness of this endangered species. According to the aquarium, with only 21,000 African penguins remaining in the entire world, these studies are meant to prevent extinction and to better understand their behavior and habits.
The aquarium is working to ensure the overall health of these penguins and the power of acupuncture is just the beginning of their scientific studies and breakthroughs. These photos and video are enough to give anyone penguin fever. Perhaps a visit to Mystic is in order; I'm sure these furry little guys would love the company.
Historic Pawtucket House With Ghostly Past Looks Amazing Today
This 100-year-old home in Pawtucket was built to commune with the dead. Now it's a place for friends to commune with one another in some epic entertaining space.
More From WFHN-FM/FUN 107