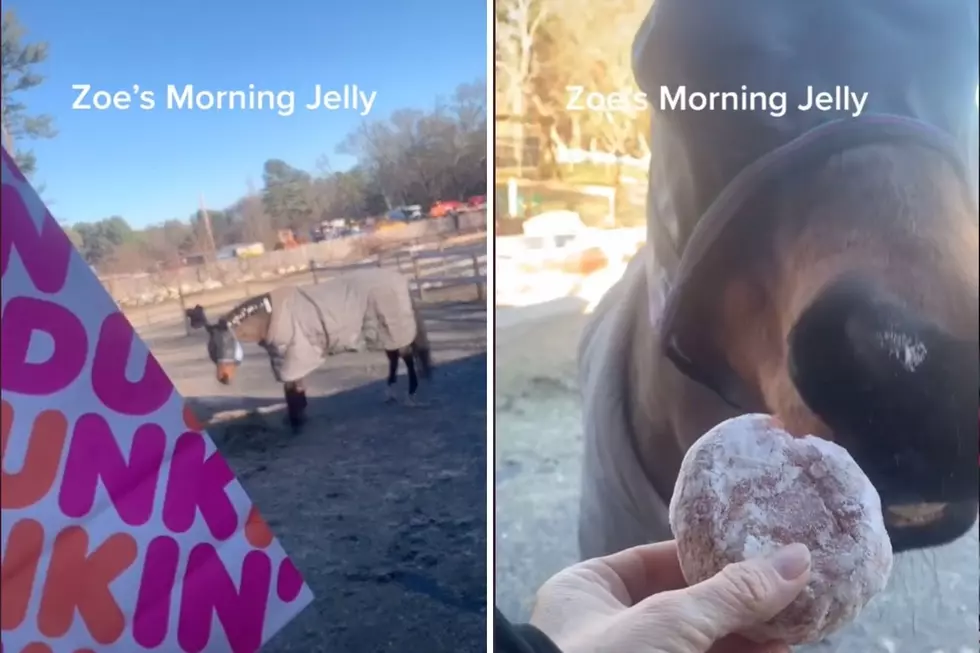 This Middleboro Horse Runs on Donuts from Dunkin'
bradfordstables via TikTok
Hay is for horses, but apparently, so are donuts.
If you live on the SouthCoast, you most likely live within walking distance to several Dunkin' shops and have enjoyed a donut or two. This Middleboro equestrian is showing her TikTok followers that her horse can't resist the tasty pastry.
As a child, I spent a lot of time at my aunt's farm in Jamestown, Rhode Island where we would brush her horses and take them for a ride down to Mackeral Cove. Horses are one of my favorite animals, and when I came across Zoe the Donut-Eating Horse on TikTok, I had to click follow.
It turns out that Zoe has a bigger need for those donuts other than for pure enjoyment. Zoe's owner, Amy Bradford, explained to me how she is required to take many pills in a day while she recovers from a tick-bourne illness.
I learned through Bradford's extensive documenting online that her adorable horse lost a large amount of weight in a short amount of time. Zoe was sent to Tufts Clinic where she failed her neurological test. She has since gone through rigorous testing after her doctor began to believe that Zoe was suffering from a tick-borne illness.
Bradford told me how she loves to buy her students munchkins every Saturday morning and she would sneak one to Zoe. After months of fighting her to take her meds, Bradford had a light-bulb moment.
"I'll put the pills in a donut," she said. "It worked like a charm."
It's been an uphill battle, but now that Bradford has a foolproof method of getting Zoe her medicine, things are beginning to take a turn for the better.
She has received some backlash from keyboard warriors, saying that she is "endangering" her animal by giving her donuts, but Bradford makes it clear that her doctor is aware of her method.
"We started on 75 pills," Bradford said in one of her videos. "We tried to syringe them into her. She didn't like it, I didn't like it." Dunkin's jelly donut has become a lifesaver for Zoe.
Zoe continues to fight for a full recovery, but in the meantime, she continues to take about two dozen pills a day. Bradford stuffs those pills into a delicious jelly donut, making the road to recovery a little sweeter. Amy Bradford is a prime example of the great lengths that pet owners will go to for their beloved animals.
Follow her on TikTok for some more horsing around Bradford Stables.
LOOK: The least obedient dog breeds
More From WFHN-FM/FUN 107