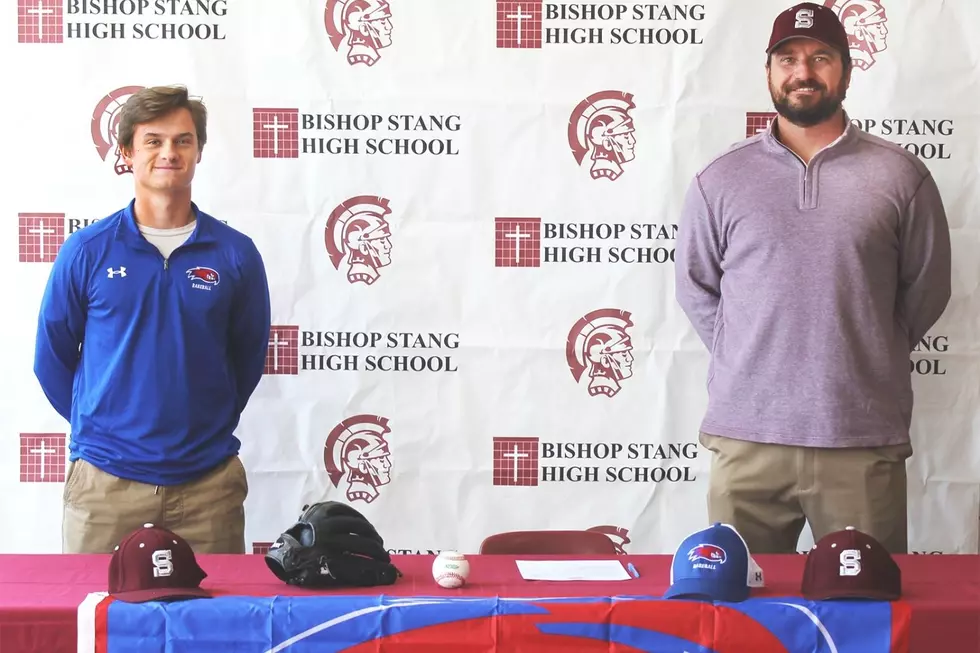 Mattapoisett's Hayden Duke Signs to Play Division I Baseball
Photo courtesy of Bishop Stand High School
If landing a scholarship to play college athletics is tough, it is particularly tough during a pandemic. If your strongest sport happens to be a spring sport, well then, it makes it that much more complicated. Colleges and universities are basing major decisions on the play that they (hopefully) witnessed during a player's sophomore season and any other travel play that was snuck in.
Luckily for Mattapoisett's Hayden Duke, UMass Lowell head coach Ken Harring and pitching coach Brad Cook liked what they saw out of the left-handed Bishop Stang starting pitcher. Duke signed a letter of intent to play baseball for the Riverhawks this morning at the Dartmouth campus while his parents, John and Claudia, proudly looked on.
Bishop Stang baseball coach Brian Rose could only wonder what it would have been like to have Duke play this past spring.
"It was unfortunate that we weren't able to see his development last season, during his junior year, but his sophomore year was phenomenal and Hayden gave us the opportunity to win our first year EAC Championship in a long time," he said. Rose, a former starting pitcher for the Boston Red Sox and Dartmouth native, praised Duke for his ability to not only game plan, but execute the game plan at a very early age.  
Hayden said he's excited about the UMass Lowell business program and looks forward to the possibility of participating in a co-op program with the Boston Red Sox's minor league affiliate team, the Lowell Spinners.
Duke said he's grateful for the friendships he's developed on the Stang baseball team and made it a point to thank his mom and dad for their support.
ALSO: Former Minnesota Twins All-Star's Home for Sale - Complete With Brewery
Enter your number to get our free mobile app
More From WFHN-FM/FUN 107