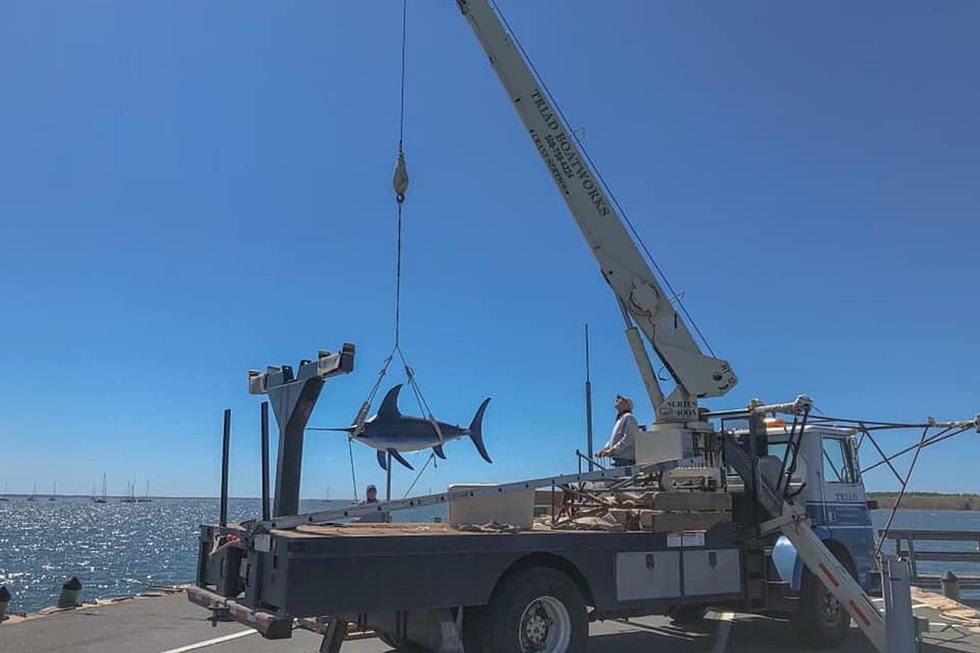 Mattapoisett Swordfish a Sign of Pandemic's End
Mattapoisett Harbormaster
From the "tell me you live by the ocean without saying you live by the ocean" file, check out this picture of Triad Boatworks, a boat repair shop, helping to officially get the boating season underway in the coastal town of Mattapoisett.
The swordfish has served as a weathervane for the Mattapoisett Town Wharf for nearly 75 years, as his long, pointed bill has pointed in the direction of where the wind is originating. According to the Wanderer, there are three time capsules tucked inside the hollow insides of the swordfish. One of them is a letter describing how the swordfish was built. The other two are a mystery.
Last year, while the pandemic was in full effect, the swordfish was outfitted with a proper mask for his protection and the protection of others. It was certainly a sign of the times.
With yesterday's announcement of the relaxing of mask mandates across the country, a change needed to be made to the swordfish. While fully vaccinated people are still awaiting official word from the State House that the mask mandate has changed for qualified people in Massachusetts, the swordfish is enjoying the liberty granted to him for being outside, where masks are no longer mandatory. His perch allows him six feet of distance from boaters and fisherman.
Therefore, the swordfish's mask was removed from his face before it was hoisted up early today with the help of equipment from Triad Boatworks.
The moment was not lost on the Mattapoisett Harbormaster, who celebrated the "maskless swordfish" in a Facebook post earlier today.
Sometimes it is the little things that get little communities like Mattapoisett through worldwide pandemics.
More From WFHN-FM/FUN 107