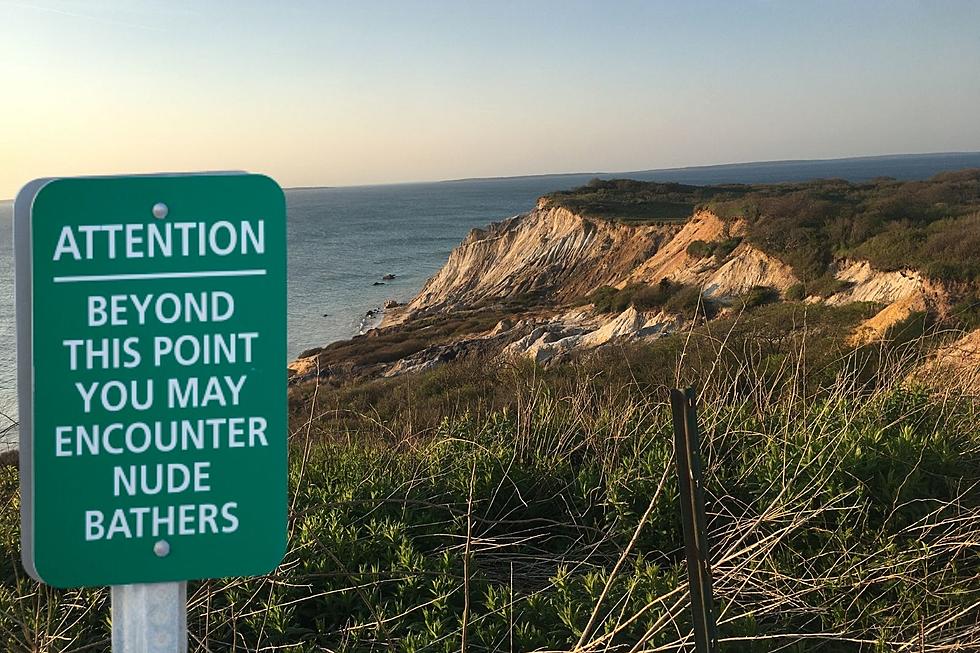 Martha's Vineyard's Nude Beach Has Rave Reviews
Gazelle/Townsquare Media
Out of the numerous times that I've traveled over to Martha's Vineyard, not once have I stumbled upon the sands of Aquinnah's infamous clothing optional beach.
For those who are new to the area, one of the most gorgeous sunsets can we viewed from the most western part of the Vineyard, formally known as Gay Head. Little do people know that a portion of the beach that lies beneath the cliffs of the picturesque spot is actually a nude beach known to the locals as Moshup Beach that's open to the public.
Now, I've never attended a nudist-friendly beach or campground, but I'm sure it's as free as the American flag itself and I'm not speaking financially. However, it appears that a lot of people have visited this beach that encourages you to get naked, thanks to Trip Advisor where there are some rave reviews.
Paul I. of Chillmark titled his five-star review: "Magnificent and High Quality Clothing Optional Beach in the East Coast"
"So easy to access now a days. Take the SSA ferry, grab a bus to Gay Head. Walk two minutes to beach thru the path, ask the driver to drop u at the beach entrance. Spectacular ocean views and cool breezes await you. Very sandy this year. Walk to the right for the most beautiful views of the colored cliffs. Stay until sunset, its amazing and peaceful. People are all very friendly. This is a legal NUDE beach due to the locals traditions. No one will ever bother you. Guards patrol once in a while. There is a parking lot as well for $15."
To some, the clothing-optional section of the beach is referred to as "Zack's Beach." Gerald P. is a frequent visitor and can't say anything nicer about the area in his rave review titled "Born To Be Free"
"Moshup Beach, alternately referred to as Gay Head beach, or Aquinnah beach, or, to those in the know, Zack's Beach, is the most amazing and picturesque clothing optional beach you will ever visit. It's a bit of a hike to get to, from the parking lot and along the trail, but well worth the 20-minute trek to the foot of the cliffs where they meet the sands and ocean. Turn right at the end of the trail. The first few hundred feet is primarily for those in swimwear, but the remainder is a mix of those clothed or nude. It is a place where you can be completely free and comfortable, the most amazing feeling in the world. It should not be missed by anyone of any age. A judgment-free zone. Don't miss it!"
Last but not least, a tourist from Indianapolis, Indiana who didn't get to explore the sands where birthday suits would gather, but makes a pretty solid point. She titles this one "A Must See Beach"
"This beach is breathtaking. The sand is nice and the cliffs are spectacular. I was reminded that there is a 

nude

 beach as I stumbled upon the 

nudes

. There were more than I expected and the weather was around 75 with a breeze. It's hard to take pictures of the cliffs and not feel like you are a peeping tom. One man tsp tsk'd me I believe when I walked by. LOL"
Head over to Trip Advisor for more of the pros and cons, since there were also some negative reviews as well. Admittedly, I would 100 percent check this beach out at least once in my life while it's still a public beach, just to see what all the naked buzz is about. Moshup or Zack's Beach – the original judgment-free zone.
25 Jaw-Dropping Photos of the Obama's Edgartown Mansion on Martha's Vineyard
President Obama has scaled back his 60th birthday bash. If you didn't make the cut for Barack and Michelle's invite list, here are 25 stunning photos of both the interior and exterior of their
7,000-square foot mansion
.
More From WFHN-FM/FUN 107