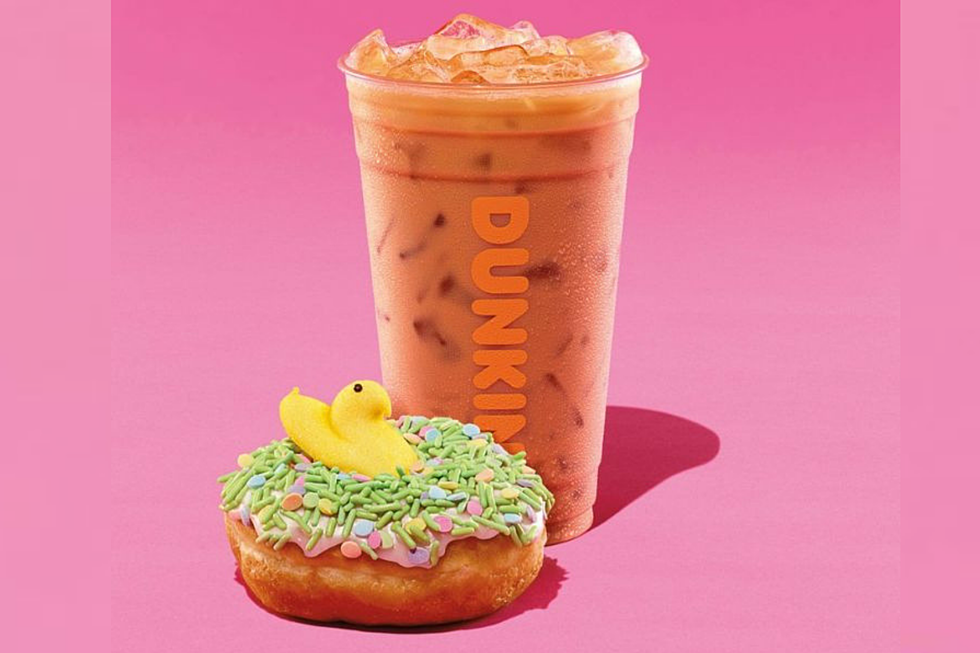 Marshmallow Peeps Are Taking Over Dunkin's New Spring Menu
Courtesy of Dunkin'
Spring is here and Marshmallow Peeps are poppin' up across New England.
Dunkin' always knows how to celebrate a holiday or seasonal change, and what better way to bring in warmer weather than with Peeps-inspired flavored coffee with a yellow chick-topped donut on the side? What a glorious sign that Easter is right around the corner.
Ladies and Gentlemen, the Peeps have landed and they'll be ready to meet your tastebuds on Monday, April 1. Dunkin's Peeps-inspired donut is nothing less than sweet and tasty:
"(The donut) brings an extra bit of sweetness to spring with white icing, a special green and egg-shaped sprinkle blend and a mini yellow PEEPS® Marshmallow Chick on top" -Dunkin
As if these cute little Peeps weren't enough to satisfy your sweet tooth, Dunkin' has much more in store to soak in that spring love:
Chocolate Cherry Cold Brew - A smooth combination of Dunkin's Cold Brew with a delicious pairing of chocolate and cherry flavor.
Iced Tea and Frozen Lemonade - Both with a fresh squeeze of lemon juice to refresh any thirst as the weather gets warmer.
Sweet Sriracha Bacon Breakfast Sandwich - Heat up your morning with some sweet-heat. Egg, American cheese and four strips of sweet Sriracha bacon, served on a croissant, is the difference between a good morning and a great morning.
As a bonus, be sure to look out for Dunkin's custom-sculpted coffee car and "PEEPSMOBILE" that will be stopping at random lucky locations between Bethlehem, Pennsylvania and Dunkin's OG hometown of Quincy, Massachusetts for free giveaways such as coffee, donuts and much more.
More From WFHN-FM/FUN 107