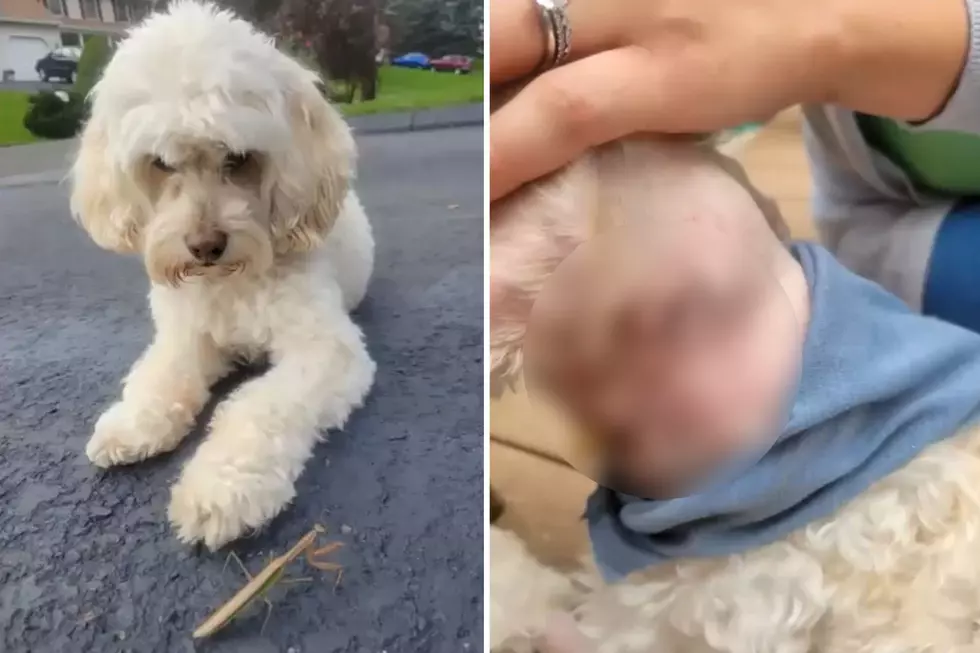 Marion 'Dangerous' Dog Set to Be Euthanized
Courtesy ORCTV
MARION — A couple in Marion has not yet appealed an order to have their dog euthanized after she attacked another dog, according to Marion Town Administrator James McGrail.
McGrail confirmed that as of Monday morning, David and Jennifer MacDonald of Spring Street have not appealed the June 14 order to have their dog Stella humanely put down.
Stella was deemed a dangerous dog by select board members after she killed another dog in October 2018.
Back then, her owners were ordered to keep her muzzled in public and take out a $100,000 insurance policy on her, among other conditions.
But in May this year, Stella attacked and nearly killed a small dog in Watertown, Connecticut.
She has since been seized from the MacDonalds and is currently at a humane shelter.
At a June 9 hearing, Maura Quatrano, the owner of Milo, tearfully described how the 130-pound Stella attacked her little dog during their usual walk on May 17.
"Without warning, I heard a lady scream, 'Pick him up!' And by then it was too late," she said. "Stella had Milo around the neck, and would not let go."
"I listened to Milo cry, I frantically tried to open the dog's mouth," she said. "I was screaming, I was kicking — and nothing seemed to work."
Two men heard the commotion and were able to separate the dogs. But Milo had suffered severe injuries to his neck.
Quatrano said he was "limp and bloody," and she didn't know if he was alive.
His trachea had been torn and he sustained 13 puncture wounds in his neck during the attack, Quatrano said. Milo's lungs collapsed and he spent two days in an oxygen chamber.
Although he survived, Quatrano noted, he doesn't want to be outside, is unable to walk up the stairs on his own, and no longer greets family members at the door.
"Our dog is not the same," she added, through tears.
Marion Town Counsel Jon Witten noted that according to the police report of the incident, Stella was not muzzled at the time of the attack.
David MacDonald, Stella's owner and also an attorney, expressed the couple's "severe regret" for the incident.
"We can empathize with the situation and how she may feel on some level," he said of Quatrano.
But, he argued, since the incident took place in Connecticut, outside of state jurisdiction, Stella should not have been seized.
MacDonald called testimony from Marion Animal Control Officer Susan Connor about the incident "one-sided" and "inaccurate," noting that his wife Jennifer tried to intervene during the attack and immediately reported the incident to Watertown police.
He said their priority is to keep Stella alive, calling her "part of the family."
Witten said that he had tried to work out an arrangement with the MacDonalds to protect Stella and secure her from the public, but he was not able to do so.
He told the select board they legally had three options: to take no action, to increase the restrictions placed on Stella under the 2018 order, or to order her euthanized.
"Of course that's the dramatic option, and I know no one wants to have to take that option," he said.
However, all three Marion Select Board members agreed that Stella's owners did not comply with the previous order conditions.
Select Board Chair Randy Parker said the decision is "just not easy."
"I'll make the motion, albeit unpleasant," said Vice Chair Norman Hills.
The motion to have Stella humanely euthanized following a 14-day appeal period passed 3-0, and the board signed the order on June 14.
The MacDonalds have until June 28 to appeal the decision.
Watch the hearing video:
35 SouthCoast Dogs: Can You Guess the Gender Just by Looking at Their Faces?
Scroll through this list and try your best to guess if the dog is a boy or a girl based on just its face. Good luck!
Dartmouth Dog's Excellent Cross-Country Journey
Barry's granddog Astro is not even two years old yet and has settled in Dartmouth but has visited more states than most people he knows – and he was fortunate enough to see them with her.
More From WFHN-FM/FUN 107