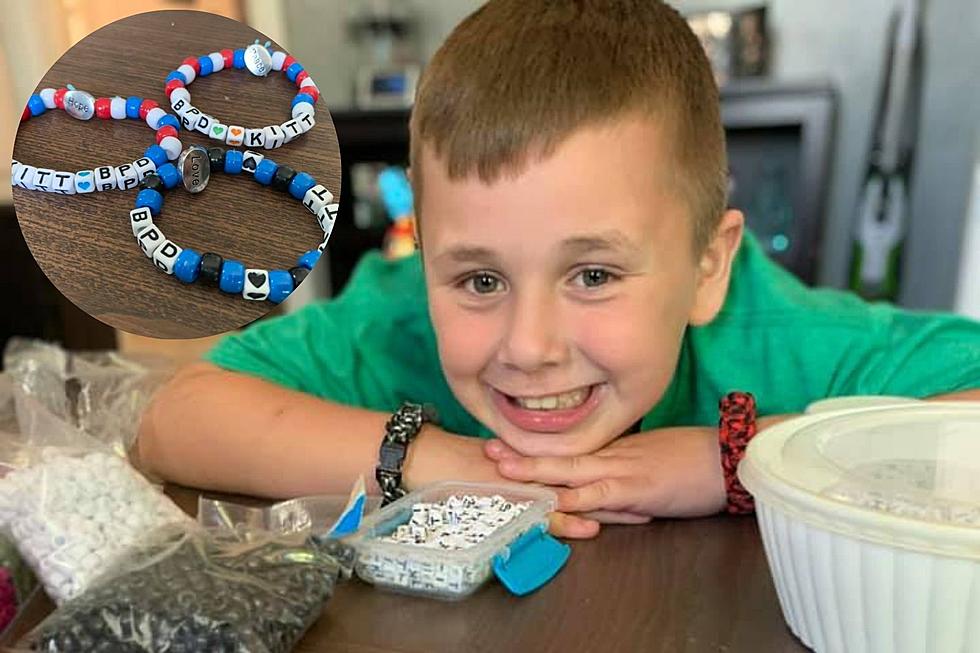 Marion Boy Honors Fallen Braintree Police K-9 With Bracelets
Photo Courtesy of Justin Dubois
If you're looking for a feel-good story, then you came to the right place.
Over in Marion, there's an eight-year-old boy named Brantley Dubois who wants nothing more than to become a K-9 officer when he grows up. Saddened by the recent news out of Braintree where two officers were injured and police K-9 was killed on duty, Brantley is raising money for the police department in honor of Kitt, the fallen police dog.
Equipped with beads and a love for dogs and crafts, Brantley is creating custom-made bracelets to keep Kitt's memory alive. However, this isn't the first time Brantley has given back to a police K-9 who was injured.
Back in 2018, when Yarmouth Police Sgt. Sean Gannon, a New Bedford native, was killed  and his K-9 Nero was injured, Brantley began making bracelets and selling them to help with the dog's medical expenses.
"He sold them for two or three dollars and raised $400," Brantley's father, Justin Dubois, said. "We later drove him to Yarmouth where he gave the police department the donations he raised."
Brantley recently heard what happened to Kitt from his parents, and how a police K-9 was killed in the line of duty. That's when he decided to do it again, but this time his goal will be $500 or more for this project.
"As of right now, we received an order for about 71 bracelets just within an hour," Dubois said. "There's been a lot of support from friends and family and it will be great to see if he reaches his goal."
For years, Brantley has wanted to be a K-9 police officer and these tragic situations have meant a lot to him.
"We support it," Dubois said. "As a firefighter for the town of Mattapoisett, it was tough to accept at first, but this is something that he really is leaning towards and we're proud of him. When we asked him why he wanted to do this, he simply replied that he wanted to give back and raise money for Nero's recovery and now for Kitt's honor."
As of right now, it appears this will be a two-week project and Dubois will soon schedule a date to head up to Braintree to deliver the donations raised for the police department.
"Obviously if things are still happening and orders are still coming in, we'll do what we can," Dubois said. "We're helping him buy the product, but also teaching him the values of buying on his own with some of his money to teach him."
It's not everyday that a first grader gets so involved in a cause that you wouldn't normally see at his age, but to Brantley, it's more than just an art project.
"These bracelets mean a lot to me," Brantley said. "Some of them are blue and black and they say 'BPD' and 'Kitt' on them, and then there's a bracelet that has red, white and blue like the American flag with the dog's name on it."
If anyone wants to help Brantley reach his goal, you can find out more information by reaching out to k9kitt7@gmail.com. All donations will be given to the Braintree Police Department.
22 Photos From the Wake of New Bedford Police Sgt. Michael Cassidy
New Bedford Police Sergeant Michael Cassidy was remembered on Monday, May 10, before being laid to rest to the next day. Cassidy lost his battle with COVID-19 on April 28 at the age of 52.
More From WFHN-FM/FUN 107