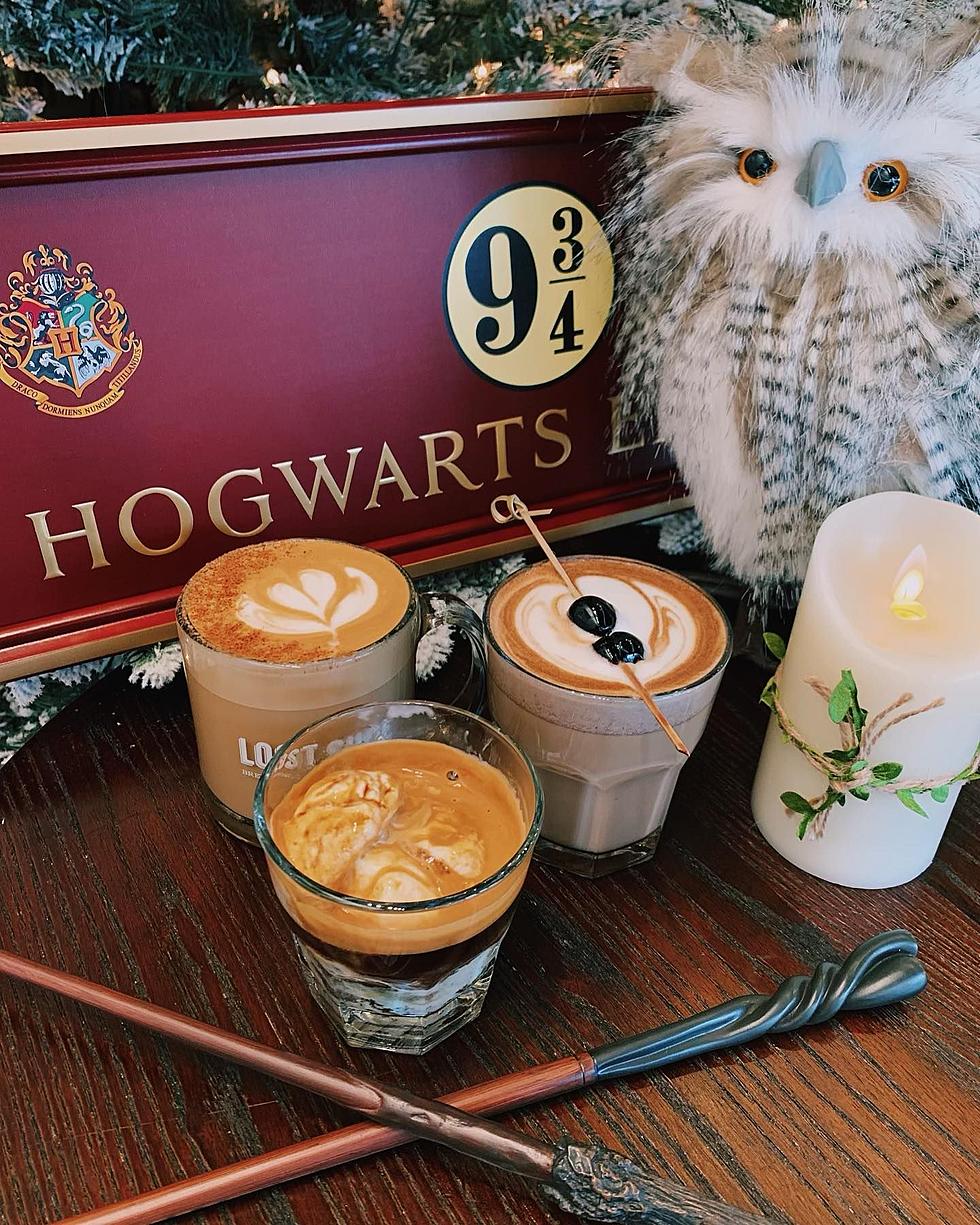 Magical Marlborough Taproom Hosting Harry Potter Fans
Courtesy of Katie Savluk
Muggles are definitely welcome at the Lost Shoe Brewery on Weed Street in Marlborough. The taproom is Harry Potter-themed for the season with a magical menu to match.
The brewery actually offers both coffee and beer brews which you can pair with their small menu of food from pizzas to breakfast burritos. Currently when you visit any time of day, you can enjoy your food and drinks inside the Forbidden Forest Harry Potter braved many times in his years at Hogwarts.
Like many food and drink-based business, the COVID pandemic restrictions caused Lost Shoe to get creative in how to battle capacity regulations.
"We wanted to make sure that the space felt special despite having all our tables spread far apart," General Manager Katie Savluk said. "That's when we created our 'Lost Forest' seating and decked our lounge area with Christmas trees [and] string lights."
By January, the "Lost Forest" had been transformed into the "Forbidden Forest" and Harry Potter fans responded with lots of reservations. So many, in fact, that even though Lost Shoe only planned to go Harry Potter for January, they chose to forgo a "Rose Garden" theme for Valentine's Day and stick with Potter through the end of this month.
Along with the "Forbidden Forest" decor comes Potter-themed food and drink, too. Savluk said they "have a small themed menu including our own version of butterbeer called Butter-Bier – our Kolsch-style ale with butterscotch icecream, and a Love Potion latte – which is a latte flavored with a house-made spiced dark chocolate and cherry syrup." Yum!
Plus, the Potter taproom is open to Hogwarts fans of all ages. With coffee, cocoa and food being served, kids will find something they can eat and drink for the season too. Savluk does add that "reservations aren't required, but definitely recommended."
You've still got a couple of weeks to scope out the Harry Potter theme for yourself at Lost Shoe, then it goes away as the spring theme and menu arrive. Savluk sad the spring menu will "have some of our classic holiday specials, like the Irish Cream syrup and Cadbury Egg latte." Cannot wait to try those.
I also can't wait for next winter when Savluk tells us the Potter theme will likely be back. In the meantime, check out the tasty treats to eat and drink at Lost Shoe through the end of the month.
Tasty Harry Potter Themed Treats to Try at Lost Shoe Brewery
It may not be the butterbeer Harry Potter was drinking in Hogsmeade, but there are some very delicious Potter-themed drinks being served in the Forbidden Forest at Lost Shoe Brewery in Marlborough.
More From WFHN-FM/FUN 107