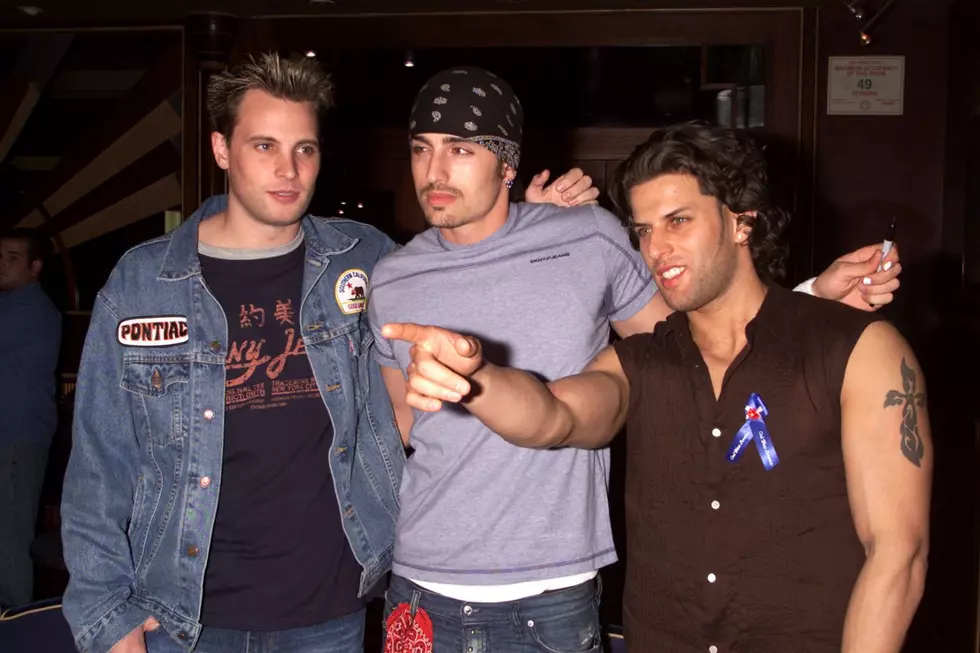 Death of LFO Lead Singer Rich Cronin Still Hurts on the SouthCoast
Gabe Palacio/ImageDirect
LFO's song owned the Fun 107 airwaves over the summer of 1999.
I was doing the morning show with Christine Fox at the time, and if you didn't own an article of clothing from Abercrombie & Fitch, you weren't doing it right.
I remember when I first heard the song "Summer Girls" in JR's office. Everyone immediately loved it, and it wasn't just because LFO was made up of local guys. In fact, Arista (their record label) intentionally played the song for us first before telling us of the band's ties to the SouthCoast. They wanted us to like the song for itself before they told us that Devin (who New Bedford knew as Harold) Lima was a hometown boy and Rich Cronin was a Bridgewater State student.
"Summer Girls" became the  No. 1 song in America that summer.
Of course, Fun 107 had very close connections to the guys. They were part of our tribe.  When they made it big, it felt they we all made it big. When they had a reunion tour in 2009, we invited them to perform at the Fun 107 birthday party at the Zeiterion Performing Arts Center, and they were all over it.
Cronin had been struggling with leukemia. We all knew he was sick, but he pretended not to be. When he took the Zeiterion stage, though, he tapped into this 1999 energy.  He was a total pro.  I can't imagine how he must have felt inside, but his deepest love was entertaining.
He was gone a year later, passing away on Sept. 8, 2010.
At Cronin's funeral, which took place at St. Joseph Church in Kingston, the band's manager, Mike Caputo, was asked to say a few words. He shared some light moments like this one:
LFO was going on to perform live on the 'Regis and Kelly' show. National television! We arrived very early and the guys were waiting to soundcheck. They were guests that day along with the famous muppet, Miss Piggy. We walked out to watch her soundcheck, as she sat at the desk talking in her funny Miss Piggy voice. It was pretty cool to watch. Rich actually walked over and had a full-fledged conversation with her. Shortly thereafter, Rich and I went back to the green room to have something to eat and we look over and there's Miss Piggy's head laying on the table next to the donuts and bagels. We both stopped in our tracks and Rich looks at me in total disappointment and half seriously said, 'Dude, she isn't real?'
In a cruel twist of fate, Lima was also stricken with cancer, diagnosed with Stage 4 adrenal cancer in fall 2017. He was gone the following fall.
In the days after Cronin's death, Caputo reflected a lot on some of LFO's lyrics, and brought up the words to one of their songs during his eulogy.
Life is good. I keep thinking how back then, life was good, but also how unfair life can be -- how cruel it can be to take someone so young and special away from us. Then I realized that maybe Rich was sending us an important message:

 

'So what would you do if you wake tomorrow and all your gray skies have turned blue? How many days do you think you're given? So, get on livin', it's up to you.'
The Most-Played Songs for Every Year of Fun 107's History
Fun 107 has played a lot of hits over the years, but what are the biggest ones? We put together a list of the hottest hit for each year of Fun 107's 32-year history – and some of them may surprise you. And if you can't remember the song or you just want to hear it again, click on the title of the track or the photo to see the music video.
More From WFHN-FM/FUN 107