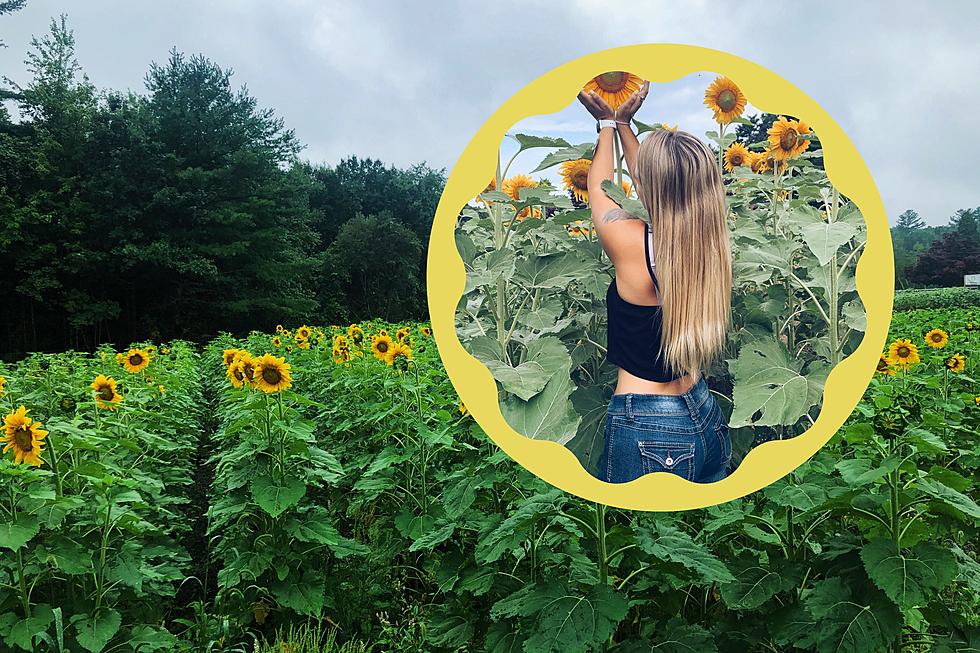 Breathtaking Lakeville Sunflower Fields Open Soon For the Picking
Courtesy of Derek Nedell, Golden Hour Tulip Farm
It's the moment we've all been waiting for. After months and months of anticipation and waiting, it's just about sunflower season again here on the SouthCoast, and we can barely wait any longer!
Golden Hour Tulip Farm in Lakeville may be most well-known for its stunning fields of tulips that come into full bloom every spring (I mean, tulips are in their name), but the farm's soil also houses thousands of brilliant sunflowers every summer, and they're available to pick as soon as early August.
Golden Hour's u-pick sunflower season starts August 11 and the farm expects the bloom to last for about three to four weeks. Over 120 thousand sunflowers of nearly a dozen breeds will be on display throughout the fields, and whether you want to clip your own to bring home or just snap a few family photos in from of the flowers, this Lakeville farm is the spot to be.
But if you want to make a trip out, you'll want to be prepared. Because of capacity restraints, tickets are limited and must be purchased in advance through Golden Hour's website. Tickets aren't available quite yet, but should go on sale about one week ahead of opening day. Luckily, the farm will be open on Barstow Street seven days a week throughout the season, every Monday through Wednesday from 10 a.m. to 6 p.m. and every Thursday through Sunday from 10 a.m. to 7:30 p.m. General admission for anyone 10 years and older will include five u-pick sunflowers and will cost $10 for weekdays and $12 for weekends. Each additional sunflower will cost $1 per stem.
30 SouthCoast Things Every Local Should Do at Least Once
Whether you are new to the area or have been living here your entire life, there are lots of local things that can only be experienced on the SouthCoast – and hopefully you've tried them all at least once.
Would You Pay $2.2 Million For This 664 Square Foot House in Chatham?
This Chatham home is cozy and cute, and it has incredible ocean views. But does all of that make up for its minimal square footage and overwhelming price tag? Take a look inside and let us know.
Wareham's Charming Old Red Farm Inn for Sale
This 1703 farmhouse has been carefully updated and has been used as an inn for many years.
Can You Pronounce These SouthCoast Street Names?
As Maddie continues to figure out her way around the SouthCoast, there are some street names that have caught her attention.
More From WFHN-FM/FUN 107