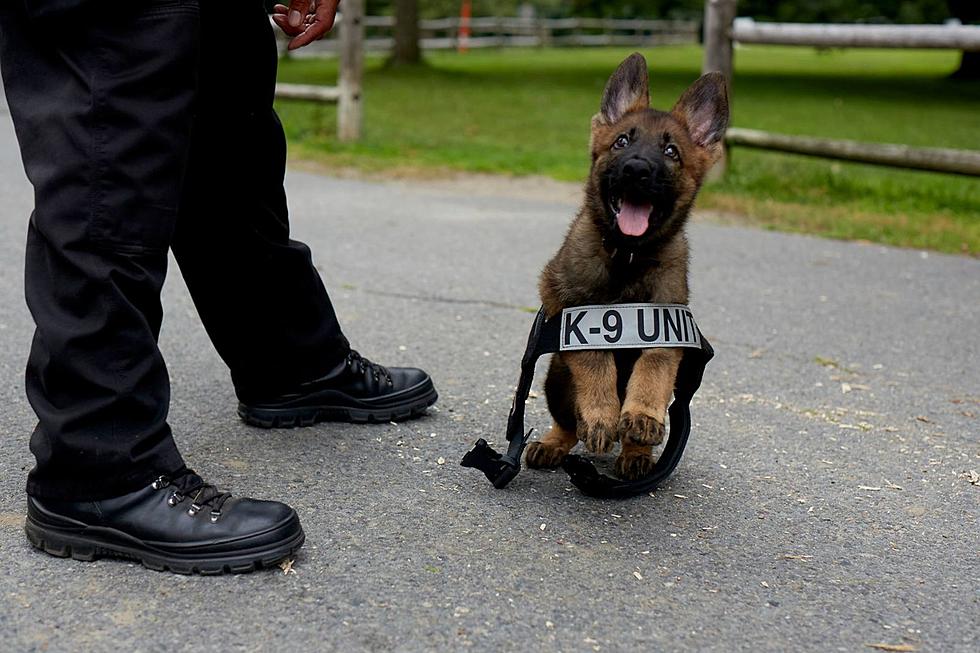 How You Can Adopt Dogs That Flunked Police Training for Being Too Nice
Boston Police Department Facebook
They tried their little hearts out but just couldn't quite cut it. Pups that attempted to become police department K9's however were just too friendly to make it happen, thus failing the course.
So what happens next? Simple, they go up for adoption however not through the regular means of adoption we're all used to. While shelters around the country are our go-to for adopting rescues and dogs surrendered by owners, those doggos that turned out to be too sweet ever to be a successful part of a law enforcement K9 unit have a different method.
According to the MSN website, this unexpected avenue is the Transportation and Security Administration. Yes that TSA where long lines at security checkpoints for ourselves and luggage at the airport is either smooth sailing or our nemesis.
These puppies who become police training academy drop-outs after failing the rigorous police training because they just can't stop being so darn sweet, now hope to find their forever homes through the TSA adoption program.
According to the TSA, it's crucial that these pups filled with exuberance and boundless affection are properly placed so the rules are strict. Personally, I'd expect nothing less from the TSA.
There is a four-step process you go through only after you've met the following requirements according to the TSA.
You must have a fenced-in yard at the time of applying.
There should be no intention of moving within six months of adopting a dog.
Homes must abide by all local pet ordinances.
You must agree to provide the dog with appropriate medical care, exercise, training, and companionship.
All existing pets in the home must have current vaccinations and preventive care.
The age of children in the home will be taken into consideration when selecting a dog.
One more thing, according to the TSA adoption program, if you're approved you will have to travel to San Antonio, Texas where all the pups live until adoption.
Click here for all the info you need if you're interested in making one of these four-legged furry friends a part of your family. By the way, adoption is free.
10 Actors Who Became Beefy Hunks for Movie Roles
These movies are worth seeing just for the unbelievable physical transformations their stars went through to get into character.
Mary Tyler Moore's $22 Million New England Estate For Sale
Gallery Credit: Jolana Miller
More From WFHN-FM/FUN 107