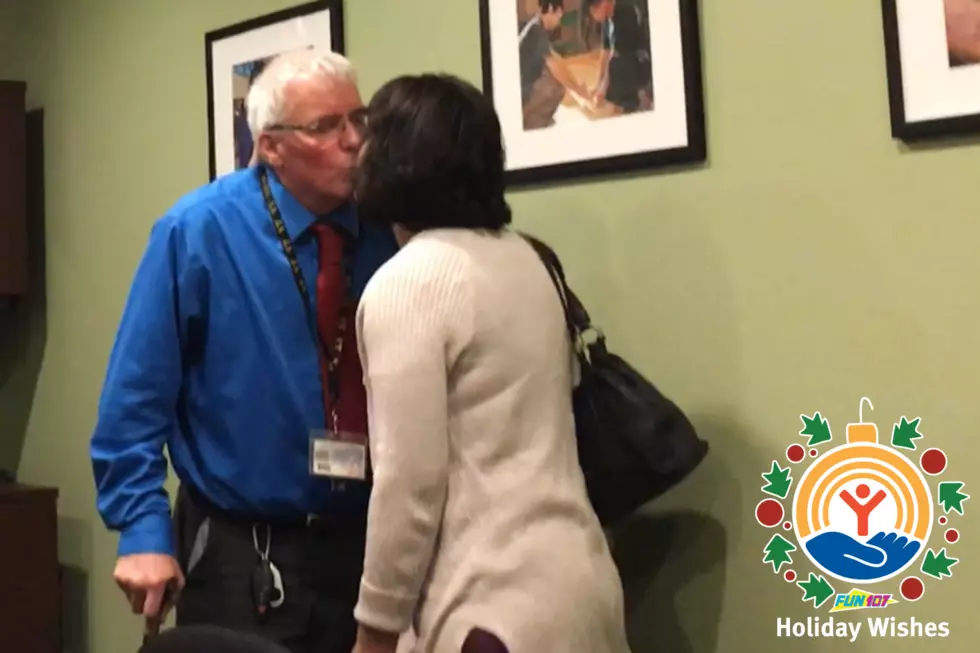 Holiday Wish Week: The Newcomer Family from Westport [VIDEO RECAP]
Photo By Abby Frias
Day One of Fun 107's Holiday Wish with the United Way of Greater New Bedford was a great success.
The Michael Rock Show introduced you to the Newcomber Family from Westport this morning, and discussed the issues the family is currently going through and have been battling for quite some time. From house renovations to make the living space more handicapped accessible to the heartbreaking medical condition of Mr. Newcomer, a Greater New Bedford Voc-Tech teacher, and his 14-year-old daughter, it's clear to us that they have been struggling each and every day.
Despite the current situation the family is battling, they still seem to keep morale high and as positive an outlook as possible. As of this morning, through the generosity of our sponsors, listeners and local businesses, the Michael Rock Show and the Holiday Wish program was able to brighten the holidays for the Newcombers a little more than they were expecting.
From the get-go, our friends over at Couto Construction wanted to get involved, alongside the help of the SouthCoast Business Alliance. Jason and Dereck Couto and the rest of their family and staff rallied together to give $2,500 in materials from the SBCA for the renovation and to top it off, the Couto brothers also pledged a matching $2,500 in labor to help with the project.
Watch as they met with the Newcombers to deliver them the good news:
On top of Couto Construction and the SCBA, multiple local businesses and listeners called us throughout the show to help out this family in need during tough times this holiday season:
Saint Annes Hospital pledged $500
BASK in Fairhaven pledged $500
Victor Fernandes from Team NOAH Foundation donated $1,300 towards a special customized chair to help the Newcombers' daughter, who suffers with seizures
Lily Fagundes has offered any services at her salon and spa, Hair in Motion
Village Pizza in Westport donated $100
Turk's Seafood donated a pair of premium Celtics tickets that were raffled off for $430
The Nemasket Group and Jen Newcomber's co-worker Sandra Heller combined to donate $150
Susan Richard, former head of the English Department @ GNBVT High School, donated $100
Heather of North Dartmouth donated $50
Erin donated $50
Stephanie of Acushnet donated $30
The list continues, but here were just a few examples of the kindness from our community, pulling together to help out a local family in need this holiday season!
For the FULL story on the Newcomber Family, click below:
If you would like to make a donation to the Newcomers, you can do so by texting "wishes" to 31313 and pledging a donation amount of your choosing, or by calling (508) 994-1071.
All of our families are pre-selected through the United Way of Greater New Bedford. If you are in need of assistance, please contact the United Way directly. 
More From WFHN-FM/FUN 107