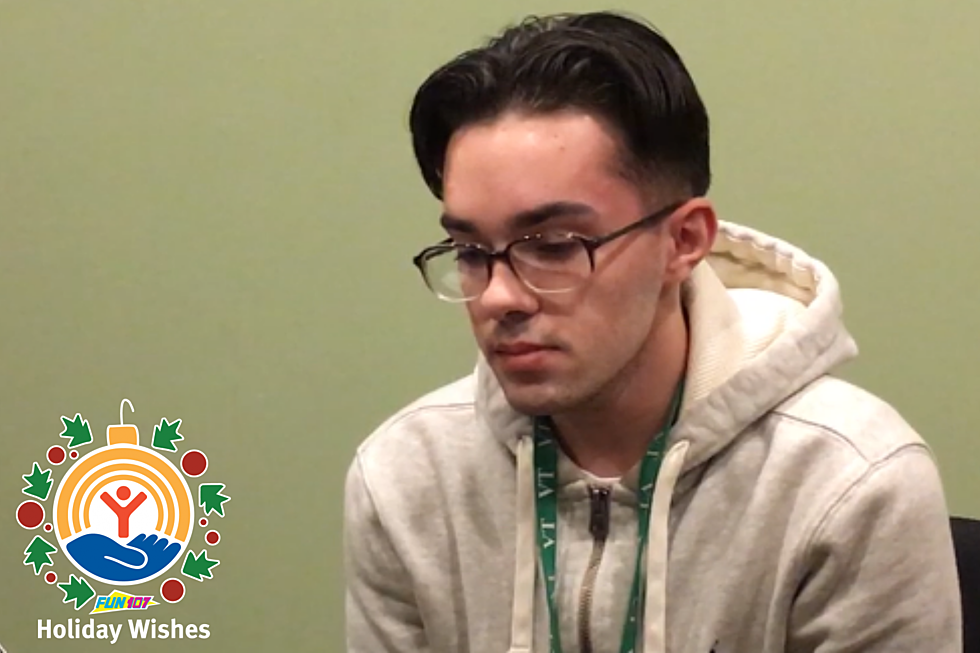 Holiday Wish Week: Marco from GNB Voc-Tech [VIDEO RECAP]
Photo Credit- Abbey Frias
As the United Way of Greater New Bedford Holiday Wish campaign comes to a close, not a single eye was dry after listening to our last family in need.

The Michael Rock Show introduced you to Marco from GNB Voc-Tech this morning and discussed the issues that have been impacting his life this year. From losing his mother back in May and now dealing with hunger since his mother was the one who cooked in the family, Marco is left to fend for himself as his father works from dawn to dusk.
We knew right away that we had to help this kid out, and give him a Christmas he would never forget.
In case you missed our interview during the Michael Rock Show this morning, this is Marco's story, with a little surprise at the end from our friends over at Albanese Monuments in Westport:
Throughout the show, multiple local businesses and listeners called us to help out this family in need during tough times this holiday season:
Albanese Monuments from Westport donated a gravestone for Marco's mother
Pro Group Contracting went out and got him a $500 Market Basket gift card, $500 to Dick's Sporting Goods, an iPad, Beats Headphones, the new Alexa and so much more
Andrew's Fruit and Produce pledged $250 to Marco
Carlos Motta from Honey Dew Donuts donated a shopping spree, two months of groceries for the house and a paid week off for Marco's dad so he and Marco can spend time together
Turk's Seafood auctioned off a pair of Celtics tickets for $700 (all proceeds were gifted to Marco)
David Vermette from Vermette Development and V-Corp donated all morning long to both Marco and his father, including $500 to BJ's, and even donating back the Celtics tickets for them to go and enjoy the game together, with $100 for spending money
Carla from Churrascaria Novo Mundo donated $500
Top Shelf Bar & Grill donated $600 towards Stop & Shop, Khols, American Eagle and Uber
Jennifer Sousa from The Next Level in Painting donated $400
Diana from SoCo Cycle donated $250
Shelley Paull from Nuance Salon and her husband Moses from Extreme Paint and Collison donated $400 to Stop and Shop for groceries
Diane Lima from Able Asphalt in Dartmouth donated $500
Christine Patico of Learning House Preschool donated $400 to Stop and Shop for groceries
Alyssa and Sandy from the Internal Medicine Department at Hawthorn Medical donated $200 towards Peapod delivery service at Stop & Shop for groceries
The list continues for what seems like forever, but these were just a few examples of the kindness from our community, pulling together to help out a local family in need this holiday season!
For the FULL story about Marco and everything he's had to go through this year, click below:
If you would like to make a donation to Marco, you can do so by texting "wishes" to 313131 and pledging a donation amount of your choosing. Or by calling (508) 994-1071. You can also make a donation online here. 
All of our families are pre-selected through the United Way of Greater New Bedford. If you are in need of assistance, please contact the United Way directly. 
More From WFHN-FM/FUN 107