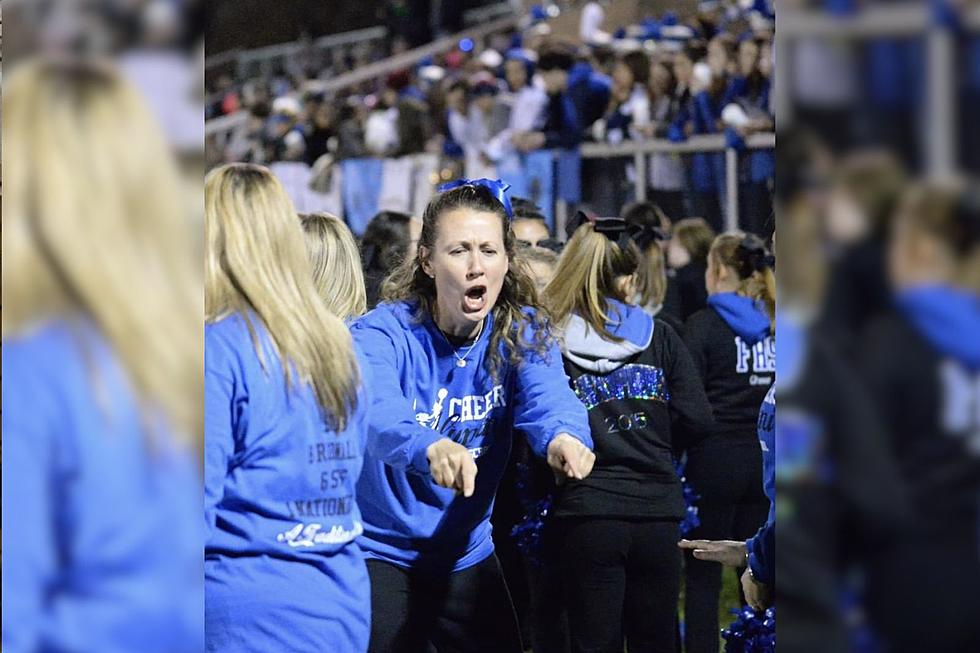 The Internet Captioned This Hilarious Photo of Michael Rock's Wife
Michael Rock/Townsquare Media
As Fairhaven football is having one of their best seasons in history, we thought it would be a good time to revisit one of our favorite photos to ever come away from Fairhaven High School's football field.
A few years ago, my wife was invited to participate in an alumni fundraiser for the school.  The fundraiser was open to former Fairhaven High School cheerleaders.  The women were invited to relive some of their glory days and cheer on the field.  The current cheerleaders were trying to raise money to compete in a national competition.
As a former cheer captain for the school, my wife was happy to make a donation and try to remember some of the cheers that she'd belt out in support of the football team.  Who are we kidding?  She can't remember what she ate for dinner last night, but she knows every word from all of those high school cheers.
During the course of the night, someone snapped a picture of my wife who, apparently, was REALLY getting into the spirit of the night.  God knows what she was yelling with such conviction.  Who could imagine what she was pointing at with fingers on both of her hands.  You can almost hear the picture.
I decided to post the photo up on social media this morning, and the internet didn't disappoint.  Here are some of my favorite responses to our "caption this photo" post.
The last caption will be my wife's explanation of what in the heck is actually happening in this picture.  All I can say is God bless Gen X, because you couldn't get away with that in 2023.
The Internet Captioned This Hilarious Photo of Michael Rock's Wife
We put this out to the internet, and you didn't disappoint.
Gallery Credit: Michael Rock
You'll Never Look at Fairhaven High School the Same Again
Even if you were a student at Fairhaven High School, we bet you'll see things in these photos from Trig Photography that you've never seen before.
Gallery Credit: Michael Rock
More From WFHN-FM/FUN 107