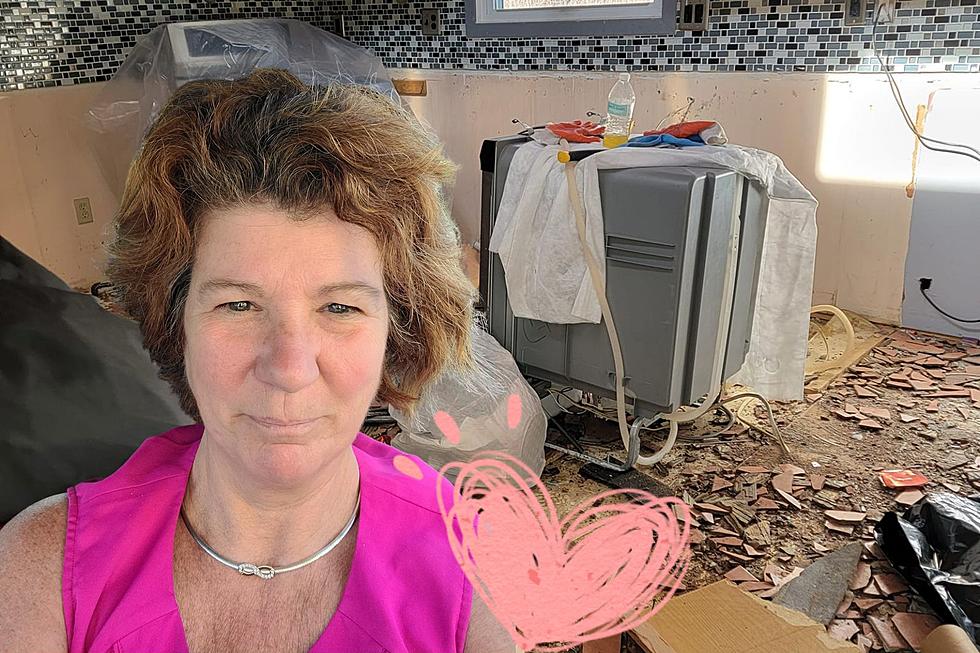 Taunton Widow Finds Closure with a Sharpie in Her Flooded Kitchen
Rosemary Heath via Facebook
Rosemary Heath will never forget it. Hours before the unspeakable happened at the Silver City Galleria Bertucci's, George Heath was at the kitchen counter.
"He was finally filling out his life insurance papers. We had to wait for open enrollment, so he had brought home his life insurance papers that day."
Hours later, Rosemary's life was changed forever, when a man fatally stabbed her husband in the restaurant That was nearly seven years ago.
The Kitchen Conflict
Because the kitchen was the last room where she spent time with George, an instructor at Greater New Bedford Voc-Tech, Rosemary has struggled with the thought of changing things.
"It was where we cooked and talked and made our plans, where we had our morning coffee together. It's where we danced."
Rosemary has some heartfelt memories of her late husband in that kitchen.
As much as she loved the memories, however, she was still not a fan. She didn't mince words.
"I hate my kitchen," she said. "I hated it when we bought the house. We wanted to re-do it, but we never got the chance."
Needless to say, there's been an internal and emotional tug-of-war about the kitchen.
Then, about two weeks ago, the water from the kitchen sink backed up and flooded the floor and cabinets. The damage was beyond repair, and the insurance company arranged for demolition of the destroyed tiles, subfloor and cabinets.
Rosemary thinks George may have played a hand in the leak.
"He might have made the water leak a little more to help me get past it and change the kitchen I've always wanted to change," she said.
Rosemary's Last-Minute Therapy
The night before the demolition began, though, there was one more thing Rosemary felt she needed to do.  "I had this huge wave of emotion.  I randomly grabbed a Sharpie and started writing all over the floor. Then, I wrote on each one of the cabinets. I wrote about what was important to that space we shared. On the pantry cabinet, I wrote, 'food for our souls.' On the coffee mugs I wrote, 'our cups were never empty.' On the spice cabinet, I wrote, 'for our spicy life.'  All the messages immediately came to me. I needed to thank the kitchen. And I needed to thank George."
Rosemary says if she had thought about it in advance, she would have used something fancier, like acrylic paints, but the immediate need to release the feelings forced her to use whatever was close by. Therefore, the Sharpie. She saved a few of the tiles and plans on crumbling them up and sprinkling them in George's memorial garden.
"Anyone else that is grieving a loved one can do something similar," Rosemary said. "It may not be as big as a kitchen, but there are other ways you can say goodbye. For me, it was just, 'grab a Sharpie.'"
Rosemary Heath Leaves Therapeutic Messages of Love to Her Late Husband
Before Rosemary Heath began a kitchen renovation, she had some unfinished messages to leave for both her kitchen, and her late husband, George.
More From WFHN-FM/FUN 107