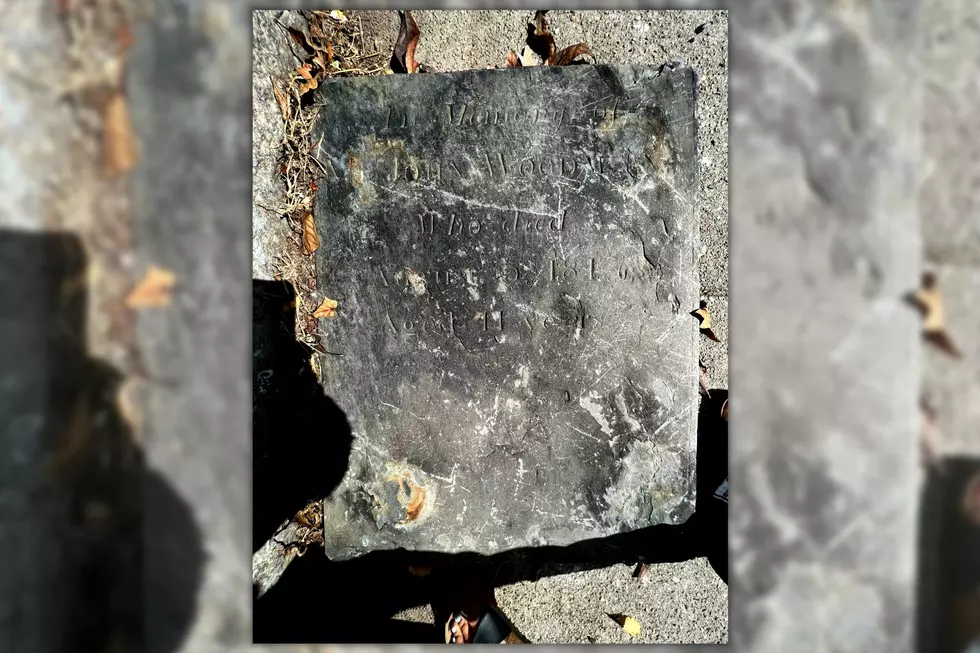 Fall River Realtor Horrified to Find A Stolen Headstone at Foreclosed Property
Courtesy of Lauren Tansey
Lauren Tansey of Dartmouth is a real estate agent for JT Realty in Fall River. Like any job, there are common scenarios that come with being a realtor. Dealing with foreclosures and selling homes are just to name a few.
Finding a stolen gravestone? Not so much.
On Thursday, Tansey came across the weirdest find in her career in real estate, leaving her with a lot of unanswered questions.
"Real estate. The only career where you can go to a foreclosed property at 12 noon and find a stolen cemetery headstone on the sidewalk," Tansey wrote on Facebook.
She shared with Fun 107 how she was asked to take photos of a foreclosed property in New Bedford to give a "broker pricing opinion."
"I was taking pictures outside and when I went to the front stairs, I actually stepped on the headstone and didn't realize," she said. "The house is very old; it was built in 1878. When I came back outside, (the stone) caught my eye. ... I took a closer look and I saw an engraving on the front."
The headstone is in rough shape, with the engraved words barely legible on the front.
If you look long enough, you can make out some of the words:
"In Memory of John Wood,"
"Who died August 5, 181.."
"Aged 11 years" 
"I called New Bedford Cemeteries and asked them to come take (it) and return it to the proper grave," Tansey said. "I hope they find its proper destination."
She noted that there was a cemetery nearby, but that still leaves a lot of questions. Why would someone want to take a gravestone? Why that particular one?
"The house had been vacant for a while and was recently cleaned to get it ready for listing," Tansey said. "It's possible that the stone was inside the home or out on the lawn and the cleaners didn't want to throw it in the garbage truck."
But these are just speculations. I don't think we'll ever know how that headstone got there.
Thanks to an eagle-eyed Tansey, the headstone has a chance of returning to its original resting place.
I don't think future buyers of this foreclosed home would appreciate remnants of a graveyard.
Lizzie Borden's Maplecroft in Fall River, Massachusetts
UPDATE: Maplecroft's new owners moved in on July 19, 2022 – Lizzie Borden's 162nd birthday.
While the house where Lizzie Borden's father and stepmother were brutally murdered on August 4, 1892 may have
recently been purchased
, the home where she moved after being acquitted for those same murders is on the market for anyone looking to own a piece of Fall River history.
More From WFHN-FM/FUN 107