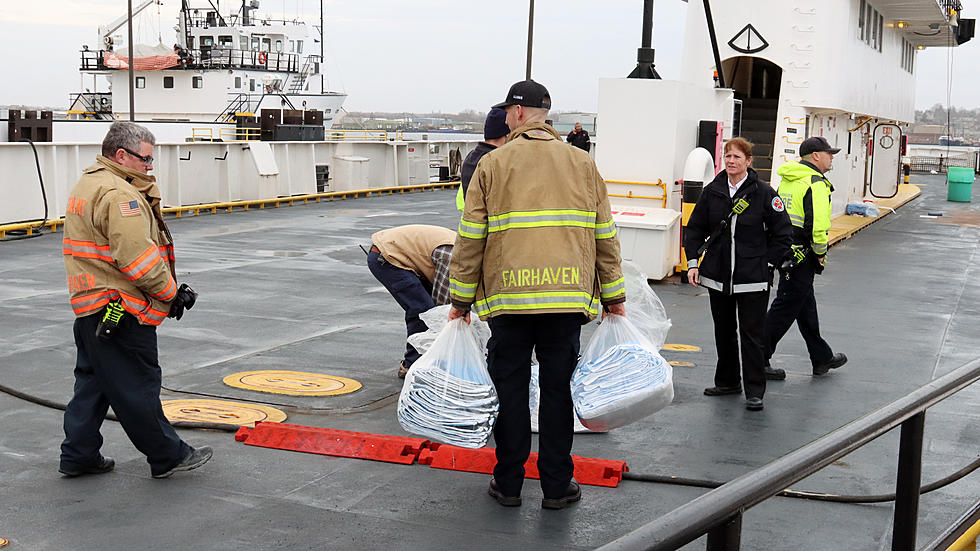 Fairhaven Firefighters Clean 50-Gallon Fuel Spill From Harbor
Courtesy Fairhaven Fire Department
FAIRHAVEN — Fairhaven firefighters and crews from the harbormaster's office spent over an hour Thursday morning cleaning up a fuel spill in the harbor near WJA Properties on Water Street.
Fire Chief Todd Correia said a fire engine, the oil spill response trailer, and Deputy Fire Chief Joy Nichols responded to the reported spill at around 8 a.m. Thursday.
They arrived to find an estimated 50 gallons of diesel fuel leaking into the water along the company's piers.
WJA Properties employees deployed their own boom and pads to help absorb the spill while fire and harbormaster crews investigated.
According to Correia, they found that a Massachusetts Steamship Authority ferry, the MV Governor, had a valve open on an emergency generator fuel storage tank, causing the spill.
A much larger diesel spill from a fishing boat at the same property in 2017 caused 1,500 gallons of fuel to leak into the harbor.
Correia said spills happen "quite frequently" in the harbor, although they are not usually so large.
Firefighters deployed an extra 600ft of absorbant pads and 90ft of absorbant boom, and several bags of speedy dry to contain the spill.
Crews stayed on scene for around an hour and a half, with MassDEP and U.S. Coast Guard pollution control workers assisting with the investigation and cleanup.
After that, the cleanup effort was handed off to Frank Corp, which was hired for the purpose.
Look Inside New Bedford's Abandoned Orpheum Theatre
New Bedford's Orpheum Theatre has been vacant for decades, but artifacts remain in place as an ode to its rich history. Let's go inside.
WARNING: Under no circumstances should you enter this property. By doing so you risk bodily harm and/or prosecution for trespassing on private property.
SouthCoast Experiences to Consider Gifting This Holiday Season
I propose that this holiday season, we spend a little extra time thinking about what experiences our loved ones would appreciate. Now is the time to consider how they enjoy spending their time and ask yourself how your gift can help them with their interests and hobbies. If the kids in your life already have a room full of toys, consider memories filled with love, fun, and excitement to be the better option this holiday season. Bonus points if it's something that allows you and your loved one to spend time together.
More From WFHN-FM/FUN 107