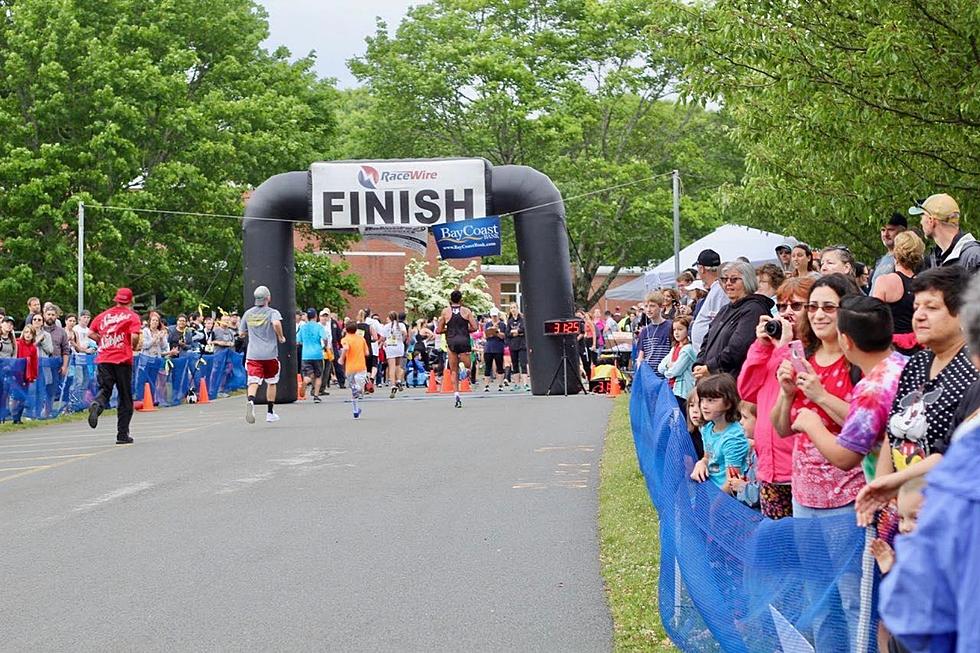 How a Small Group of People Saved Fairhaven's Father's Day Tradition
Fairhaven Father's Day Roadrace via Facebook
It's been a while since runners from all over the SouthCoast laced up their running shoes at Hastings Middle School on a Sunday in June and headed out to test their skills against the pack.
The last Fairhaven Father's Day Road Race was on Father's Day in 2019. The 2020 contest, naturally, was canceled. Organizers and town officials had uncertainty about whether or not there should have been a race last year, so there wasn't one.
Many people might not know this, but there nearly wasn't a race this year, either.  In fact, the Fairhaven tradition was on life support until a group of people got together over the winter to save the town's Father's Day tradition.
The race's founder, Alan Days, will turn 85 in a few weeks. He didn't want to head the race any longer. His sneaker store had closed, and the commitment to organizing an event of that size is quite burdensome.
"It was sort of just going to go away," Russell Benoit of Fairhaven said. "It kind of looked like it was going to sort of just fizzle out without Mr. Days."
Russell said he couldn't just let the race stop.
"It's meant a lot to my boys and my daughter.  hey've been running it since they were in preschool."
Benoit discovered a few other people who were also trying to save the race. They ended up joining forces, created a committee and successfully saved it with a boatload of work.
With the help of Alan Days' daughter Carol-Ann Days-Merrill, Heidi Hacking, Tom Wojcik and others, the group of people went through an endless punch list of hundreds of small tasks that needed to be done in a very short amount of time. What usually takes a whole year to plan was pulled together in about four short months.
They got it done. Almost.
With just days until race time, there are still a bunch of small tasks to complete. Benoit went out with Mr. Days on Thursday to spray paint the mile markers on the roads.  "There's a lot of little things like that which sit up in Mr. Days' head.  Like remembering to pick up the water cups from McDonald's, getting zip ties for the 100 garbage bags that are needed, securing and placing 100 orange traffic cones. He just knows what to do."
The group has been frantically writing everything down and picking Mr. Days' brain to make use of all of the knowledge he has to run a successful road race.
This year's organizers believe the race has raised more than half a million dollars over the years to support Fairhaven police, fire and EMS and various local scholarships.
To keep things simple, there will not be a 10K this year, but there are plans to bring it back next year.
So far, this year's Fairhaven Father's Day Road Race has attracted more than 800 runners. That number is expected to soar over 1,000 by Sunday. In years past, hundreds of runners signed up in the final days.
The race is open to runners of all ages, with a number of age brackets for males and females.
Interested runners can click here to sign up.
Fathers Are Great But We Can't Forget These Mother-Daughter Lookalikes
We're seeing double, SouthCoast. We asked for your mother-daughter lookalike photos, and you delivered. Check them all out below.
We All Scream for the 2022 SouthCoast Ice Cream Card
The
SouthCoast Ice Cream Card
is back. This is your pass to go on a sweet, frozen taste tour of the SouthCoast. Take a look at some of the frozen treats at each participating vendor. Be sure to get your Ice Cream Card before they're all gone.
More From WFHN-FM/FUN 107