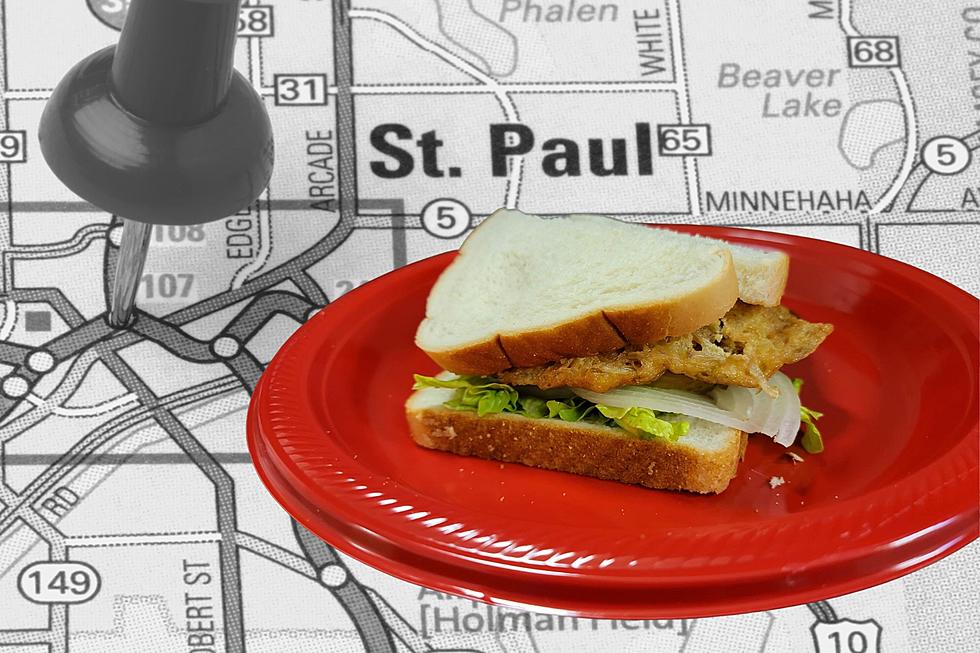 The 'St. Paul' Is Even Better Than a Chow Mein Sandwich
Getty Images via Canva; Tim Weisberg/Townsquare Media
Here on the SouthCoast, the Fall River-style chow mein sandwich reigns supreme as the fusion lunch of choice. On the North Shore, it's the Salem-style chop suey sandwich.
Personally, I like to grab a combination chow mein-chop suey sandwich a few times a month at Wah May in Fairhaven. Some folks also suggested I start sprinkling the sandwich with white vinegar, and now that's the only way to eat it for me.
But did you know there's another Chinese food-style sandwich out there? It's called a St. Paul sandwich, and it's eggs-cellent.
A St. Paul sandwich is just an egg foo young patty (without the gravy) on some bread, along with a few other ingredients. It's simple, but delicious.
I decided today was the day to finally try one, so I headed over to the Stop & Shop across the street from the radio station and grabbed the ingredients I would need: some bread (traditionally white bread), lettuce, white onion, dill pickle chips and mayonnaise (only Hellman's for me).
Some suggest also having thin-sliced tomato on the sandwich, but I was worried that the pickles would already make it too soggy so I skipped the tomato the first time out.
As for the egg foo young, I called over to Wah May. First, I asked if they offered the St. Paul sandwich, but the nice lady who answered the phone had no idea what I was talking about, which isn't a surprise since it was never popular around these parts. Instead, I ordered a large portion of egg foo young without the gravy. Within 10 minutes, I had three good-sized Chinese omelets ready to be turned into St. Paul sandwiches.
Before we get into how it tasted, why is it a St. Paul sandwich? The exact origin of the name is under debate. Some say it's because a Chinese cook invented it in the 1940s as a way to make Chinese food fit in better with Midwesterners, and he named it after his hometown.
Others believe it was invented around the turn of the 20th century, a quick and easy sandwich to feed to hungry loggers and railroad workers. Under that origin story, it's akin to what we would now call a Western sandwich, or a Denver sandwich – an omelet featuring chopped ham, onion and pepper between two slices of bread.
They're actually pretty close, so that's a viable theory.
The important question is, was it as good as it sounds? It absolutely was. Because it was egg foo young, I found it to be more flavorful than an ordinary Western sandwich. The big chunks of roasted pork were also much better than the chopped ham that you'll usually find in the Americanized version.
Hopefully, some local Chinese restaurants will consider adding the St. Paul sandwich to the menu. However, if you want to try a chow mein sandwich, a chop suey sandwich, a combination of the two or any of the other great items on the menu at Wah May in Fairhaven, head on over to SeizetheDeal.com and get yourself $25 to Wah May for just $12.50.
That will buy you quite a few sandwiches.
How to Make a St. Paul Sandwich
Never heard of a St. Paul sandwich? It is egg foo young on bread, with no gravy but with a few added twists. Legend has it, the sandwich was created by Chinese cooks preparing food for loggers and railroad workers in the Midwest around the turn of the 20th century. We're not sure of its true origins, but we know it's truly delicious.
How to Make an Egg Cream
An egg cream is a New York City favorite. It's a drink made of three simple ingredients: flavored syrup, whole milk (or half and half), and club soda/seltzer. Despite the name, it contains no eggs. Some around the SouthCoast refer to them as egg fizzes, and some make them by combining the ingredients in a different order, but they're essentially all the same, and all delicious.
The Best of South Shore Bar Pizza
There's pizza, and then there's South Shore Bar Pizza. Birthed in Brockton (and to this writer, perfected in Randolph – Lynwood Café is the true G.O.A.T.), it must meet certain qualifications to be considered "SSBP," which include: it's a 10-inch pie; it has a thin, cracker-like crust with minimal "flop;" the cheese is a blend that features more cheddar than mozzarella; and bonus points if you take it home between two carboard-type plates wrapped in flat brown paper bag. They also usually come with "laced" or "burnt" edges (terminology depends on where you are ordering), which is when the sauce and cheese are extended all the way to the edge of the pan, creating a crispy, flavorful coating to the crust. We reached out to the hugely popular
South Shore Bar Pizza Social Club Facebook group
to ask the experts to share the best of the best (in no particular order).
More From WFHN-FM/FUN 107