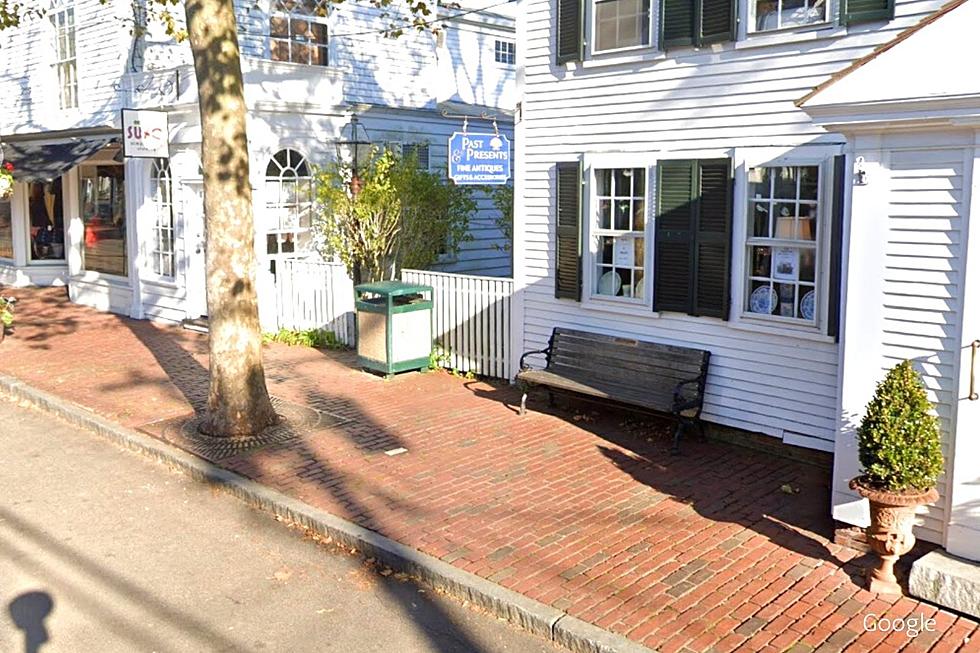 You Should Definitely Step on Edgartown's White Brick on Main Street
Google Maps
There is a single white brick in the middle of an Edgartown brick walkway and you don't want to step over it. In the area of 37 Main Street, just outside of Past & Presents, is a single white brick that is said to have a bit of magic to it: the "Wishing Brick."
Locals who are familiar with the brick all know that you have to step on the brick and make a wish or step on the brick and have good luck come to you. An employee at the Past & Presents store even said, "It is such an old tradition, even the elders will 'Oh, we've got to step on the brick and make a wish' when they pass by." It is a true, unrecorded piece of island lore.
The brick has been part of the Edgartown sidewalk for so long, no one is around to tell of the true origins of the white brick or its significance. After a recent inquiry on the Martha's Vineyard Lifestyle Facebook group, the question of the white brick quickly became the question of the day.
Here are a few theories we were able to track down based on comments, blogs, and good old-fashioned investigation work with the help of Edgartown town members.
When looking up the history on Edgartown's infamous white brick, only one photo pops up and it links back to Martha's Vineyard photographer Sara Piazza. In a quick blog note from 2012, Piazza writes, "This lone white brick has been in the sidewalk in front of what is now Past and Presents for as long as I can remember. When the sidewalk was rebuilt, I remember that it was carefully removed from the old sidewalk and inserted into the new one. I have no idea what the history of this brick is."
Why take such precautions with just any old brick? There must be more to it.
From there we contacted Bow VanRiper, Research Librarian at the Martha's Vineyard Museum and Edgartown native.
VanRiper admitted that he'd been asked the question about the brick before but had no concrete evidence proving any theory to be true. The theory he was able to offer dates back to the 1920s, when the March of Dimes fundraiser would have kids line up dimes, starting at the white brick, and see how far the line could go – a literal March of Dimes. But he said there is no photo evidence that supports this theory.
We ran a few other theories by him, based on social media comments, to see if they seem like likely stories.
A comment on the original Facebook post asking about the brick said that the white brick marked the high-tide line. This theory is plausible, and could be related to the Hurricane Carol in 1954 when Main Street was flooded, but there is no real proof that the street flooded up as far as 37 Main Street. VanRipen pointed out that there is a barn on the island that also has a high-tide water mark painted on its side from the same hurricane.
One comment noted that the brick indicates the brick maker's original home. "If I remember correctly it is placed there to mark the location of the home of the family who made the bricks. For my whole life we have made sure to always step on it for good luck," wrote Jessica Burnham.
This theory is a little less likely, since Martha Vineyard's brick maker was in Chilmark. A brick mason may have lived in the house on Main Street, but it seems like a stretch. VanRipen did say there was a mason that lived on School Street in Edgartown that he was aware of, but that was it. A similar comment says the brick was placed there by the building's maker.
Finally, after calling around to see who maintains the sidewalks and may know a bit more, the selectmen's office was able to tell us that while there is no definitive answer about why the brick is there or where it came from, it absolutely has a specific spot. No one knows why, but where it is currently is where it is supposed to be.
All we know for sure about the brick is stepping on it for good luck won't hurt, so go ahead and take the extra step, just in case.
Already Made a Wish on the Brick? Here Are Some Other Must-Do-Once Items to Try
Whether you are new to the area or have been living here your entire life, there are lots of local things that can only be experienced on the SouthCoast – and hopefully you've tried them all at least once.
More From WFHN-FM/FUN 107