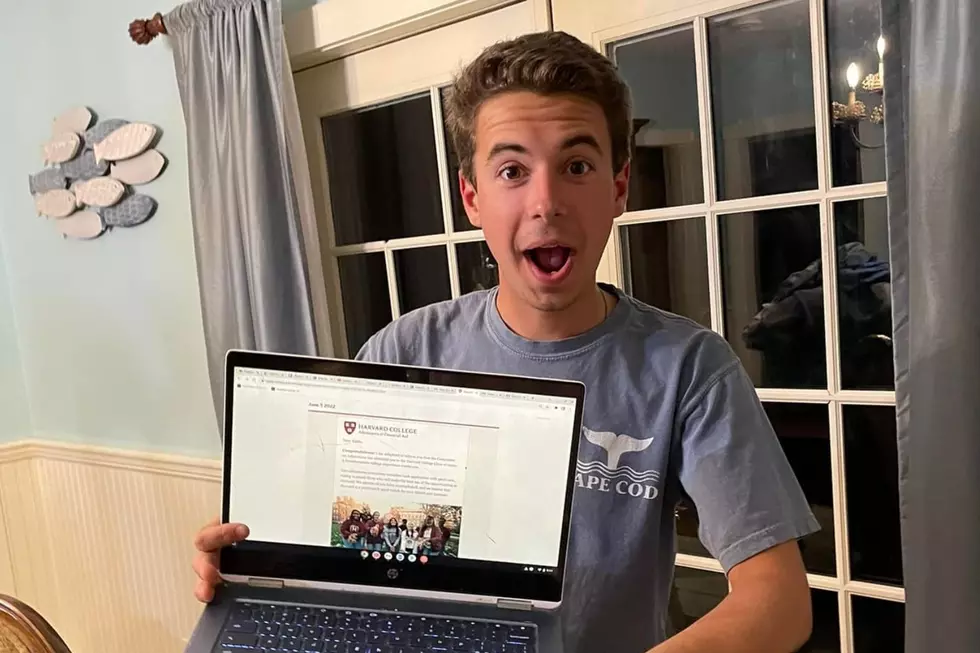 Fairhaven Teen Faces Wild Dilemma After Receiving Letter from Harvard
Edward Gonet IV via Facebook
Eddie Gonet is the type of kid who has it all figured out.
From the moment he walked onto the Old Rochester Regional High School campus as a school-choice student, he had goals.
Gonet graduated in the top three of his class two weeks ago, having served multiple class officer roles and taking on leadership positions all over the school.
Gonet ended up earning a rare full scholarship to Boston College.
BC's overall annual cost next year? Over $80,000.
In other words, the Fairhaven kid hit the jackpot with an opportunity to get his undergrad degree at an elite college, saving a cool $320,000 in the process. The full boat would enable him to graduate from college debt-free. In this day and age, that is an incredible feat.
After graduating from ORR two weeks ago, Gonet began prepping for his new life. With his Boston College Eagles sweatshirt hanging in his closet, he started to set new goals to achieve while pursuing his degree.
Great story, right?
But wait. This was supposed to be a story about Harvard, not Boston College. It is.
Watch this video and ask yourself what you would do if you received a letter from Harvard after committing to four free years at Boston College.
Last week, the Tuesday after graduation, Gonet received an email that he never would have dreamed of. It was a late acceptance letter from Harvard University.
Harvard said it had an extra spot in its incoming class of 2026 and wanted Gonet to be a part of it. An unusual and unexpected development to say the least.
Normally, May 1 is known as Decision Day at many colleges and universities, but most students have made those decisions weeks and months earlier.  To have this letter arrive in June -- after graduation -- was absolutely shocking.
Besides, Eddie had already committed to Boston College, and Harvard was not giving him a full scholarship.
"Great, but you're still going to BC, right?" Gonet's sister asked after he read the email, but the look on his face said, "Not so fast."
Harvard gave him one week to make the decision.
Gonet was faced with quite a dilemma.
Great, but you're still going to BC, right?
What would you do?  Would you go to Boston College with a full scholarship, an incredible school by any measure? Or would you break your commitment to BC and pay to attend the best university that America has to offer?
The decision would be life-changing.  And what a terrifically tough decision for the family.
Gonet had toured the Cambridge campus with his parents, walking on the same pathways as U.S. presidents named Adams, Roosevelt and Kennedy when they were his age.  Heck, even Harvard dropouts such as Bill Gates and Mark Zuckerberg changed the world.
Gonet really wanted to reveal his decision at his graduation party last Saturday but ended up needing a few more days to officially hear from Harvard about his financial aid package. Without it, he wouldn't be able to make an informed decision.
"Harvard is such a competitive school," Gonet said.  "At Boston College, I'd be a bigger fish in a smaller pond, whereas at Harvard everyone is equally incredible and most people (are) even more incredible with the things they've done."
Many years ago, Gonet's aunt worked at Harvard admissions for biochemistry. Offering her nephew some advice she said, "Eddie, for Harvard, the money doesn't matter."
It was an investment that was sure to pay off.
"Essentially, what it comes down to is, will you be OK with that type of competitive environment?"
Gonet finally announced his decision Wednesday.
"My parents and I did a lot of thinking, and I'm up for the challenge," he said. "I want to go give it my best shot there. I'm going to Harvard."
Instead of Chestnut Hill, Gonet will spend the next four years at Harvard Square.
Anybody need a BC sweatshirt?
These SouthCoast High School Memories Never Fade
We asked you to share the incident from your high school days. Here are some of our favorite answers. How many do you remember?
See How School Cafeteria Meals Have Changed Over the Past 100 Years
Using government and news reports,
Stacker
has traced the history of cafeteria meals from their inception to the present day, with data from news and government reports. Read on to see how various legal acts, food trends, and budget cuts have changed what kids are getting on their trays.
More From WFHN-FM/FUN 107