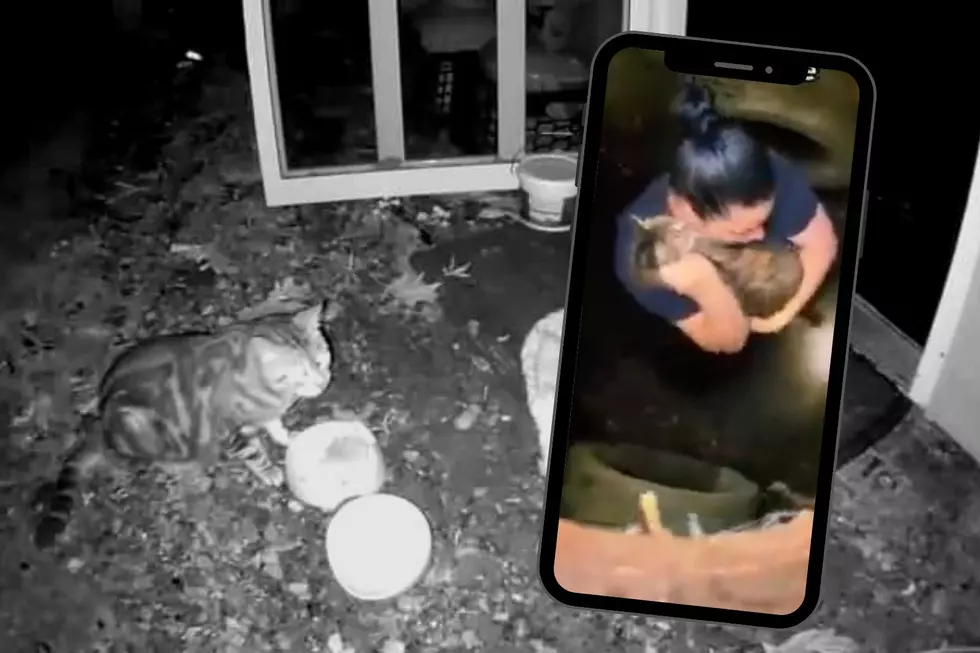 Diabetic Cat Rescued from Well in Cranston [VIDEO]
Courtesy of Wandering Paws K9
As the owner of Wandering Paws K9 in North Attleboro, Sam Ranaldi is no stranger to grueling pet rescues, but one of her latest missions in Cranston, Rhode Island, turned out to be a little more stressful than the rest.
A diabetic cat had made its way down a manhole and into a pipe 200 feet long.
The rescue mission was quite the process.
Wandering Paws K9
Sam Ranaldi has been rescuing animals, particularly cats, for eight years.
"It feels good to help," she said. "I went through this when I lost my cat eight years ago, and it really hits home for me when people contact me about their lost cats. I know exactly how they feel."
Ranaldi uses the help of German Shepherds and bloodhounds to sniff out the lost cats, and her team had a tough job ahead of them in locating this Cranston cat.
Search For the Cranston Cat Begins
The owner of the cat contacted Ranaldi after no one was able to help, and the worst part was that you could hear the cries of the cat from the manhole.
"The cat didn't sound far, but in a pipe that is 200 feet long, it can sound close even when it's not," she said.
When it comes to underground pipes that are at least 100 feet long, the city has to have a "hub" where a person can open and see inside the pipe. Unfortunately, the city wasn't being too helpful, and Ranaldi used all of her resources to get to the scared cat.
"I set up a trap and trail camera at both ends of the pipe, thinking it would crawl to the camera for food, but she didn't," Ranaldi said.
She explained that the cat was diabetic and could have jumped into the pipe to walk around, but was too weak to get out.
"She was going to die in there," Ranaldi said.
Wandering Paws Calls in Backup
With minimal help from the town, Ranaldi knew she needed some help.
"I called in Roto-Rooter, who has a service where they will help cats in pipes and stuff for free," she said.
With some assistance from Roto-Rooter and Rhode Island Society for the Prevention of Cruelty to Animals detective Earl Newman, they located the hub and found the cat clinging for dear life in a well.
A Happy Ending
Ranaldi typically charges for missions like this, but after the tumultuous rescue and how closely it hit home for her, she didn't charge the family a dime.
There are some incredible people in this world who are willing to go above and beyond, and I'm sure this little cat is grateful for Ranaldi's big heart.
Items Dangerous to Animals That You Have in Your Yard
We spoke with Wild Care Cape Cod Executive Director Stephanie Ellis about the dangers of many everyday yard items and how they can affect the wildlife we know and love. Here are some of the dangers your yard may present to animals and how you can reduce their risk.
More From WFHN-FM/FUN 107