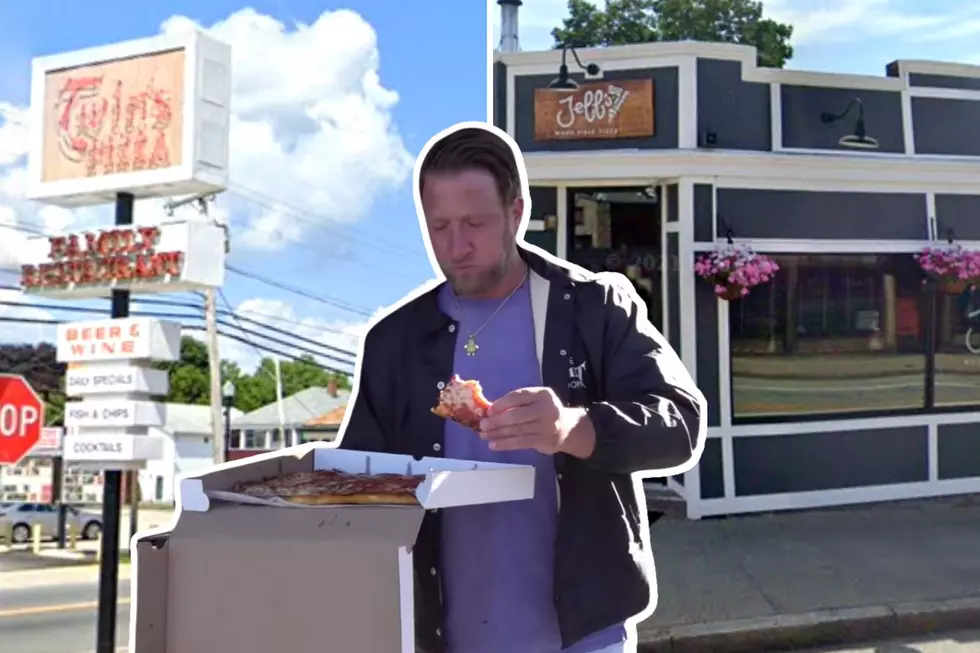 Two Providence Pizza Shops Get the 'One Bite' Treatment from David Portnoy
Google Maps & One Bite Pizza Reviews/Youtube
Looks like Barstool CEO President David Portnoy was getting his pizza fix all over Providence, Rhode Island, this weekend.
Featured on the latest episode of "One Bite Pizza Reviews," Twins Pizza in North Providence passed the vibe check with flying colors, and the owner of Jeff's Wood Fired Pizza in East Providence is left sweating until its official pizza score is released.
What's So Special About Twins and Jeff's?
Twins Pizza has been a Rhode Island staple for over half-a-century and has been owned by the same family with the same delicious recipes. Everything is made in-house and everyone is treated like family.
Known for its high-quality takeout, Jeff's Wood Fired Pizza offers homemade pies dripping with delicious ingredients, and although it's small, it packs a flavorful punch.
So, What Did Portnoy Think?
On Sunday, Jeff's Pizza shared online that "El Pres" made a surprise visit.
"(It was) a real once-in-a-lifetime thing for a small pizzeria like ours," the restaurant said.
Portnoy's review has yet to be published, so Jeff's Pizza anxiously awaits their fate.
"Hopefully it's decent," Jeff's said. "I was wicked nervous. My hands wouldn't stop shaking when I cut the pie and slid it into the box."
For Twins Pizza, the review is in, and it's one to be proud of. Portnoy broke his "one bite" rule more than once while diving into a classic Sicilian that was made to perfection.
I don't know what Portnoy liked more; the pizza or the atmosphere.
Passing cars honked, passersby shouted "Go Celts!" and Twins regulars flowed in and out of the iconic establishment while "One Bite Pizza Reviews" continued to film their latest segment.
"I love being home," Portnoy said.
Check out Portnoy's rating for Twin Pizza below and stay tuned for Jeff's Pizza.
SouthCoast Restaurants Celebrities Swear By
Stars live in and visit the SouthCoast frequently, which means many of them end up at local restaurants. Here are appearances from some favorites.
Top 10 Celebrity Sightings Across the SouthCoast
There have been an awful lot of movies filmed on the SouthCoast in recent years, bringing lots of big-name actors with them. Whether they came for filming or swung through to sit at the beaches, we have had our fair share of star sightings in the area. Here are our top 10 celebrity sightings ... so far.
More From WFHN-FM/FUN 107